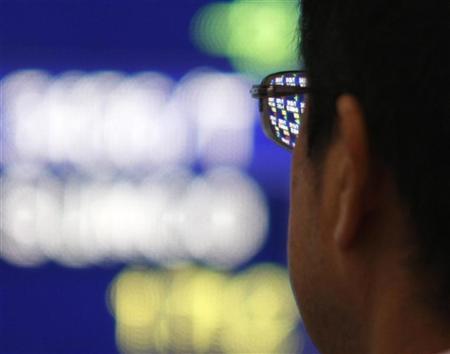 TOKYO (Reuters) - Asian shares were capped on Friday after European Central Bank President Mario Draghi noted risks still facing the euro zone economy, turning investor sentiment more cautious ahead of Chinese trade data for January due out during the session.
China's economic rebound should show signs of strengthening on Friday with the trade data for January due during the day, although distortions caused by the Lunar New Year holiday will make it difficult to gauge momentum.
The euro was off its two-week lows hit the previous session as investors took Draghi's comments as signalling concerns about the euro and Europe's growth outlook, boosting the dollar to a one-month high against a basket of key currencies.
The MSCI's broadest index of Asia-Pacific shares outside Japan edged down 0.1 percent, hovering near a one-week low. The index rose to a 18-month high on Monday. U.S. stocks edged lower while disappointing results from French drugmaker Sanofi (SASY.PA) sent European shares down to 2013 closing lows.
Australian shares inched up 0.2 percent while South Korean shares opened down 0.1 percent.
Japan's Nikkei stock average opened 1.6 percent lower. A pause in yen selling has prompted investors to take profits after the index surged to its highest level since October 2008 on Wednesday.
"The market is prone to profit-taking as there needs to be more positive catalysts to rise above the recent high," said Hiroichi Nishi, an assistant general manager at SMBC Nikko Securities. "But the massive trading volume posted yesterday suggests that the Japanese market is still in the spotlight where both foreign investors and retail investors are willing to invest."
The ECB kept interest rates at a record low 0.75 percent at its policy meeting on Thursday. Draghi said the ECB will monitor the economic impact of a strengthening euro, feeding expectations the currency's climb could open the door to an interest rate cut.
While Draghi said the exchange rate was not a policy target but is important for growth and price stability, he also noted the euro's appreciation was a sign of returning confidence in the currency.
Spain sold more debt than planned on Thursday, auctioning over 18 percent of its full-year medium- and long-term funding target. The strong demand indicated easing worries about Madrid's financing ability despite political uncertainty over a corruption scandal.
The euro steadied around $1.3390, after slumping to a two-week low of $1.33705 on Thursday, and away from a 14-1/2-month high against of $1.3711 hit last week.
The yen remained near lows against the dollar and the euro.
Data showed on Friday Japan logged a current account deficit for a second straight month in December, resulting in its smallest annual surplus on record in 2012, with evidence of deteriorating trade balances supporting the yen's weakening trend.
The dollar was steady around 93.64 yen after reaching 94.075 yen, its highest since May 2010 on Wednesday. The euro also steadied at 125.35 yen, having hit its strongest since April 2010 of 127.71 yen on Wednesday.
"Currencies are increasingly becoming part of the policy debate...In the case of the EUR, we believe that the bullish 'overshooting' trend will remain intact as ECB policy continues to promote an asset market friendly environment," Morgan Stanley said in a note.
Morgan Stanley added that the anticipation of the Bank of Japan taking bolder easing steps is set to keep the weak yen trend going, supporting global risk appetite.
U.S. crude futures were barely changed at $95.80 a barrel after falling on Thursday amid pressure from growing domestic stockpile in the Midwest.
Brent crude oil rose to a near five-month high above $117 a barrel on Thursday after Iran rejected calls for direct talks with the United States over Tehran's nuclear program.
(Additional reporting by Ayai Tomisawa in Tokyo; Editing by Eric Meijer)
Updated Date: Feb 08, 2013 06:45 AM