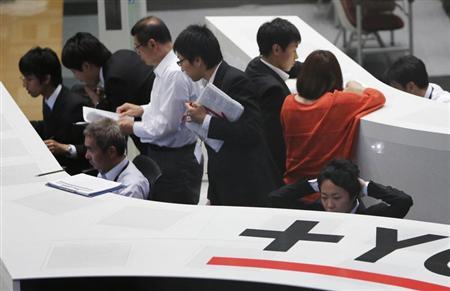 SINGAPORE (Reuters) - Hawkish comments by U.S. Federal Reserve Chairman Ben Bernanke and weakness in China's factory activity rocked Asian markets on Thursday, took the dollar to three-year highs, sent share markets lower, and hit the Japanese government bond market as yields rose to their highest in a year.
Stock and bond markets took their cue from the drop in U.S. equities and Treasuries after Bernanke's remarks at a Congressional hearing sparked worries of an earlier than expected reduction in U.S. monetary stimulus.
A weak manufacturing survey from China added to concerns about a delayed recovery in the world's second-largest economy and furthered those losses, dragging MSCI's broadest index of Asia-Pacific shares outside Japan down 2.4 percent.
Japan's Nikkei index was volatile, being up 1.5 percent at one stage and down 7.3 percent at close of trading. Singapore's stock index had its worst daily decline in a year, while shares in Hong Kong had their biggest loss in 7 weeks.
The Korean won fell 1.3 percent against a rallying dollar, which hit a near three-year high against a basket of currencies at 84.498 and an 11-month high versus the Australian dollar.
"There is dollar buying on the back of superior growth prospects in the U.S. economy and eventual tightening of monetary policy," said Gareth Berry, a currency strategist with UBS in Singapore.
"But just because the dollar is rallying does not mean we are in a risk-off world."
In testimony to Congress on Wednesday, Bernanke said a decision to scale back the $85 billion in bonds the Fed buys each month could be taken at one of the central bank's "next few meetings" if the economy looked set to maintain momentum.
Financial markets interpreted the comments as hawkish, even though Bernanke made clear the Fed needs to see further improvement in the economy before reducing stimulus. Minutes from the Fed's latest meeting, released on Wednesday, also showed most policy members had set the bar for the onset of policy tightening pretty high.
"The Fed hasn't tightened policy in any way since pre-GFC," said Westpac's FX strategist Sean Callow, referring to the 2008 global financial crisis.
"And most equity markets have had a great run and consensus was Ben would sound like Dudley - don't worry, more dollars coming," he said, referring to New York Fed President William Dudley who has been openly dovish.
Wall Street stocks posted their biggest daily decline since May 1. The U.S. 10-year Treasury yield hit a two-month high of 2.069 percent earlier on Thursday and last stood at 1.98 percent on a general rush into safe-haven assets.
Still, Asian credit markets felt the impact of the heightened global concerns about risky assets, causing the spread on the iTraxx Asia ex-Japan investment-grade credit default swap index to widen by four basis points.
NIKKEI, JGBS
The Nikkei average tumbled 7.3 percent to 14,483.98 at close, after initially surging to a fresh 5-1/2 year high, rattled by the drop in JGBs as well as the weak factory activity in China, one of Japan's major export markets.
That spurred reductions in the market's heavy bets on a Japanese recovery and on weakness in the yen, pushing the dollar down 1.5 percent to 101.6 yen and well off Wednesday's high of 103.74, the greenback's strongest level since October 2008.
Japanese government bonds (JGB) also recovered in later trading, as the Nikkei fell, although prices dived initially as a surge in U.S. Treasury yields extended the bearishness in Japan's bond market. JGBs have suffered a steep selloff after the Bank of Japan unleashed massive monetary stimulus last month to boost inflation.
"Bernanke seems to be leaning towards reducing bond purchases, which was a bit of surprise," said Tadashi Matsukawa, head of fixed-income at Pinebridge Investments in Tokyo.
"In addition, the Bank of Japan didn't offer any concrete steps to calm the JGBs."
Bernanke's comments came just after BOJ chief Haruhiko Kuroda disappointed JGB players by offering only lip service to worries about the recent rises in JGB yields and reiterated they could naturally rise when the economy improves.
The 10-year JGB yield rose to 1.000 percent, its highest level since early April last year, and last stood at 0.835 percent or down 5 basis points on the day.
The 10-year JGB yield has more than tripled from a record low of 0.315 percent hit on April 5, the day after the BOJ unveiled its unprecedented monetary expansion.
To appease nervous investors, the BOJ offered 2.0 trillion yen cash in one-year contracts, a type of market operation the BOJ has used a few times in recent weeks when it wanted to reduce volatility in JGB market though with limited success.
Speaking after markets closed, Japan's Economics Minister Akira Amari said the pace of rises in the stock market had been sharper than expected and the yen's rise was a natural reaction to the Nikkei decline.
SEA OF RED
Shares in Hong Kong had their worst daily loss in seven weeks on Thursday, mimicking losses across Asia after China's flash HSBC Purchasing Managers' Index (PMI) for May fell to 49.6, slipping under the 50-point level demarcating expansion from contraction for the first time since October.
Singapore's stock index was down 1.9 percent at 0830 GMT, making it its worst performance since May 2012.
Emerging Asian currencies fell against the dollar with the South Korean won down 1.3 percent and the Philippine peso losing nearly 1 percent.
The weak PMI for China added to pressure on the Australian dollar, which fell to its lowest level since June 2012 at $0.9626.
In commodities markets, Brent crude slid 1.2 percent to $101.32 a barrel, while gold was up nearly a percent at$1,381.85 an ounce.
(Writing by Vidya Ranganathan; Additional reporting by Hideyuki Sano and Dominic Lau in Tokyo, Cecile Lefort in Sydney, Clement Tan and Umesh Desai in Hong Kong, Jongwoo Cheon in Seoul; Editing by Eric Meijer)
Updated Date: May 24, 2013 05:45 AM