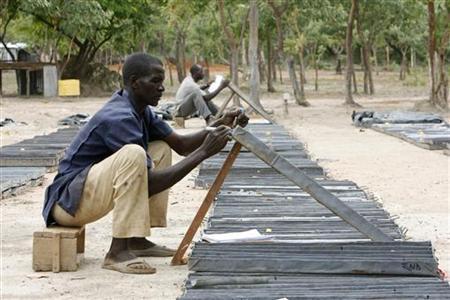 ABIDJAN (Reuters) - The next wave of private investment in Africa is likely to come from Asian funds, lured by sustained high growth rates and increasing economic and political stability, according to the co-head of one of the continent's top private equity groups.
By contrast with the crisis in the euro zone and slower-than-expected economic recovery in the United States, the International Monetary Fund forecasts sub-Saharan Africa will grow by around 5.5 percent in 2012 and include five of the world's fastest-growing economies.
"I've had the opportunity to speak with a number of Asian funds, and they have an extremely large thirst for knowledge on Africa and how Africa works," said Vicent Le Guennou, chief executive and co-founder of Emerging Capital Partners (ECP).
In an interview at the group's Abidjan offices, he predicted Asia's annual private investment in Africa would reach as high $10 billion in the coming years.
"They want to allocate a growing share of their resources to this continent either as direct investments or through funds like ours ... I'm convinced that in the next five years a very significant proportion of our investors will be Asian."
ECP, which manages six funds dedicated to Africa amounting to a total of more than $1.8 billion, has made more than 50 investments and 20 successful exits.
Private equity firms are increasingly looking for deals in Africa as an alternative to largely saturated markets in China and elsewhere in Asia.
High commodities prices, new resource exploitation and improving domestic conditions have boosted Africa's resilience to the current global economic turmoil. And the low level of integration of its economies with world markets, once seen as a liability, is likely to insulate it against financial distress in Europe.
"A major crisis in Europe will inevitably have global repercussions, and all regions will be affected including Africa," Le Guennou said.
"But investors are turning away from Europe towards other markets, and it's up to us to demonstrate that it is an attractive alternative solution."
IVORIAN OPENING
The five sub-Saharan countries forecast to have the fastest-growing economies this year include Sierra Leone at 35 percent, Niger at 14 percent, Angola at 9.7 percent and Ghana and Liberia both at 8.8 percent.
Also Ivory Coast, the world's top cocoa producer, is making a comeback following a decade of on-again-off-again conflict and economic stagnation, including last year when it contracted 4.7 percent during a civil war.
The IMF expects its GDP to grow 8 percent this year, and new President Alassane Ouattara recently predicted double-digit growth in the years to come, though analysts are more cautious.
The Ivorian economy accounts for 40 percent of the GDP of the eight-country West Africa CFA franc zone, and its growing mining sector and under-exploited offshore oil and gas potential herald a potential boom.
Smart investors will need to get in early, Le Guennou said.
"It is our point of view that now more than ever it is time to invest in Ivory Coast. It's a motor for this zone, and that will be even more the case with the return of a certain level of stability," he said.
Ouattara's emphasis on heavy investments in long neglected infrastructure are already providing opportunities.
A third bridge over Abidjan's lagoon is currently being built by France's Bouygues at a cost of 227 million euros. And the ports of Abidjan and San Pedro both seek private funding for ambitious expansion projects.
ECP bought a 60 percent stake in Ivorian water and power utilities, SODECI, CIPREL and CIE in 2009 and is now planning to invest further. It signed an agreement in December to boost CIPREL's production capacity from 300 to 600 megawatts for an investment of 300 million euros, a third of which has already been mobilised.
"I am not saying that everything is easy. We know it will be complicated and long," Le Guennou said of Ivory Coast's post-war outlook.
"But we are seeing a favorable situation that we, as investors, can support."
(Writing by Joe Bavier, editing by Jane Baird)
Updated Date: Jun 16, 2012 00:00 AM