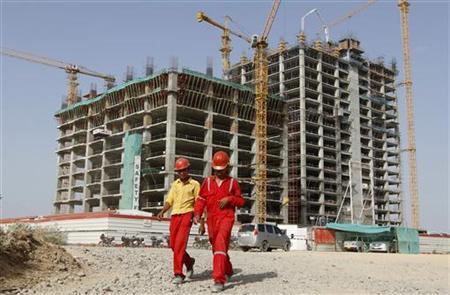 SYDNEY (Reuters) - Policymakers in emerging Asia are stepping up efforts to stimulate growth, and with government debt low and public savings high, chances are good they can spare the region the worst of the rich world's woes.
That is just as well, since leading indicators, particularly for manufacturing, show that trade across export-obsessed Asia has hit an air pocket that could last for months.
"Exports are about to drop off sharply," warned Frederic Neumann, co-head of Asian economics at HSBC.
"To avoid sudden weakness feeding on itself, measures are needed to bridge the lull in growth," he argued, proscribing a dose of fiscal spending and regulatory reform.
The response also would not need to be as aggressive as after the global financial crisis, since there was no sign of the snap-freeze in trade finance that so badly damaged Asian exports in 2008 and 2009.
Inflation has also been easing in most parts of the region, giving central banks and governments more room to ease policy or launch fresh stimulus than many developed nations.
Neumann noted that industrial production in the United States and euro zone is still below its pre-crisis peak, yet in emerging Asia it was now over 40 percent higher.
Crucially, this recovery was driven by Asian demand and not, as traditionally, by exports to the West. That was a major reason it took just 11 months on average for emerging Asia to recoup all the output losses of the global recession.
"All that's coming is another trade shock, and one that is likely to be much shallower than in 2008 as trade financing remains available," argues Neumann. "All we need is stimulus, and the region will quickly fire up again. Please deliver."
Policymakers have already done a lot, and still have far more ammunition remaining than their counterparts in the United States, Europe, Britain and Japan, which are running out of tools to jump-start demand.
Interest rates are at or near record lows across much of the region while most countries have not had to cut spending like their western counterparts.
The latest move came from the Bank of Korea which surprised last week by cutting rates a quarter point to 3 percent, its first easing in more than three years. It characterised the cut as a pre-emptive strike and left the door open for more stimulus if necessary.
CHINA PRIMED
Speculation is rife that China is about to unveil a slew of pro-growth policies, led by infrastructure spending.
Along with two rapid-fire rate cuts, China has already fast-tracked infrastructure investment, offered consumption subsidies to households and moved ahead with financial reforms. On public housing alone the state plans to build seven million units this year, not far off the entire housing stock of Australia.
Just this weekend, China's Premier Wen Jiabao said the second half of the year would see the government "increase efforts to preset and fine-tune its policies, and make policies more targeted, foresighted and effective."
With economic growth at a three-year low of 7.6 percent and inflation down at 2.2 percent, policymakers certainly have the scope for stimulus, even if it is unlikely to match the massive boost that followed the 2008 crisis.
"We expect earlier policy easing and supportive fiscal measures to gradually feed into the real economy and continue to expect growth to bottom in Q2," said Jian Chang, an economist at Barclays.
But that did not mean a return to 10 percent-plus growth pace of the past decade.
"Most Chinese officials we have spoken with fully embrace the idea that China needs lower growth to facilitate a rebalancing and transformation of the growth model," Jian added.
"Policies may appear restrained, but over the longer haul we believe the more moderate growth path will prove far more sustainable and with far fewer negative side-effects."
SHAME ABOUT INDIA
Analysts are a lot less optimistic on India, where the $2 trillion-economy has stumbled badly in recent months amid stubborn inflation and government foot-dragging on reform.
Annual growth braked to a nine-year low of 5.3 percent in the first quarter while industrial output has slowed to a crawl.
The central bank dismayed many in financial markets by not cutting rates in June, saying an easing would do little to promote growth but would risk fuelling inflation.
Another reluctant easer has been the Bank of Japan (BOJ), which skipped a chance for more quantitative stimulus at its policy meeting last week.
The bank may have been encouraged by its Tankan survey of businesses which showed unexpectedly upbeat business sentiment and investment plans.
But other data showed core machinery orders, a leading indicator of business investment, tumbled in May while surveys of manufacturing showed growth stalling.
Politicians have reacted by calling for a stimulus package as early as the third quarter, though any plan is expected to be modest in size given the nations' huge debt burden.
ASEAN UNDERRATED
In sharp contrast has been the performance of the Southeast Asian nations of Indonesia, Thailand, Malaysia, Singapore and the Philippines.
This group tends to be overshadowed in the news by China, yet a combined, relatively youthful, population of around 439 million makes for a lot of potential consumers.
"ASEAN remains a bright spot amid the downbeat global economy," say Moody's economists Katrina Ell and Fred Gibson. "Exports are the traditional growth engine of the region, but even with the recent softening in global demand, economic growth has held firm."
That is one reason ASEAN share markets have handily outperformed the Asian average and their western peers since the 2009 global recession. So far this year, indexes in the region have climbed anywhere from 5 to as much as 20 percent.
Indonesia in particular has been a success story in the last few years, making it a darling with offshore investors. Foreign direct investment there climbed 30 percent in the first quarter from a year earlier.
Annual economic growth has averaged around 6 percent for the past decade and even with Europe's drag on exports it managed to expand by 6.3 percent in the first quarter, from a year earlier.
With inflation contained at just under 5 percent, Bank Indonesia (BI) is expected to keep its benchmark rate at a record low of 5.75 percent for the rest of the year.
In Thailand, the economy has bounced back smartly from last year's devastating floods, growing 11 percent in the first quarter after a similar-sized contraction the previous quarter.
Household consumption, private investment and a recovery in the service and manufacturing sectors were the main drivers of growth in Southeast Asia's second-largest economy.
Thailand's central bank has said it had scope to cut interest rates if necessary, though markets are pricing in a steady 3 percent for months to come.
Annual growth in the Philippines topped 6 percent in the first quarter, the fastest pace in five years, fuelled by higher government spending, a rebound in exports and strong domestic consumption. Interest rates are again at a record low of 4 percent and likely to stay there.
The Asian Development Bank this month only marginally trimmed its forecast for all of developing Asia to 6.6 percent for 2012 from 6.9 percent. And it felt that most governments in the region "have sufficient policy space to ease monetary policy and provide fiscal stimulus if needed."
(Editing by Kim Coghill)
Updated Date: Jul 17, 2012 03:45 AM