Apple adds touch screen keys to new MacBook Pro, starts at $1799 | Reuters
By Deborah M. Todd | CUPERTINO, Calif.
By Deborah M. Todd
| CUPERTINO, Calif.
CUPERTINO, Calif. Apple Inc (AAPL.O) unveiled a revamped MacBook Pro on Thursday, adding a fingerprint reader, replacing function keys with a small touch screen and slimming down the workhorse of its computer notebook line.The first redesign in several years is a sign Apple still sees a role for the product that launched the company, even though its iPhones are now much more important in terms of sales. "What they really need to do is get people buying Macs again, instead of upgrading old ones. They haven't had a new, powerful MacBook Pro in a while and the MacBook Air is getting old," said Jan Dawson of Jackdaw Research, ahead of the event.The Mac line accounted for about 11 percent of Apple sales in the just-finished fiscal year, with the number of machines sold down by 10 percent to 18.5 million. Apple said that was in line with an overall market decline, but analysts want more.Shares of Apple were down about half a percent in afternoon trading in New York after the event.
Customers will be able to access the new machines with Touch ID, the fingerprint reader also used on iPhones, and use the touch screen bar of keys, called the Touch Bar, to control programs and apps being used on the main screen.The buttons, which change depending on what programs the user is running, effectively act as a second screen, showing older versions of a picture being edited, for example.The MacBook Pro with Touch ID, Touch Bar and a 13-inch screen will start at $1,799, compared with $1,299 for the previous 13-inch product. The 15-inch notebook will start at $2,399, compared with $1,999 for the previous version. Apple also will offer a 13-inch MacBook Pro without the Touch ID and Touch Bar for $1,499.
Other computer makers have chosen to use touch screens for the main display screen. For instance, Microsoft Corp (MSFT.O) on Wednesday unveiled its first-ever desktop and a revamped Surface Book laptop, both of which allow touch input on the main screen.Bob O'Donnell, president of TECHnalysis Research LLC, said before the Mac announcement that the market believes focus on the iPhone means Apple has "almost given up on Macs," which has led to losing market share to other personal computers.
"It'll be good to have Apple keep themselves relevant" with new Macs, he said. "Though many had written the category off, it's fascinating to see both Microsoft and Apple make big PC-related announcements this week. It clearly shows the relevance that computers still have."Apple also announced a new TV App that would work on Apple TV, iPhone and iPad products, in an effort to make it easier to tune into programs across devices.The company also said that it would integrate Twitter (TWTR.N) feeds into live sports games on Apple TV, adding a social element to the product. (Reporting by Deborah M. Todd and Julia Love; Writing by Peter Henderson; Editing by Lisa Shumaker and Bill Rigby)
This story has not been edited by Firstpost staff and is generated by auto-feed.
World
Their official meeting or reunion took place on Monday (13 September) in Texas, but the two had earlier met at the border last week. They met each other after communicating on social media.
News & Analysis
According to Facebook, parents can help by repeatedly talking to their teens about the difference between appearance and reality.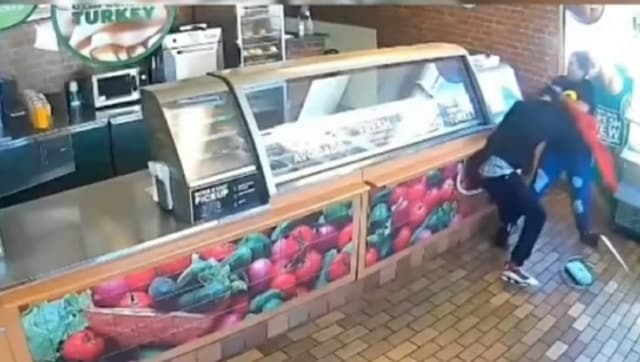 World
The video, captured on 5 September, shows Sotelo fighting off an armed robber, hitting him repeatedly with his own gun.