ANALYSIS - Beijing bling: Hyundai plots China branding reboot after missile row | Reuters
By Hyunjoo Jin and Jake Spring | SEOUL/BEIJING SEOUL/BEIJING Bruised by anti-Korean sentiment in its biggest market and losing ground to local automakers, Hyundai Motor will open its first Chinese brand store, and may locally assemble its premium Genesis cars and accelerate the launch of a sport-utility vehicle (SUV), people familiar with the plans said.The measures are aimed at rebooting the South Korean firm's branding in China, where many see Hyundai as a lower-end maker of city taxis.Hyundai and its affiliate Kia Motors were not long ago ranked third among foreign car brands in China, but recent sales have been hit by a consumer backlash over South Korea's deployment of a U.S. anti-missile defence system which Beijing opposes.Analysts say the diplomatic row masks broader problems for Hyundai/Kia in China: poor brand recognition and a model line-up struggling against local brands' cheaper SUVs. 'Hyundai has an in-between brand that doesn't have a clear identity in China, and there's the backdrop of poor China-Korea relations,' said James Chao, Shanghai-based Asia-Pacific chief of consulting firm IHS Markit Automotive
By Hyunjoo Jin and Jake Spring
| SEOUL/BEIJING
SEOUL/BEIJING Bruised by anti-Korean sentiment in its biggest market and losing ground to local automakers, Hyundai Motor will open its first Chinese brand store, and may locally assemble its premium Genesis cars and accelerate the launch of a sport-utility vehicle (SUV), people familiar with the plans said.The measures are aimed at rebooting the South Korean firm's branding in China, where many see Hyundai as a lower-end maker of city taxis.Hyundai and its affiliate Kia Motors were not long ago ranked third among foreign car brands in China, but recent sales have been hit by a consumer backlash over South Korea's deployment of a U.S. anti-missile defence system which Beijing opposes.Analysts say the diplomatic row masks broader problems for Hyundai/Kia in China: poor brand recognition and a model line-up struggling against local brands' cheaper SUVs. "Hyundai has an in-between brand that doesn't have a clear identity in China, and there's the backdrop of poor China-Korea relations," said James Chao, Shanghai-based Asia-Pacific chief of consulting firm IHS Markit Automotive. "Newly introduced SUVs should help, but they are late to the game."Even before the missile systems row, Hyundai/Kia's China market share tumbled to 8.1 percent last year, the lowest in eight years. This year, it has slid further to 5 percent.To help its identity crisis, Hyundai will in September open a brand experience centre in Beijing's 798 Art District, a trendy hub of refurbished factory buildings. Hyundai has three similar centres in Seoul and one in Moscow."We're not going to show a real car. This space is only for focusing on brand building," Xu Jing, the Hyundai executive in charge of the project, told Reuters.
The centre was planned before the recent political tensions, but its completion is now a key plank in Hyundai's efforts to regain a lost position in China as local automakers and European brands gain ground. Volvo-owner Geely and Great Wall Motor are also looking to move upmarket.The branding store ventures into territory traditionally held by premium names such as Daimler's "Mercedes me" stores and BMW's brand centres, already in China.MAKING GENESIS
Hyundai is also considering using complete knock-down (CKD) kits shipped from South Korea to assemble Genesis cars in China - more than halving import tariffs to 10 percent - two people familiar with the matter said.Building Genesis cars from kits in China would also prevent technology leaking to its local joint venture partner, BAIC, one of the people added.
The kits are a first step, said one Hyundai insider. "We are agonizing over how to source local parts and secure enough sales to build the Genesis cars."Hyundai launched its Genesis luxury sedan in 2008, and two years ago spun it off with the larger Equus sedan into a standalone premium brand. Brand chief Manfred Fitzgerald said last year Genesis would launch in China within 2-3 years.Hyundai has not decided which Genesis model it will build in China first, but plans to have six models including a sports sedan and two SUVs under the premium marque by 2020. "While the Genesis brand is reviewing a variety of strategies for the China market, no specific decisions have been made yet," Hyundai said in a statement.Hyundai sold 74 Genesis sedans in China last year, down from 1,016 in 2015. It sold a single Equus, down from 10 the previous year, according to export data seen by Reuters.
RECOVERY TIME
Hyundai may also bring forward by a month, to November, the launch of a small SUV, codenamed NU, to be built at its fourth factory in China, one of the people told Reuters.And Kia is considering launching the Stinger, its first sports sedan, in China, people with direct knowledge of the matter said, though there are no plans to build the model there.Hyundai said it also plans to apply new, cutting-edge technologies such as connectivity and advanced driver assistance systems (ADAS) to many products from the second half of this year, and soon introduce six new-energy vehicles.Since starting to make cars in China in 2002, Hyundai has aggressively chased sales and market share by selling both older and new versions of models including the Elantra and Sonata sedans and Tucson SUV.Among foreign car brands, Hyundai's China sales lag only those of General Motors and Volkswagen, but it's generally seen as more lower-end than American, German and Japanese rivals. Beijing Hyundai has supplied around a fifth of the capital's taxis.The volume sales model "did wonders for sales growth, but dented the Hyundai image in the minds of Chinese buyers," said Michael Dunne, president of consultancy Dunne Automotive."(Having a) weaker brand ... than Japanese automakers, I think it might take more time to restore the brand and sales," said Han Sang-yun, director at S&P, noting Japanese car makers took a year to bounce back in China after a 2012 consumer backlash over a territorial dispute between Beijing and Tokyo. (Reporting by Hyunjoo Jin and Jake Spring, with additional reporting by Norihiko Shirouzu; Editing by Clara Ferreira-Marques and Ian Geoghegan)
This story has not been edited by Firstpost staff and is generated by auto-feed.
Find latest and upcoming tech gadgets online on Tech2 Gadgets. Get technology news, gadgets reviews & ratings. Popular gadgets including laptop, tablet and mobile specifications, features, prices, comparison.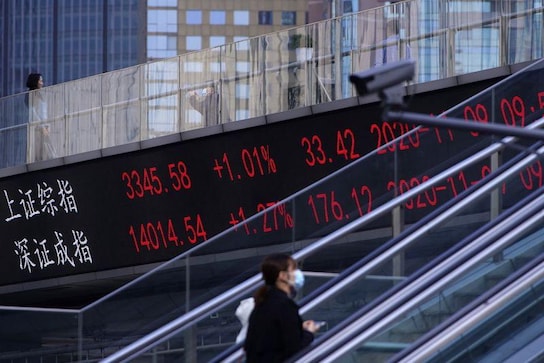 Business
By Chuck Mikolajczak NEW YORK (Reuters) - A gauge of global stocks hit a record and oil prices jumped on Monday as the newest positive data for a potential COVID-19 vaccine and signs of economic recovery in Asia boosted sentiment. U.S. stocks advanced, with the Dow Industrials setting a record as it neared the 30,000 mark for the first time, after pharma company Moderna said its prospective vaccine was 94.5% effective in preventing the illness, which has crushed economies across the globe
Business
By Anirban Sen and Joshua Franklin (Reuters) - Airbnb Inc's initial public offering (IPO) registration showed on Monday that the home rental startup turned a profit in the third quarter despite the COVID-19 pandemic, as it gears up for one of the most anticipated stock market debuts in recent years. The filing, published ahead of Airbnb's anticipated stock market debut in December, showed a dramatic recovery in its fortunes, after the coronavirus outbreak dragged down its core home rental business during the first half of the year. The slump forced it to lay off 25% of its workforce in May, suspend marketing activities for the year and seek $2 billion (£1.5 billion) emergency funding from investors, including Silver Lake and Sixth Street Partners, at a valuation of $18 billion
Business
By David Lawder WASHINGTON (Reuters) - U.S. President-elect Joe Biden said on Monday the United States needed to negotiate with allies to set global trading rules to counter China's growing influence but declined to say whether he would join a new China-backed Asian trade pact signed on Sunday.