Trupti Desai in Haji Ali Dargah but won't enter sanctum sanctorum
Trupti Desai's plans to enter the Haji Ali Dargah in Mumbai has caught the unwanted attention of Haji Rafat Hussain
Trupti Desai has reached Haji Ali Dargah, which is reportedly massively secured, and will only go up to where women are allowed, according to CNN-News18. Desai plans not to enter the sanctum sanctorum, the channel adds.
Desai's plans to lead a movement for equal rights — Haji Ali Sabke Liye — have only angered All India Majlis-e-Ittehad-ul Muslimeen (AIMIM) leader Haji Rafat Husain, who according to PTI, said that his party will not let Desai enter the sanctum sanctorum.
To quote ANI, Hussain said, "We will not tolerate this. This will be an attempt to spoil the environment of Mumbai."
If she tries to enter Haji Ali Dargah forcefullty we will smear black ink on her: Haji Rafat Hussain on Trupti Desai pic.twitter.com/vnlTXOfJEr

— ANI (@ANI_news) April 28, 2016
Hindustan Times reports that the protesting members will take forward the march even without police permit at 4 p.m., outside Haji Ali.
The opposition comes at a time when the Maharashtra government favoured the entry of women into the dargah in February. Till 2011, however, women were allowed to enter the dargah's inner sanctum, reports CNN-News18. According to PTI, the Dargah Board had said that the sanctum sanctorum houses the grave of a male saint and is a sin for women to touch a male saint in Islam.
PTI also quotes Hussain as saying, "Women are barred from entering graveyards and shrines. She cannot be allowed to play with Islamic traditions for cheap publicity gimmicks. Our women volunteers will be at the shrine to prevent her entry there."
Desai was the activist who spearheaded the campaign, earlier this year, to allow women entry into all places of worship. She led a successful march to the Shani Singapur Temple, and performed an aarti at the sanctum — what can be considered as a breakthrough in striving for gender equality.
The threat to the Bhumata Ranragini Brigade president doesn't just come from Hussain. On 23 April, a local Shiv Sena leader said that he'd hit her with "slippers" if she tried to enter the Dargah, even as Desai plans to continue unblinkingly, in the face of hate and violence against women. However, on Thursday, PTI reports that Sena spokesperson Neelam Gorhe rejected the previous statement and even warned of action against the said leader.
She has also asked Bollywood stars for support in this regard, reports ANI and adds, "I think Shah Rukh Khan, Salman Khan and Aamir Khan should state their stand on what we are trying to achieve here, on our cause... That way I believe that their fan following will join us and support us in our fight for equality."
Desai has not restricted her campaign to just places of worship: she even demanded that the RSS allow women to become its members. "The Bharatiya Janata Party was elected to power on the basis of women's votes. Women should be allowed to join the RSS to which the BJP is affiliated," she said, in an earlier report in Firstpost. Although Desai was not part of the campaign to the Trimbakeshwar temple, she along with other activists offered their prayers at the inner sanctorum.
For the Haji Ali campaign, Desai is not alone. According to a report in Firstpost, "Over 20 outfits, NGOs and human right activists on Wednesday, announced formation of 'Haji Ali Sabke Liye' to peacefully campaign against the ban on entry of women into the interiors of the 15th century Sufi shrine, located on a small islet in the Arabian Sea and visited by hundreds of people everyday."
Violence against women isn't a novel concept. Neither is barring women from entering places of worship nor is prescribing 'appropriate' dress codes for different places (basically to be 'decently' clothed in the presence of men). Desai on 13 April, apparently 'defied the dress code' of the Kolhapur temple and wore salwar kameez inside the 'girbh griha' of the temple, instead of a sari.
It might be heartwarming for Desai to know that she has apparently inspired Trikal Bhavanta, a woman seer, who entered a pit to take 'Samadhi' on Tuesday to demand the right for women to take 'Shahi Snan' during the Simhastha Kumbh. Predictably enough, Bhavanta was arrested the following day.
Desai's no-holds-barred approach seems like a victory to women world-over. But how short or long-lived will this be? For now, one hopes that her rally opens doors to sanctum sanctorum's everywhere.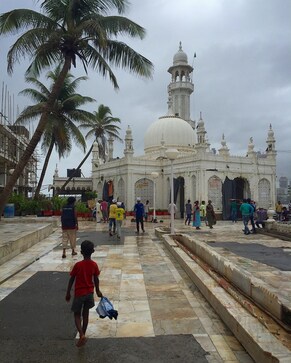 Mumbai
The court has, however, stayed its order for six weeks following a plea by Haji Ali Dargah Trust, which wants to challenge it in the Supreme Court. They should gracefully implement HC order of lifting the ban on women instead, activists tell Firstpost.
India
"We are going to hold a few more rounds of meetings to get the opinion of other stakeholders," a trustee of the Haji Ali Dargah said
India
Desai had on Friday announced that she will visit the Haji Ali Dargah following the Bombay HC's ruling that lifts ban on women from entering the shrine.