Steve Smith's ball tampering episode shows that the gentleman's game needs an urgent image correction
The recent ball tampering incident involving Steve Smith shows that administrators will have to define what cricket is and what it isn't. The sport's reputation is at stake right now | #FirstCulture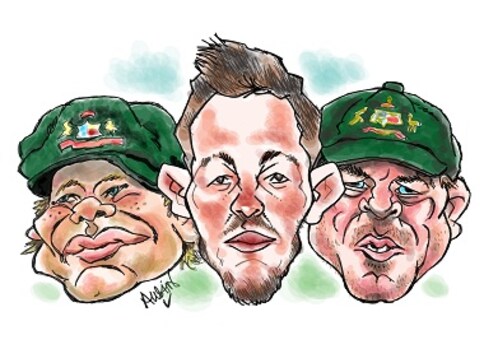 Cricket was a gentleman's game not too long ago. It no longer is; it is dog-eat-dog out there now. The win-at-all-costs attitude has, of late, pervaded the sport at all levels.
This degrading of values has come as a result of the money involved in the game, besides prestige and fame. The instant gratification that T20 cricket brings is also one of the reasons; the new followers of the shorter format are impatient and do not accept defeat in the right spirit.
The new mindset that has taken over cricket is probably the reason why Steve Smith, its best talent in many years, has had to face the ignominy of a year's ban, and a fall from grace. Also, as a result of the recent ball-tampering incident, David Warner and Cameron Bancroft too, have had to go.
It is this Game of Thrones attitude of win-or-die that has led teams to find ways of gaining undue advantage against their opponents; often devious ways!
If India has made use of its turning tracks and a wealth of spin wizards to mesmerise touring teams to into submission, others have used their seaming tracks and pace battery to advantage. England, Australia, South Africa, the West Indies and New Zealand have all won series on the performances of their pace bowlers. Pakistan, too, has had some great pacers.
Gone are the days of batsmen running for dear life, scared of the frightening pace worked up by big fast bowlers. This could be attributed to better technique and, of course, better protective equipment. Bowlers have therefore had to invent ways of luring batsmen into playing false shots. One such invention is the reverse swing.
Reverse swing, in fact, is the new mantra for winning matches.
Any team with a pace bowler, who can deliver the ball at speeds of around 150 kph and can get the ball to reverse swing, can get rid of lower order batsmen in a jiffy. Mitchell Starc is Australia's 'shock' bowler. He isn't just quick; he is lethal when the ball begins to reverse!
The ball is said to reverse swing when it moves in the direction of the shiny side; not the rough side, as is the convention. This happens when the shiny side of the ball is loaded with sweat – and saliva – to make that half of the ball heavier.
In a match situation, when this reverse-swing-ready ball is delivered to a right-handed batsman with an out-swing action, and the rough side of the ball faces off-side, the ball initially wobbles and threatens to move away. Late in its flight–which is usually less than half a second–the ball suddenly dips inward. Waqar Younis' yorkers with the old ball are a great example of this delivery.
It is necessary for the ball to be carefully 'prepared' so that it reverses. Therefore, one of the fielders in every team specialises in doing so, keeping one side rough and dry and the other, stuffed with sweat and shiny. Warner usually did this for the Australian pacers.
This March, Starc claimed 5 for 34 and 4 for 75 in the two innings to help Australia beat the Proteas in the first Test at Durban by 118 runs. On both occasions, he came back with the old ball, reversed it menacingly and wiped off the South African tail. He was declared 'Man of the Match'.
At Port Elizabeth, in the second Test, he had figures of 1-110 and 0-15, as Australia sank to a six-wicket loss. At Cape Town, in the third Test, he claimed 1-81 in the first innings and 1-98 in the second. At both these Test centres, with lush green outfields, the ball just refused to reverse, rendering Starc ineffective.
Though Josh Hazlewood, Pat Cummins and Nathan Lyon had bowled with a lot of heart in the series, the Australians knew that the Test at Cape Town could not be won without Starc bowling his deadly reverse swing. Hence, Bancroft was given the odious task of scuffing the ball with a strip of sandpaper.
As many observers have pointed out over the last few days, Bancroft would have got away with the offence if he hadn't panicked, and Starc would perhaps have picked his fair share of wickets while reversing the ball. When he was informed that he was caught on camera scuffing the ball, Bancroft slid the piece of sandpaper into his jock-strap and literally gave away the plot.
This incident led to indignant reactions from all and sundry. Smith and Warner had to step down as captain and vice-captain respectively of the Australian team, while the Test match was in progress. Tim Paine was asked to lead the beleaguered side, which then expectedly lost the match by a huge margin of 322 runs.
The ICC handed Smith and Bancroft the customary punishment that was due to them, but Cricket Australia's (CA) reaction to the entire episode was one of hysteria. The prime minister spoke up, journalists reacted and CA handed out stern punishments to the two, and also included Warner in the list.
Bancroft isn't the first cricketer to be caught tampering with the condition of the ball. There have been many before him who weren't caught–probably because of the lack of TV evidence–and there have been others who were let off lightly.
In the 1960s, Indian spinners would insist on rolling throw-ins to get the shine off the new ball as early as possible. In England, at County matches, it was known that saliva put onto the ball while chewing a particular mint made the ball swing more. Pakistani bowlers were known to scuff the ball with bottle caps during drinks breaks to get it to reverse swing. John Lever was alleged to have used Vaseline to swing the ball in a series in India, in the 1970s.
In recent times, Michael Atherton was caught with dirt in his pocket, which he allegedly transferred onto the ball in a Lord's Test in 1994. In July 2000, Waqar Younis was suspended for ball tampering, while Sachin Tendulkar was allegedly caught scuffing the seam of the ball by match referee Mike Denness. Tendulkar was later cleared after there were allegations of racism leveled against Denness.
In 2004, Rahul Dravid, of all people, was charged with using saliva, with a cough lozenge in his mouth, to polish the ball in a tri-series game at Brisbane. In 2010, both James Anderson and Stuart Broad were suspected to have tampered with the ball in the Test at Cape Town against the Proteas. They were let off lightly. The same year, Shahid Afridi was seen 'biting the ball' to lift its seam.
In 2012, Sri Lankan cricketers complained that Peter Siddle was picking the seam after he finished with figures of 5-54. In a South Africa-Pakistan match at Dubai, Faf du Plessis was seen rubbing the ball against the zip of his trousers. Philander was fined 75 percent of his match fee, for lifting the seam, and Warner alleged that the South African fielders would throw the ball into the ground and that AB de Villiers would wipe the ball on the rough side of his 'keeping gloves.
Match-fixing and spot-fixing scandals have dented the image of the game to an extent where critics of cricket now allege that every other international game is fixed. Cricket's credibility is at an all-time low.
The punishment meted out to Smith, Warner and Bancroft by the CA, people believe, is too harsh. But somebody had to take a call, and CA has had the courage to punish two of its best players. The ICC believes in mollycoddling the various boards, especially the cash-rich ones, and the boards in turn pamper their star players. CA has therefore set an example.
Cricket may never again achieve the 'gentleman's game' status, but its administrators will have to define what cricket is and what it isn't. Its reputation is at stake right now.
Comedian Michael Iapose once said, "Reputation is character minus what you've been caught doing." Cricketers and cricket administrators have been caught with their hands in the cookie jar once too often!
The author is a caricaturist and sportswriter. A former fast bowler and coach, he is now a sought-after mental toughness trainer
Find latest and upcoming tech gadgets online on Tech2 Gadgets. Get technology news, gadgets reviews & ratings. Popular gadgets including laptop, tablet and mobile specifications, features, prices, comparison.
First Cricket News
On Monday, officials announced an easing of restrictions after no new daily or deaths, opening the door to some good news for cricket fans.
First Cricket News
PCB chief Wasim Khan then clarified that it's only fair that there is a time-frame for such a deadline, which they've set for January 2021.
First Cricket News
Manish Pandey (83) and Vijay Shankar (52) scored unbeaten half-centuries after Warner and Jonny Bairstow were dismissed early in the run chase to help SRH register a comfortable eight-wicket win.