Harmanpreet Kaur's identity is tied to the team in a different way from those of Mithali Raj and Jhulan Goswami. Raj is the inveterate constant, both at the batting crease, and in people's eye. Goswami is the firebrand who refuses to let age burn her, an icon in her state, but just like in the Indian team, does not always appear in memory. Harmanpreet, though, is less personality and more moment. Think of Raj and Goswami and you think of 15 years; think of Harmanpreet, and you can only think of 20 July 2017.
In reality, she is more. Much more.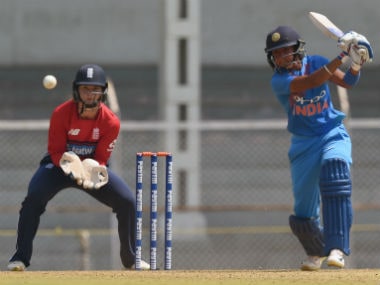 Had she not found the innings of a lifetime at Derby, a few million people less would know that India have a women's team. Had she been dismissed early after getting set in the semi-final of the 2017 World Cup, people would never have stood watching TVs outside dhabas for a women's game. Her 171* is what brought hundreds to the airport to receive the team, despite India losing a trophy which they had one hand on almost till the very last. Even though Raj was the captain, even though Smriti Mandhana became the darling of the nation, Harmanpreet was the face of India's World Cup campaign.
Which is why it is hard, so hard, for fans to see her struggle to make an impact at home.
What must it be to drag such a singular definition to the crease every time she walks out to bat? They watched her on TV then, so they turn on their TVs now, and hope to see more of the same, like a rerun of their favourite action movie. Maybe they know by now, but just don't want to accept, that the 171* was epochal, less repeatable action sequence, and more flash of cinematic genius.
But even if Harmanpreet is not judged by such lofty standards, she will concede that has failed to imprint herself on the ODIs against Australia, and in this tri-series, where she is the captain. Her last six scores read 33, 30, 13, 25, 17, 9. Can you smell the burned starts? She has always had a habit of starting slow and making up later. In South Africa, she converted most of those. But her home season has resembled a T-minus 10 countdown, without the lift-off.
Australia clearly have a plan in place for her: they use pace as much as possible when she is at the crease. In the ODIs, her strike rate against pace was 46. In the second ODI, there was a seven-over spell of pace where Australia starved her of runs, eventually drawing a top edge when the spinner came back on. In the past six games, she has fallen to pace four times.
Has this affected her confidence against spin? Having seen her toy with some of the country's best spinners on the domestic circuit, it has been worrying to see her mishit some of the Australian spinners. One of these hasn't bowled her full quota in more than half the ODIs she has played. Another has not a single left-hander in her 26 wickets. These are bowlers with limitations. These are bowlers Harmanpreet is getting out to.
With her captaincy, she has unboxed umbrella fields, but with limited success; when her bowlers aren't bowling the wrong lengths, the batswomen are sneaking twos from the empty in-field. Then there is the matter of having to keep a couple of fielders close, with the veterans not being the fastest movers on the boundary line. Was that what she meant when she referred to needing "fit players who can run all over the ground, not just stand in the 30 yard" in the post-match presentation on Monday? There is angst there, but in her own batting she will find the most frustration.
In a series where the pitches have been more white granite than red soil, and the outfield as fast as the slopes in Pyeongchang, Harmanpreet's slow starts seem profligate. Against England, she took 15 balls to go past a run-a-ball; on Monday against Australia, she took 29, eventually finishing with 33 off 30. In a game where the asking rate was over 10 when she came to the crease, it was an innings that seemed indifferent to the state of the match. In such good batting conditions, players with less class than her are getting their eye in faster.
Harmanpreet has a reputation of being a big-match player. In the World Cup, she had 77 runs in her first five innings. Then came 60 in a virtual quarter-final, next was the iconic 171*, and 51 in the final. But her scratchy form at home –in televised matches with an expectant audience — could earn her another tag: one-knock wonder.
She needs to show there is more. Much more.
The author is a former India cricketer, and now a freelance journalist and broadcaster. She hosts the YouTube Channel, 'Cricket With Snehal', and tweets @SnehalPradhan
Updated Date: Mar 27, 2018 12:05:35 IST