India slept well when Sachin Tendulkar scored well.
Times have changed, the word 'Tendulkar' has been replaced by 'Kohli' and India still sleep well.
They are the only batsmen to complete 10,000 ODI runs by scoring centuries. Tendulkar did it in 2001 against Australia at Indore while Virat Kohli did it in the second ODI against Windies at Visakhapatnam as he achieved the landmark of amassing 10,000 ODI runs just like his idol.
Who is better? Well, let's do a comparison of both the ODI greats.
Kohli took 54 innings less than Tendulkar to hit 10,000 ODI runs in career's first 205 ODI innings, there's an average difference of 17.31 and a strike rate difference of 6.33 in Kohli's favour, which indicates Kohli's consistency and power as a batsman in ODIs as compared to Tendulkar. Moreover, in as many innings as Kohli, Tendulkar hit 16 lesser ODI centuries, which puts Kohli above him in every sense in first 205 ODI innings.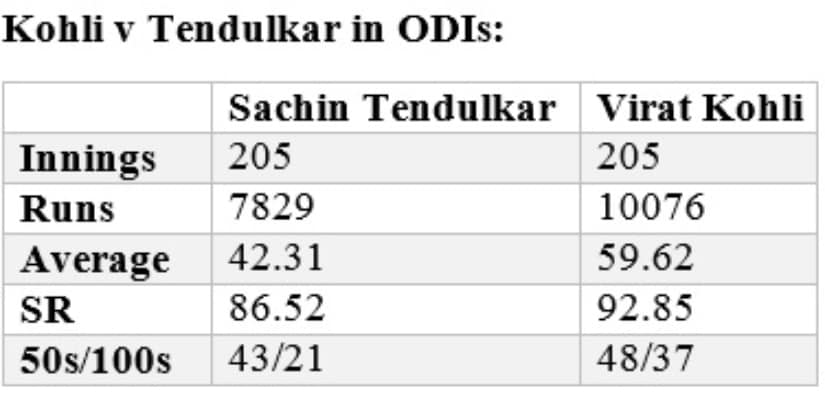 Kohli is a modern day chase master and rightly so. A massive average difference of 22.38 between him and Tendulkar in career's first 116 ODI innings while chasing substantiates that Kohli is a force to reckon with when it comes to chasing in ODIs.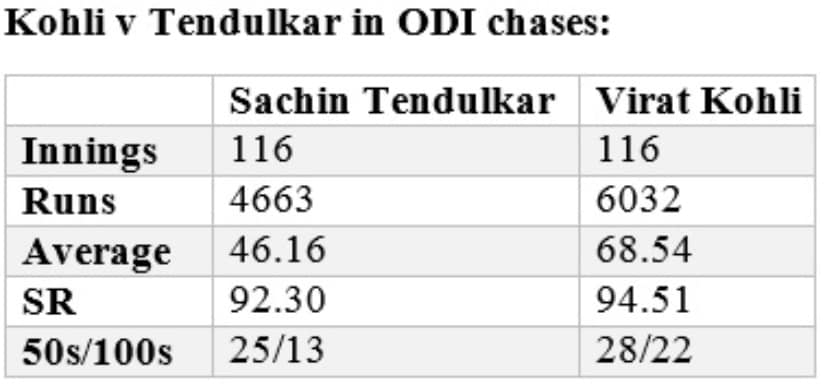 A positive average difference in the following table shows Kohli's consistency dominance among his peers in ODI cricket while Tendulkar presented power domination among his peers during his time in ODI cricket with a difference of 15.01.

Sachin Tendulkar amassed 1,000-plus runs in four calendar years in ODIs from his first 11 calendar years while Kohli did the same in six calendar years during the same period.
Virat Kohli is the only batsman to have an average above 75-plus while winning the matches in ODIs among batsmen who have scored at least 1,500 runs in ODIs in winning causes. On the other hand, Tendulkar scored 11157 runs at an average of 56.63 in winning matches for India in the 50-over format.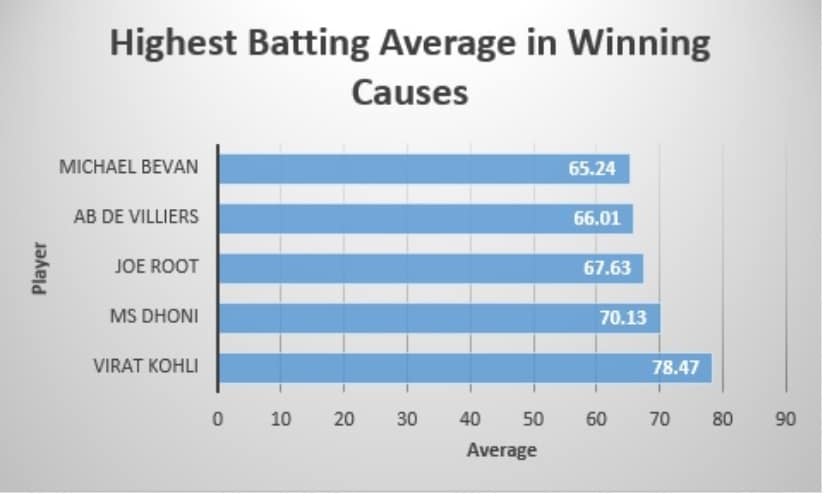 To sum up, Kohli has just began his journey towards breaking every record held by Tendulkar and if he plays with the same consistency and dominance, it won't be a surprise to anyone if he breaks all those records in the coming years.
Updated Date: Oct 26, 2018 15:40:15 IST