England's embarrassing exit from the 2015 ODI World Cup was followed by a slew of changes in personnel besides a change in approach to the game. What resulted was a miraculous transformation that has seen them topple the best ODI teams with their mantra of 'bat them out of the game and unleash the leggie'.
Former England off-spinner, Graeme Swann, once revealed how England were told that they would win 72 percent of the matches if they scored 239 before the 2011 World Cup. The sheer lunacy of the thought in the age of 350+ scores was evident as England were unceremoniously dumped out of the 2011 World Cup, and the one following that in 2015.
The transformation happened all too suddenly and when it materialised the English team was spectacular like never before. They aced the One Day format so well that no team has a better win-loss ratio than England since the 2015 World Cup (a whopping 2.375).
They found an able leader in Eoin Morgan and the Irishman created an atmosphere of positivity and fearlessness in the England dressing room. Swann compares Morgan's approach to that of Brendon McCullum, whose tactical nous and leadership skills are widely acknowledged.
"He (McCullum) tore up the book and said to his team: 'Whatever has happened in the past is nonsense. It's a new game, play with freedom and your teammates back you.' England are now playing with a similar amount of freedom. Morgan has taken that to the England team, Trevor Bayliss has allowed that to happen and Director of Cricket Andrew Strauss has separated the one-day team from the Test team. It was a blatant move that had to be made — it just took some chutzpah to do it," Swann said.
That kind of approach has worked wonders for them in the fifty-over format but the same cannot be said of their T20I team which made the finals of the 2016 World T20. While they showed good all-round skills and ability to transform their game when it mattered during the showpiece event in India, their mantra hasn't quite found success after the World T20 two years back.
Since that World Cup, England have won just four matches out of the 12 T20Is they have played, a win-loss ratio that sits at a mediocre 0.5, better compared only to Bangladesh, Zimbabwe and Ireland. This is in sharp contrast to their win-loss ratio in ODIs — the best among teams at 4.00 — during this same period.
So what has worked against England in T20Is? Why do they find themselves sitting in the bottom half of the T20I rankings despite having the resources to go hammer and tongs in ODIs?
Dig into England's 12 T20I games since the World T20 and you see that they have been found wanting in two categories they excel in when the game is played over 50 overs — batting and bowling strike rate.
Batting strike rate and batting average
England's average batting strike rate during the period after the Carlos Brathwaite-Ben Stokes showdown is 125.80, which is lesser than that of Australia, South Africa, India, New Zealand, Afghanistan and Ireland. They haven't had a single centurion and have scored at an average of 21.93, once again poor compared to that of other nations.
Here's a team-wise comparison: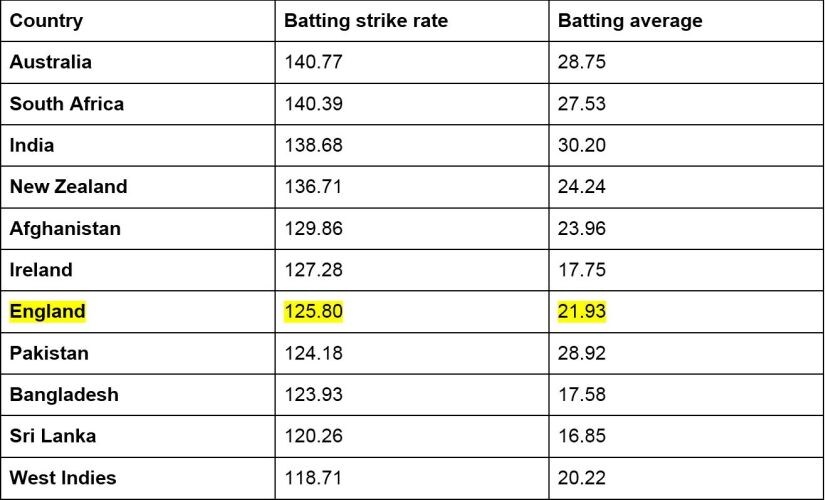 Seven of their 12 scores in this period have been less than 150 and they haven't managed to breach the 200-run mark even once in this period, an aberration if you consider that they have four scores of 350+ in ODIs during this time.
Faltering batsmen
England's most prolific run-scorers during this time in T20Is are Alex Hales, Jos Buttler and Jason Roy but the three have a combined tally of two half-centuries but no hundreds. The only batsman with more than one 50+ score is Dawid Malan, whose three half-centuries and batting average of 49.25, combined with a strike rate of 150+, deserve special mention.
Their most prolific ODI batsmen — Joe Root and Morgan — have failed to hit their straps in the shortest format of the game during the time under discussion and this has hampered their middle-order performance. Morgan has one half-century in this time frame while Root has none.
Somebody like Sam Billings has been tried for 10 matches despite him making a total of a mere 100 runs at an average of 12.50. Roy, despite being among the top three run-getters from England, also has a rather measly average for an opener (17.50).
Their success in ODIs have stemmed from their ability to bat around a pillar — mostly one of Root, Morgan or Johnny Bairstow — and bludgeon opposition bowlers fearlessly. This mantra has been tossed out in T20Is where Malan seems to be the only batsman to offer some promise in terms of average and strike rate.
Lacklustre bowling and economy rates
While Liam Plunkett, Mark Wood, Adil Rashid and Moeen Ali have been more than handy with the ball for England in ODIs, the same cannot be said of T20Is, where these bowlers haven't been able to shackle batsmen or take wickets.
This has resulted in the team having an average economy rate of 8.23 (since the World T20 2016), better than only three other teams (Ireland, Sri Lanka and Bangladesh). They have struck at a rate of 21.3, which is again much worse compared to most other major teams.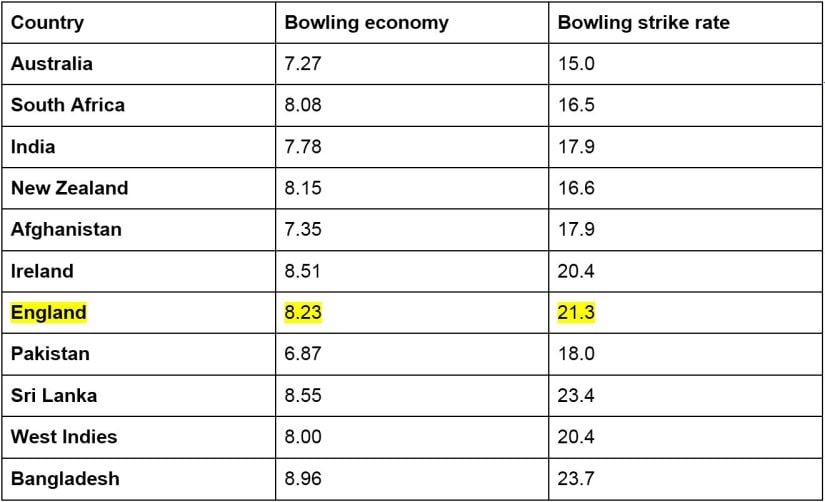 Their top wicket-takers since the World T20 in 2016 are Chris Jordan (16 wickets in 12 matches) and Liam Plunkett (10 wickets in eight matches). But both of them have conceded runs at an economy in excess of eight (8.86 and 8.01 respectively).
In fact, all of their fast bowlers (minimum of five matches and all bowlers to take more than five wickets) except Adil Rashid have conceded at more than eight an over. The trend clearly points to the lack of a strike force with the ball. In ODIs, they have Chris Woakes and Mark Wood to open with the new ball, Rashid and Moeen to choke the middle-overs and Plunkett and Jake Ball to man the death overs. A similar go-to-man for each situation is missing in the shortest format of the game.
The Trans-Tasman T20I series has further exposed England's woes in this format and they might need to go back to their drawing board and spin up a few new plans to rediscover their mojo in the trendiest format of the game.
Updated Date: Feb 14, 2018 13:30:53 IST