For the third time in four tours to South Africa, Pakistan finished with losses in each of the Tests they played. The result now means that in two-and-a-half years under Mickey Arthur Pakistan have lost 17 of their 28 Tests, after losing 16 of their 49 Tests in the six years before his tenure. Sarfraz Ahmed, meanwhile, has lost 8 of his 13 Tests as captain now and is only behind Inzamam (who captained Pakistan in 31 Tests) and Misbah (56 Tests) in terms of losses as Pakistan captain. Among captains with more than 10 Tests under their belt, only Intikhab Alam has a worse win-loss ratio than Sarfraz.
Yet despite this debacle, there were winners from this tour, and even beyond Sarfraz the captain and Arthur, there were losers too.
Losers – The Senior Trio
For over two years from the summer of 2014 onwards, Pakistan went on a tear – they went unbeaten for seven series, a run that culminated in a drawn series in England and their ascension to the top of the Test rankings. In the country's history only once had Pakistan gone more series in a row without losing, and that team – which had come as close as any other to dethroning the mighty 80s West Indies – is indisputably considered Pakistan's greatest Test team.
The plaudits for this mostly went to Misbah-ul-Haq, Younis Khan and Yasir Shah, but the unsung aspect was the rise of a trio of young batsmen. By the time Misbah and Younis left the scene, it seemed probable that Asad Shafiq, Azhar Ali and Sarfraz Ahmed could, together, fill the gap the two legends left behind.
After all, from Sarfraz's comeback at the start of 2014 till the retirements the trio scored 6,975 runs in 32 Tests at an average of 47.5 and a strike rate in excess of 50. They complimented each other – Sarfraz could compensate for Azhar's strike rate (among players who scored more than a thousand runs in that period only David Warner and Brendon McCullum had a higher strike rate than Sarfraz), while Azhar could be the anchor who went long – he scored 10 of the 19 centuries the trio scored in this time. It also helped that they were consistent: each from the trio averaged over 40 in this period. A month on from the retirements, two of the trio shined in the Champions Trophy and it seemed as if everything was right with the world. Now that seems like a lifetime ago.
The trio has been the only ever-presents in the thirteen Tests Pakistan have played since Sarfraz took over. In those matches, they have scored 2,161 runs at an average of 30.4. If an individual player had those numbers there would be justified calls for his exclusion from the team – but those numbers belong to the players who took you to the top of the world, and you spent years investing in, years spent making them unlearn what they had learnt in the domestic game. Each of them is in their early 30s, a time that ought to be the prime of their careers. Alas, the plans of PCB have gown awry.
Winner – Domestic cricket reformers
Sometimes you write novellas to illustrate a point. In other cases, three stats are enough:
In only two of the last seventeen years (2011 and 2017) have Pakistan had a positive win-loss ratio (won more matches than they lost) in ODI cricket against the top-6 nations in that period (Australia, England, India, New Zealand, South Africa and Sri Lanka). Meanwhile in Test cricket, if we take out Misbah's captaincy tenure and bilateral series against Bangladesh, Zimbabwe and Ireland Pakistan's record over the past 24 years reads: 13 series won, 13 drawn series and 22 series lost! Finally, there are eleven Pakistani players who have scored 500-plus runs in Test cricket at an average in excess of 43.5; none of those eleven made their first-class debuts in the twenty-first century.
Simply put, Pakistan have been a below average team for the past two decades, and it is because of their batting. Throughout this time Pakistan have had bowlers – from Shoaib Akhtar to Asif and Abbas, from Saeed Ajmal to Yasir Shah – who have kept them competitive, but there's only so much they can do.
And it's not really the players' fault. When something's been happening for a quarter of a century it's hard to blame guys for a decline which started when they weren't even born.
It goes back to a domestic system that is built to hamper the development of young players, particularly batsmen. In the last completed season (2017-18) the average first innings scores in the first-class tournaments in every Test playing nation bar Zimbabwe was in excess of 300. The average first innings score in the Quaid-e-Azam Trophy that season was 235; this season it was 261. And it's not as if there is a surfeit of uber-talented bowlers that have caused this: the only established bowler in the domestic game that can bowl close to 150kph is still Wahab Riaz, and there's not been a single leg spinner in the top 40 wicket takers in each of the past two seasons of the Quaid-e-Azam Trophy. Pace and leg spin, that's what Pakistani bowling was renowned for: beyond the crust of Yasir, Wahab and Shadab there is nothing underneath.
Considering that the former Leicestershire CEO, Wasim Khan, is to join the PCB as their new MD next month and has explicitly been given the task of overhauling domestic cricket, perhaps there's some hope around the corner. And if you are in favour of a revolution, there's nothing you'd fancy more than a crisis.
Loser – Pakistan's think tank
In the lead up to the South Africa tour all the talk revolved around Inzamam and his selection committee ignoring domestic performers, and Mickey Arthur favouring the players he fancies, regardless of their fitness. The result, for many, was a foregone conclusion, so the foundations of the narratives that were to be pushed in the media had to be built. But what's not been under question, bizarrely, is Pakistan's actual strategy for their XI.
Over the past five years, Pakistan have played eleven Tests outside of Asia and the West Indies with three pacers and a spinner (usually Yasir Shah), and have taken twenty wickets in three of them. By contrast, Pakistan have taken 20 wickets in three of the four Tests that they have played with five frontline bowlers (Shadab & Faheem as all-rounders). This isn't even Monday morning quarterbacking, everyone from the head coach to the average fan believed that the formula that had given the team success in the British Isles needed to be followed here too. But it took Pakistan until the dead rubber to play an XI that followed that formula.
Winners – Those That Didn't Play
In sixteen Tests that he's played Khurram Manzoor averages less than 30. He has not played a first-class match outside Asia in almost six years. Abid Ali, meanwhile, hasn't played a first-class match outside Asia ever. They were the two foremost candidates for the team whose exclusion raised question marks.
Meanwhile, the historical stats for Pakistani batsmen in away Tests are in the table below:
Considering this, would they have felt lucky that their years of hard work would lead them to try and make their mark in literally the hardest place for Pakistani batsmen. The fact that they will make their comebacks somewhere else, anywhere else, makes them a winner from this tour.
Loser – Grant Flower/winner – Azhar Mahmood
In the summer of 2014 Grant Flower was appointed the batting coach of the Pakistan team. Over the following two years, as mentioned above, Pakistan went on a streak – as a dominant Test team and one that relied on their batsmen. At the time observers weren't sure how much of it had to with Flower's appointment, and how much had to do with Misbah and Younis working as quasi batting coaches with the young batsmen.
Even if Flower was the mastermind behind the batting revolution it's obvious that the well has now run dry. Take for instance his opposite number, the bowling coach, Azhar Mahmood. While his pupils struggled in their first tour abroad under him, since then (Jan 2017) Pakistani pacers are second only to South Africa's pacers in bowling average, despite playing 10 of their 16 Test in the UAE and the West Indies. By comparison, Pakistan's batsmen in this time are seventh in the batting charts, ahead of only Zimbabwe, Bangladesh and West Indies among teams who have played more than a solitary Test. If Pakistan are to have an overhaul in team management, it's obvious what their priorities ought to be.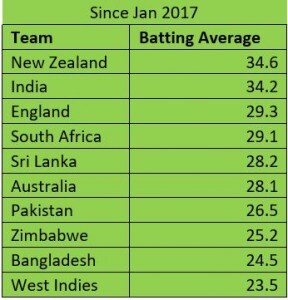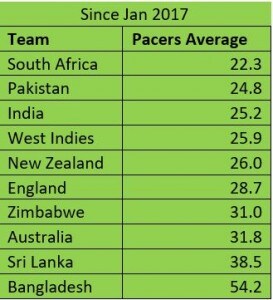 Winners – Babar Azam and Shan Masood
In Pakistan's five tours to South Africa since the latter's re-admission to international cricket, only four batsmen had ever scored over 200 runs on a single tour. Neither Inzamam nor Mohammad Yousuf, two of Pakistan's three best batsmen in this era, had managed to do so. Both Shan Masood and Babar Azam did.
There are obviously question marks surrounding this though. Shan crossed 35 four times in six innings but ended up with a highest of 65. Babar crossed 40 three times yet ended up with a highest of 72. Pakistan need them, and others, converting their starts if they are to become competitive in Test cricket again – although the reasons for that will again lead you down the domestic cricket rabbit hole that I've covered enough already. Since Misbah and Younis' retirement Pakistan have converted just 15.5 percent of their 50s into hundreds, no other country has that rate under 20 percent. So, for now, we will have to be content with celebrating 60s and 70s.
Hassan Cheema is the Team Manager of PSL franchise Islamabad United
Updated Date: Jan 15, 2019 17:05:20 IST