Dale Steyn sinks on his knees in despair. In disbelief. The screaming from the thousands gathered at Eden Park is deafening but Steyn is probably not hearing them. Those fiery eyes, that burn with flames of passion, have a dreary, stunned look. The shoulders droop as realisation hits home. The writing on the wall is quite clear and Steyn can see it - South Africa are knocked out of yet another World Cup final. If the whole South African team were to write an autobiography, it would probably be named 'So near, yet so far'. That delivery from Steyn might have a whole chapter in the book.
It would, in all likelihood, be a lasting image in cricketing folklores – Grant Elliott thumping Dale Steyn for a maximum and the South African, hurt by that six, sinking down at the pitch at Eden Park.
A year later, the "pop" sound that nearly derailed his career in Australia during a Test match, perhaps never hurt that much. But Steyn's career derailed from there on. Injuries had been prevailing for a year leading up to the 422nd dismissal of his Test career, spurring up every now and then, so much so that South Africa were scared to go into a Test match with four bowlers and Steyn being one of them.
This has been quite a journey for Steyn.
In mid-2015, in Bangladesh, he picked up his 400th Test wicket. It was a historic moment, which put him one step closer to James Anderson who was at 413 at that time and Shaun Pollock, South who has scalped 421 Test wickets.
It's been more than three years since that day. Three years is a long time. Steyn, spearheading the Proteas attack in whites on Boxing Day at Centurion, removed Fakhar Zaman to take his 422nd Test wicket and become South Africa's leading Test bowler.
This dismissal came after a wait of 3 years. Anderson went from 413 to 565 wickets, playing nearly 38 Tests in the same time frame. Steyn played just 9 Tests (including the ongoing Test against Pakistan). In these, he took 20 wickets. 20 wickets since going past the 400 mark in mid-2015.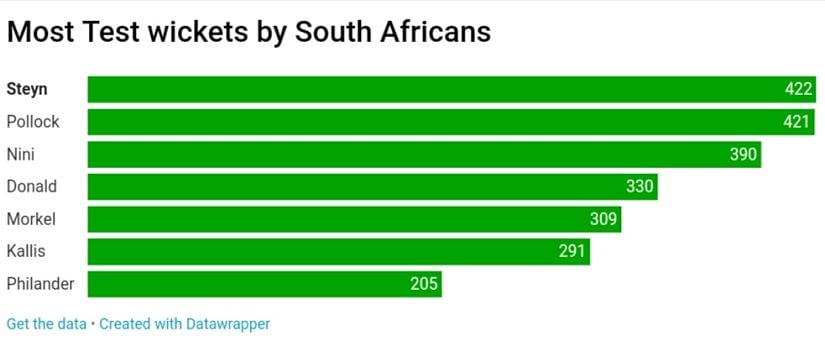 Steyn had battles to overcome, hurdles to climb and pain to brush aside. A history of his breakdowns in Tests in recent times makes for interesting reading.
In India, November 2015 – Groin Strain
A Test after Steyn had taken 400 wickets in Bangladesh, he breaks down in the middle of a Test in India in late 2015 at Chandigarh. He misses the remainder of the series in India owing to a groin strain but returns for the home series against England starting Boxing Day 2015.
Vs England in December, 2015 – Shoulder injury
Three overs into the second innings, Steyn is down with a shoulder strain. There is no tear in his muscles, tendon or ligaments, but Steyn experiences discomfort and is promptly ruled out for the remainder of the series. He bides his time till August next year, constantly brushing aside rumours of retirement and even citing Misbah-ul-Haq as an example of older cricketers thriving.
In Australia, December 2016 – Shoulder injury
On Day 1 of the Australian tour in 2016, Steyn touches the 150 kmph mark after a successful return earlier in the year against New Zealand. He seems to be in great rhythm and even breaks a century opening stand by sending back David Warner. But mid-way through his 13th over, Steyn is clutching his right shoulder and walking off.
"I felt this pop, like a thud, in my shoulder - I was in a lot of pain," Steyn had told reporters then.
This is unrelated to his earlier shoulder injury but a potentially career-threatening one. The coracoid in his right shoulder has come off entirely which caused extreme pain. It is an unheard of injury in cricket and will require a long period of rehabilitation. Steyn's career is virtually written off then and there.
Vs India, in January 2018 – Heel injury
Nearly one and a half years later, Steyn returns for the home series against India in January 2018. He appears fresh and raring to go and bowls 17 overs in India's first innings. In his 18th over, though, something in his heel isn't right and Steyn walks off not to return for the remainder of the series or the one after that against Aussies at home. Steyn had landed awkwardly on his bowling foot and the tissue in his heel had been damaged.
***
In August later in the year, Steyn suffered another groin injury while playing for Hampshire in the County Championship. He had successfully made a comeback in whites in Sri Lanka and equalled Shaun Pollock's tally of 421 wickets but the fresh bout of injury had South Africa anxious.
In three years, he has undergone many a rehabilitation programs and attended physiotherapy sessions. His career was written off by many but he maintained and vowed that he would be back every single time. "I feel like I'm 23," he claimed a day before the Test match against Pakistan, clearly as excited as on his debut to don the whites.
After the 2015 World Cup, when hopes came crashing down at Eden Park, you would expect Steyn to focus on the next World Cup for the Proteas. But every time, the retirement question was tossed at him in these three years, Steyn spoke of returning in whites for South Africa. The hunger to play Test cricket was unmistakable in his interviews and tweets.
In the age of Kolpaks and players turning into T20 freelancers, Steyn must have had plenty of takers among T20 franchises. Many of his teammates had gone down that path already in this time period. But for him, playing for South Africa remained the top priority.
Despite his colleagues taking Kolpak deals, retiring, Steyn held on to the his resolution to make a comeback again. He did not flinch. Not for once. His ambition was set. His goals were clear.
With his history of injuries, it is a risk to play the longest format of the game. Steyn knows that, South Africa know that. But South Africa just cannot stop picking the Phalaborwa Express as long as he can run in and bowl. There is no fast bowler with more than 200 Test wickets who has a better strike rate than Steyn. In the 400-club of Test fast bowlers, Steyn's strike rate and average is stupendous. No one even comes close to him in terms of striking ability.
He knows it is a fresh beginning.
"I haven't saved myself to take one more wicket than Polly. There is a bigger goal at the end of the day. It'll be a beautiful thing to happen for me if it does. These honours are great things to achieve and I'll be highly honoured. But when I do, I'll get back to the end of my mark and try and take another one. That's the plan," he had said on the eve of the Test match.
As long as he keeps getting back to the mark and keeps bowling, Steyn and South Africa know the wickets would keep coming by and records would keep tumbling. Steyn was made to steam in with a red ball in hand, in the South African whites. He would continue to do that as long as he is fit.
Find latest and upcoming tech gadgets online on Tech2 Gadgets. Get technology news, gadgets reviews & ratings. Popular gadgets including laptop, tablet and mobile specifications, features, prices, comparison.
Updated Date: Dec 27, 2018 10:52:59 IST