Former Test cricketer Sanjay Manjrekar's book, Imperfect, is a classic study on how a player's mind can lead him to self-destruct. It is particularly true of one obsessed with perfection. He's serene and bubbles with confidence as he gathers runs in abundance. But then a bad patch strikes. A string of poor scores breeds in him the fear of failure. His mind becomes a web of doubts from which he struggles to break free, to rediscover his past magical self. He battles against his inner demons to exhaustion and into retirement.
Imperfect is Manjrekar's self-analysis of his own descent from success to failure. It is as relevant to cricketers and sportspersons as it is to anyone who has to constantly perform to build his or her career. Underlying a plummeting career graph is often a person's mind becoming his or her saboteur.
Possessing an exemplary defensive technique, unafraid of fast bowlers, Manjrekar retired hurt in his debut Test, felled by a short ball. He went on the tour of West Indies, smashed a century against their then fearsome bowlers. He followed it up with a remarkable tour of Pakistan in 1989, facing the likes of Imran Khan and Wasim Akram and scoring 569 runs in four Tests. He was hailed as India's future.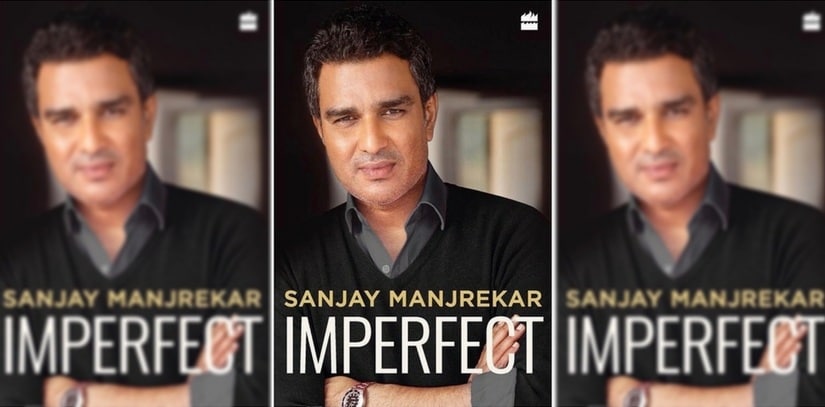 Manjrekar belied the initial promise he showed. He fought valiantly to rediscover his touch, but to no avail. Eighteen years after retiring from cricket, he discovered a chink in his technique through a TV show he did on the technology of biomechanics. It showed his back foot would move too far to the off-stump, leaving him little room to square-cut.
It was this shot and the cover drive which had fetched him runs in his cricketing days. Unable to play the cut shot, he would defend dourly over after over, but the scoreboard wouldn't tick. In the end, it is the score a cricketer notches that determines his selection — and Manjrekar got the axe. Thereafter, a return to the Indian team became such an obsession that his own mind, plagued by doubts, fettered him from playing his natural game.
Perhaps access to biomechanics technology could have enabled him to turn the corner in his cricketing days. No, argues Manjrekar, adding, "There is a Marathi saying: Swabhavala aushad nahi. There is no medicine for nature." It was his nature to be overcautious, a trait he says he perhaps acquired because of his childhood experiences.
His father, Vijay Manjrekar, a reputed former Test batsman, was an overbearing personality, quick to get angry and prone to road rage. Manjrekar junior took precautions to avoid confrontation with his father. It was the cricketing equivalent of stonewalling, of curbing himself to ensure he didn't become a victim of his father's temper.
Manjrekar writes: "… Observers of my game thought I was overcautious as a batsman, that I could have played with a little more freedom. Maybe they were right. Maybe my game reflected the way I grew up as a child." His personality trait surfaced when he began to flounder with the bat.
But the first flush of success, too, created the condition for his slide in form. It began, as Manjrekar would have us believe, in Sialkot that was the venue of the last Test of his astonishingly successful tour of Pakistan in 1989. In the rain-marred last Test, he scored 72 in the first innings. There was no chance of a result. When India's second innings began, basking in the glory of his achievements, Manjrekar didn't knock around before the start of the day's play. Coach Chandu Borde, a former Test cricketer, remarked to Manjrekar, "It always helps if you take a knock."
Manjrekar got out for four runs. "This was me just taking things for granted a bit, being casual about a Test innings, something I never saw Sachin Tendulkar do," he writes. This then is the lesson he hands out to us: Success can make a person complacent and trigger his downfall.
It also made him arrogant.
He confesses he loved making people "look small by exposing their weaknesses." Manjrekar targeted then Indian captain Mohammad Azharuddin in an inter-company match. With the wisdom of hindsight, Manjrekar writes, "… Did I really need to do that to an India teammate in a nondescript company match no one cared about?... Whatever little success I have had in the media and the broadcasting, I have never let that get to my head."
But this profound truth Manjrekar learnt the hard way. On the 1990 tour of New Zealand, he had a string of poor scores. Poor form continued to stalk him on the 1991-1992 tour of Australia. He kept getting out after getting a good start on the bouncy Australian pitches. He wasn't worried. As he writes, "Excitement kept me up at nights. I would just lie in the bed thinking how all this was going to change next morning when I'd get a hundred… Coming back to form was an inevitability in my mind."
Manjrekar's mind had started playing tricks on him. Fantasy had disconnected him from reality. He slipped into denial mode. He took to blaming others for his dismissals, particularly run outs, calling them names in the dressing room, for which he was ticked off.
Former fast bowler and coach Frank Tyson found fault with Manjrekar's back-lift as he prepared to face the bowler — he would pick his bat up with his wrists, not with arms, thereby his "bat wouldn't get high enough to play the short and bouncing deliveries." Manjrekar implemented Tyson's suggestion on the 1993-93 tour of Zimbabwe and South Africa.
He scored 104 against Zimbabwe, but it didn't lift his spirit. He notes, "I was batting unnaturally now. My whole game was about reacting naturally to the ball not knowing what was happening to my bat. Now I was focusing on the bat more than the ball."
So it was not so much the bowlers but his mind which had become his principal tormentor. He took to trying everything to get out of poor form. For instance, the late cricket administrator Hemant Waingankar took Manjrekar, an atheist, to a temple to have the Gods intercede on his behalf. He was given a talisman to wear around his neck. After scoring 0 and 5 against West Indies in the 1994 match in Nagpur, he took it off.
Worryingly for Manjrekar, he had got out in the second innings in Nagpur, gloving a rising delivery. It shattered the pride of the man who had been hailed for standing up to fast bowlers. "Is this another little chink entering my game?" wondered Manjrekar.
Sure enough, his doubts began to dog him on the field. He writes, "Fear was not my problem… In that phase, though, I just could not prevent those hands from getting in front of my face. They seemed to have a mind of their own. It was like I was willing for one thing to happen but something else would happen."
Manjrekar was now getting out to short balls. His mind seemed to be humiliating him for not being his own self, for not expressing himself freely. It was humiliation for Manjrekar because his batting philosophy emphasised as much on the runs he got as to how he got them. He asks in Imperfect, "What is batting, really? Is it scoring runs or scoring runs the right way? What is the right way?"
Manjrekar cites the examples of Steve Waugh and MS Dhoni, who on seeing a short ball would, often, drop their hands and take a blow on their body. Manjrekar couldn't do it, not because he was scared of the blows, but because it appeared inelegant. Manjrekar writes, "I guess I was too proud a batsman to do that. I was self-conscious; I was not willing to look ugly. I wanted also to get good-looking runs. I was not ready to be an ugly survivor. It was all about perfection, right?"
But this quest for perfection was wrecking him, bit by bit. Desperate to cement a place in the side, he volunteered to open the innings against South Africa in Ahmedabad in 1996. Where else could be his spot in the Indian team that now boasted of Azharuddin, Tendulkar, Rahul Dravid and VVS Laxman? Manjrekar negotiated the new ball to score 34, but then got out to a spinner. In the second knock, he was out for just 5, once again to a short ball.
"That day, standing at the urinal next to me," Manjrekar recalls, "Azhar made a telling statement — he had his way of nonchalantly saying something quite deep — 'Happens. When you start to age, it happens.'"
Manjrekar was only 31 then. He didn't give up hope of making a comeback. Yet his own frustration was leading him to behave boorishly on the domestic circuit. He was sent off from the field for an altercation with an umpire. As Mumbai's skipper, he swore and scolded players. They later told him that in those days he had become a tyrant. He was becoming like his father, bitter and frustrated and, like some friends and colleagues around us, slowly coming apart.
Manjrekar called it quits in 1998. Of that day, he writes, "… Here I was, finally giving up the fight… It was out of sheer fatigue from swimming against the tide for four or five years – swimming, swimming, swimming, just to stay afloat – that I said 'enough is enough'…"
Perhaps Manjrekar failed to emerge out of the web his mind had trapped him in because he didn't know how to surrender to the will of destiny, to become a fatalist, to say that whatever will be, will be and stop worrying. He contrasts his own attitude with that of Azharuddin, who scored a whirlwind century against South Africa in Kolkata in 1996 to save his career. Manjrekar, a reserve player, took a drink to Azhar and complimented him for his brilliant knock. Manjrekar writes, "He looked at me humbly and said, "'I just threw my bat around' — then his head pointed upwards — 'He took care of the rest.'"
A self-avowed rationalist and atheist, Manjrekar presumably could not leave his future to destiny and become a fatalist. That too would have been inelegant, philosophically speaking. So he had to try all the time, eschew risks, wallow in worries, in the process becoming, as he says, a leaking boat in which the plugging of one hole would lead to another opening up immediately. Manjrekar, unlike Azhar, simply over-thought his way to self-destruction.
Imperfect is among the most significant books on Indian cricket, not least for its candour, a feature sadly missing in most autobiographies, of cricketers and politicians alike. He makes you laugh at the inanities Azhar would mumble in team meetings. Yet Manjrekar portrays Azhar's charming side as well — his generosity, for instance; his belief that there were angels protecting him from the unpredictable ravages of cricket.
Manjrekar speaks of Manoj Prabhakar's indefatigable spirit in offering to open India's batting. The all-rounder once shielded Manjrekar from a rival bowler against whom he was having problems; he taught Kapil Dev to reverse swing. Yet it was Prabhakar who secretly taped Manjrekar for the Tehelka magazine's story on match-fixing. Such nuggets make you understand that cricketers too are contradictions dressed in white, just as we too are.
Imperfect's seminal contribution, though, is the spotlight Manjrekar trains on the human mind, the horror it can become. Just as academician Ramachandra Guha brought his skills in sociology to give a new meaning to our reading of cricket, Manjrekar has brought psychology to our understanding of the men who play and entertain — and why, at times, the most talented among them crash like a shooting star.
The Great Diwali Discount!
Unlock 75% more savings this festive season. Get Moneycontrol Pro for a year for Rs 289 only.
Coupon code: DIWALI. Offer valid till 10th November, 2019 .
Updated Date: Jan 30, 2018 13:12:44 IST