Pakistan cricket has seen many peaks and valleys over the years but the tour of World XI for the three T20Is this September was a special moment. Pakistan won the first match comfortably but in the second one, they were undone by the vintage Thisara Perera before comfortably winning the third ODI to win the series 2-1.
The masses of any nation deserve to see their star players playing in front of them and players also desire that their fans cheer for them at home and this was that kind of moment for Pakistan players and people of Pakistan. The result was irrelevant and this was a victory for everyone who follows cricket day in and day out, not only in Pakistan but all over the world. Hopefully, this peaceful beginning will attract more and more teams to to Pakistan and aid cricket to grow further in the country.
Babar Azam presented Virat Kohli-esque performance in the recently completed series while Ahmed Shehzad finally came out from the predicament by playing a match-winning innings in the third T20I. Sarfraz Ahmed handled his bowlers well throughout the series and they responded back. Overall, Pakistan must be thrilled with the series.
On the contrary side, the world XI had players from all over the world mostly but not from India which is contentious, but something that could change in the near future.
"The series is a huge success. Cricket's come back to Pakistan. From our point of view, we thank everyone. Our team will get better (chuckles). Was a great competition; Pakistan are a very good side. It's not the Pakistan team that you can beat in the field (easily). They have the skills with the ball and their batting is also strong. Captaining World XI was great. It's a good bunch of guys. And it makes a week or ten days like this very enjoyable," Faf du Plesis, the captain of World XI said during the post-match presentation.
Here's look at some of the records created and broken during the series.
World XI scored 177 runs while chasing in the first T20I match played at Lahore at the loss of seven wickets to lose the match by 20 runs. But there was not a single batsman from World XI side who scored 30-plus runs. This is now the highest team total in T20Is without an individual score of 30 or more.

Shoaib Malik now holds the record of being part of most wins in T20Is eclipsing his former team-mate Shahid Afridi who was part of 56 wins in T20 Internationals during his career.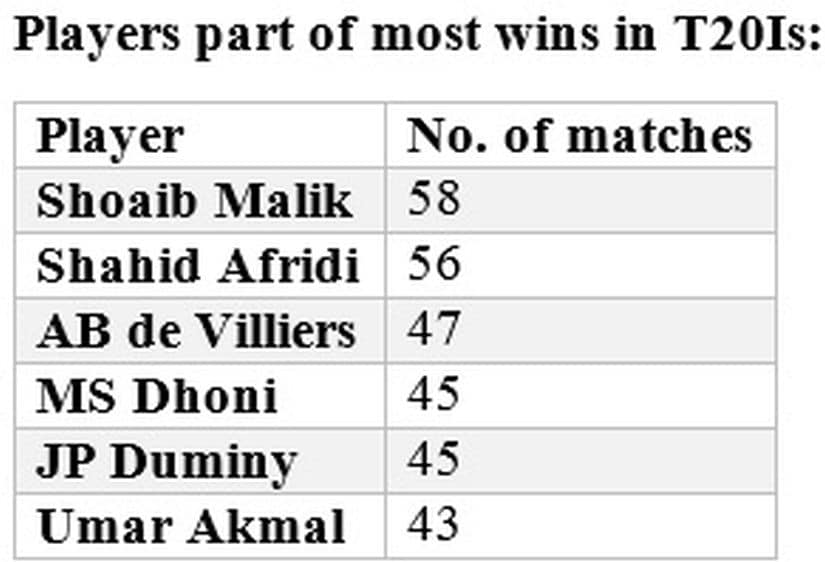 Shoaib Malik now also holds the record of scoring most runs for Pakistan in T20Is going past Umar Akmal who has scored 1690 runs in the format at a strike rate of 122.90 from 82 matches.

Thisara Perera joined an elite list of players who have hit the most No of sixes without hitting a four in a T20I innings after hitting five sixes in the second T20I without hitting a four in an entire innings of 47 (not out) runs from 19 balls.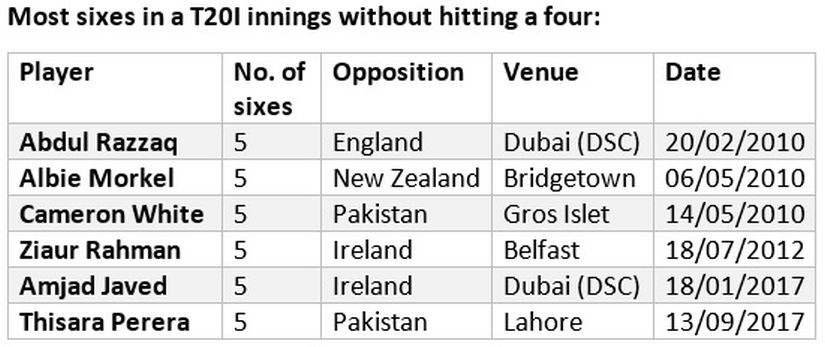 World XI chased the target of 175 runs successfully against Pakistan in the second T20I which is now the second highest target successfully chased against Pakistan in the shortest format of the game

Babar Azam is now at the top in the list of Pakistani players scoring most runs in a bi-lateral T20I series. The previous record holder was Ahmed Shehzad who scored 168 runs against Zimbabwe in a bi-lateral T20I series in 2015.
Shoaib Malik became the second Pakistani player after Shahid Afridi to hit 200-plus sixes in T20 cricket during the third T20I match against World XI.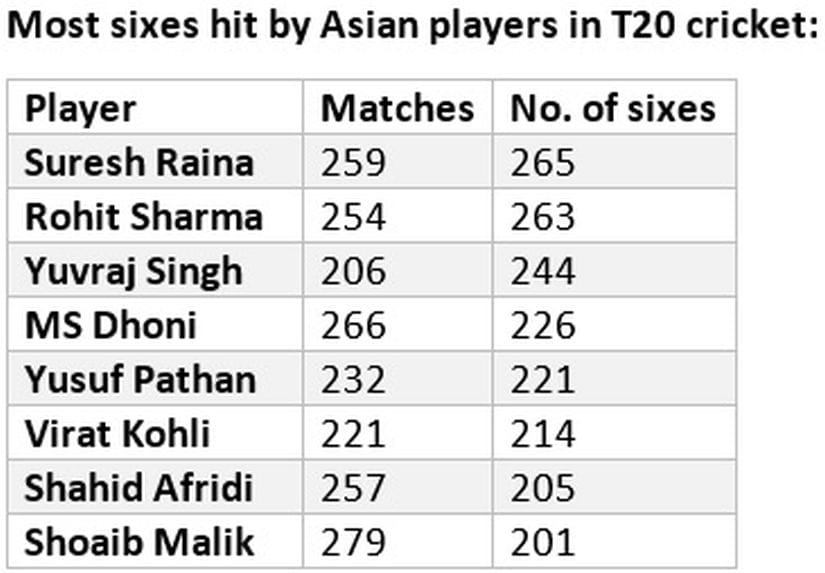 Babar Azam certainly had a memorable series and now he has scored most runs from career's first 11 T20Is among all the players.

Babar Azam is one of the five players who has played three innings of 40 or more runs in a bi-lateral T20I series.
Pakistan have now won more bi-lateral T20I series of minimum two matches than any other team in the world. Moreover, this was also the fourth consecutive bi-lateral T20I series which Pakistan won and it is also a record.

Find latest and upcoming tech gadgets online on Tech2 Gadgets. Get technology news, gadgets reviews & ratings. Popular gadgets including laptop, tablet and mobile specifications, features, prices, comparison.
Updated Date: Sep 16, 2017 12:44:21 IST