It's a new ODI series between India and Sri Lanka and there is a new captain for both the sides.
However, although Rohit Sharma is only a stand-in skipper for India, Thisara Perera will take over from Upul Tharanga as the full-time ODI captain of Sri Lanka from the series starting in Dharamsala on Sunday.
India look a balanced side on paper, but they have a few quandaries to solve before the series begins. Ajinkya Rahane has had a poor Test series with the bat and Shreyas Iyer has been knocking on the door for long, but Rahane has hit four fifties in his past four ODIs, and so it will be a toss up between him and Iyer for the No 3 spot in the absence of Virat Kohli.
The second big dilemma for India will be whom to play as a second spinner alongside Yuzvendra Chahal as both Axar Patel and Kuldeep Yadav have performed well whenever the selectors have given them a chance. Dinesh Karthik will take his place at No 4 in the Indian batting order in the first ODI on the strength of his performance in the New Zealand ODI series, and this will be a big opportunity for him to seal the No 4 spot with consistent performances.
On the other hand, Sri Lanka have not included their Test skipper and in-form player Dinesh Chandimal in the ODI side. So the onus will be on Angelo Mathews and new skipper Thisara Perera to guide the team to upset the mighty Indians in their own backyard, and help Sri Lanka win their first ever ODI series in India. The hosts, on the other hand, would like to win the series convincingly before going to South Africa.
Let's look at some important numbers from ODIs played between India and Sri Lanka over the years and try to interpret them:
India have won 88 ODIs against Sri Lanka which is the most that they have won against any team in the 50-over version of the game. Sri Lanka, on the other hand, have lost their past six ODIs which they have played in India.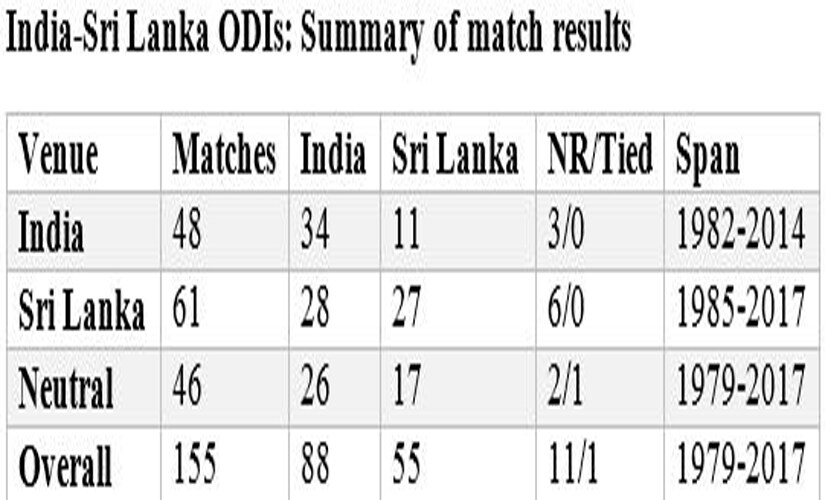 Sri Lanka have so far played nine bilateral ODI series in India and lost eight, while drawing once, in 1997-98. Such has been their struggles in India that they have not won more than a match in a bilateral ODI series in the country.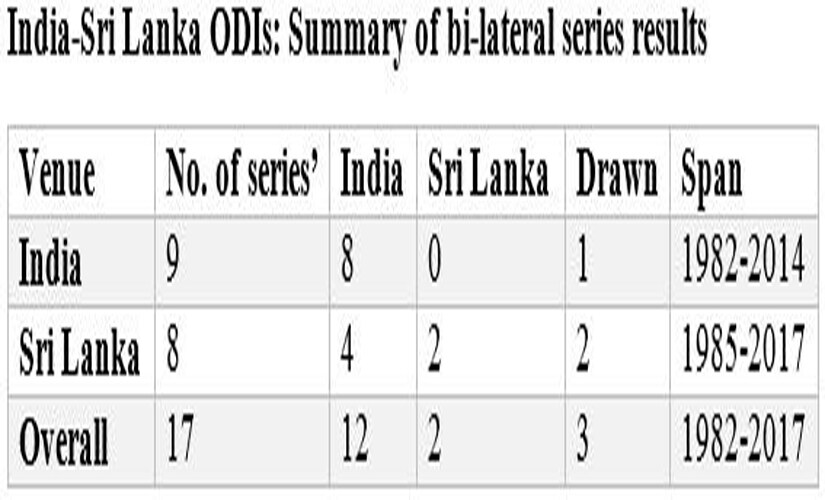 Given that the upcoming series will have only three matches, it will be imperative to the wrest the initiative early and the team losing the first match will immediately have their backs against the wall. Sri Lanka's task will be particularly cut out considering their traditional difficulties in India and the scorching recent form of the home team.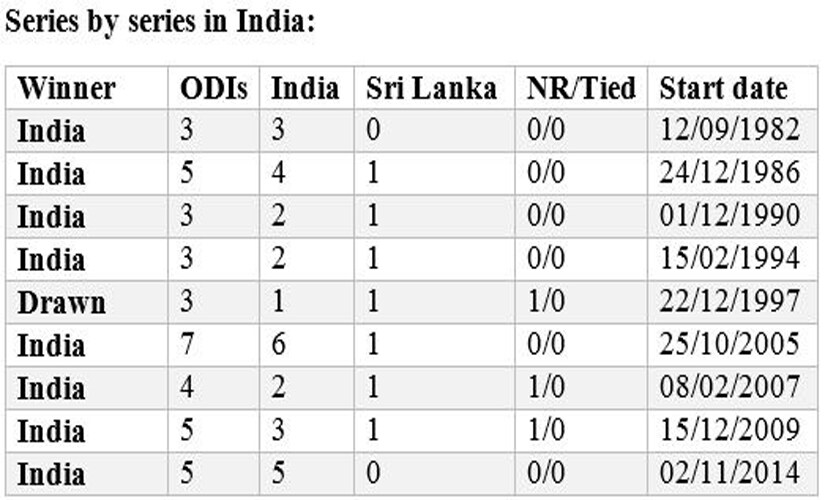 Current form is, however, not with Sri Lanka as they have lost their past 12 ODIs, while India have won eight out of their past 10 ODIs. The last time Sri Lanka won an ODI was against Zimbabwe in Hambantota in July, 2017.
Recent form (past 10 ODIs) – Most recent shown first:
India – W, W, L, W, L, W, W, W, W, W
Sri Lanka – L, L, L, L, L, L, L, L, L, L
India's top-order have performed exceedingly well since 2016 in ODIs and the following table confirms the fact, while the Sri Lankan top-order's average of 33.10 is the lowest for any team during the mentioned period among the top-eight ODI teams at the moment. However, India have rested their regular skipper Virat Kohli who usually bats at No 3, and so they will rely on Shikhar Dhawan and stand-in skipper Rohit Sharma to give them a good start. Kohli's place, one expects, will be taken by either Shreyas Iyer or Ajinkya Rahane and whoever gets the chance would want to establish his place in the ODI starting line-up.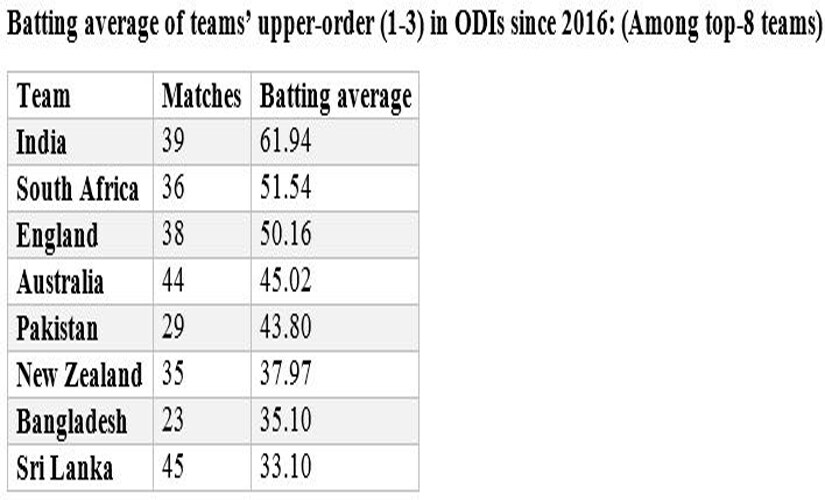 Sri Lanka's win/loss ratio of 0.457 in ODIs post the 2015 World Cup is the second lowest among teams that have played at least 30 ODIs since then. The time has come for Sri Lanka to lift their game under new skipper Perera if they are to win their first ODI in almost after five months.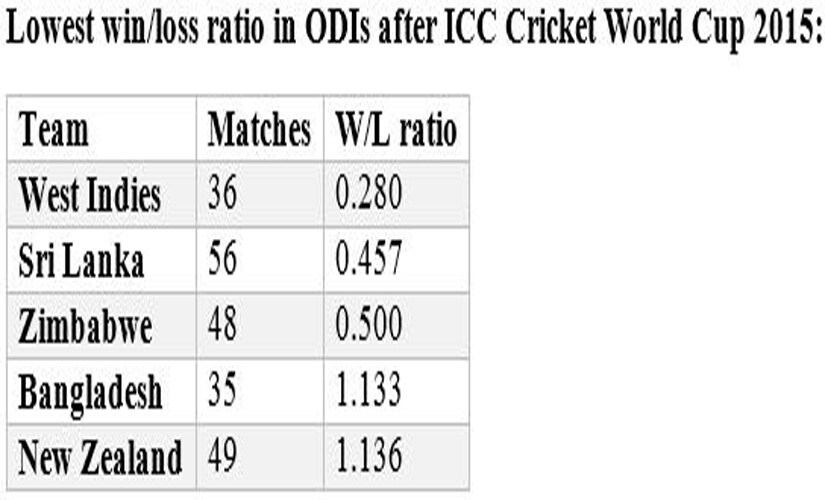 India have included Siddarth Kaul in the squad for the series, and will complement the in-form pace-bowling duo of Bhuvneshwar Kumar and Jasprit Bumrah. However, it will be interesting to see whether he will get a chance or not. Bumrah has been revelation for India in past 18 months or so and he is one of the three pacers who has taken more than 50 wickets since 2016 in ODIs.
Some individual records in India vs Sri Lanka ODIs in India:
Highest totals:
India: 414/7 at Rajkot in 2009
Sri Lanka: 411/8 at Rajkot in 2009
Lowest totals:
India: 78 at Kanpur in 1986
Sri Lanka: 122 at Mohali in 2005
Highest individual scores:
India: 264 by Rohit Sharma at Kolkata in 2014
Sri Lanka: 160 by Tillakaratne Dilshan at Rajkot in 2009
Best bowling:
India: 5/22 by Robin Singh at Guwahati in 1997
Sri Lanka: 5/57 by Graeme Labrooy at Vadodara in 1987
Leading run-scorers:
India: 1,078 (average - 49.00) by Sachin Tendulkar from 29 matches
Sri Lanka: 909 (average - 45.45) by Tillakaratne Dilshan from 22 matches
Leading wicket-takers:
India: 24 (strike rate - 33.5) by Kapil Dev from 17 matches
Sri Lanka: 11 (strike rate - 47.4) by Muttiah Muralitharan from 14 matches
Most catches:
India: 14 by Sachin Tendulkar from 29 matches
Sri Lanka: 12 by Mahela Jayawardene from 22 matches
Most wicket-keeping dismissals:
India: 18 by MS Dhoni from 15 matches
Sri Lanka: 16 by Kumar Sangakkara from 20 matches
Most matches
India: 29 for Sachin Tendulkar
Sri Lanka: 25 for Sanath Jayasuriya
Updated Date: Dec 09, 2017