India played flawless cricket in the Test series to beat Sri Lanka by a comprehensive scoreline of 3-0. Consistency and momentum are critical in cricket. Players need to be consistent in order to bring some momentum for the team. For the ODI series, the onus will be on Sri Lanka to not repeat their performance in the Tests against India especially after being shocked by Zimbabwe in their previous ODI series on home soil.
India's ODI team is as good as their Test team and have flexibility in their ODI squad which Sri Lanka don't have at this point of time. That can be the difference between the two sides at the end of the series.
Rohit Sharma has been appointed as India's vice-captain for this series. From being non-regular member of the team to becoming a vice-captain of the team, he substantiated the importance of patience in sports and Sri Lankan selectors must take note of it and keep patience to build a decent team before the 2019 ICC Cricket World Cup.
"Ten years ago, I was only thinking of playing for India. Being the vice-captain now feels really, really good. It's a kind of honour that whenever the opportunity comes - the first One-Dayer, when we come (play) on 20 August - there will be some sort of role that I will need to play, and I am looking forward to it. I am not thinking too much about it, I just want to enjoy the moment as of now. Yes, it will be a good opportunity for me to get on to the field," said an elated Rohit after the team's practice session in Pallekele on 16 August.
If Sri Lanka will look forward to build their team for the future then India would like to test their bench strength in the upcoming series as they have rested some of their all-rounders and bowlers. Sri Lanka's wait to win an ODI series against India at home is longer than the age required for a person in India to be eligible for voting.
The sole positive for Sri Lanka would be Angelo Mathews' availability as a bowler ahead of Sri Lanka's clash against India on Sunday. "It's a big relief that Angelo will be able to bowl for us again. We have to manage him carefully and he is at the moment not ready to bowl full quota of ten overs, but he will certainly be able to bowl five to six overs. That's a big plus point for us as it helps us to balance the side," Sri Lanka's chairman of selectors told Cricbuzz.
Sri Lanka will not have anything to lose and that might make the series more interesting, but for that their vision has to be limpid.
Here's a look at some important numbers over the years in ODIs played between India and Sri Lanka.
India have won 38 ODIs in Sri Lanka so far which is the most by them in any visiting country

India are one of the three teams to defeat Sri Lanka in three or more consecutive bi-lateral ODI series'. The other two are Australia and Pakistan.

India have won their last three bi-lateral ODI series' in Sri Lanka.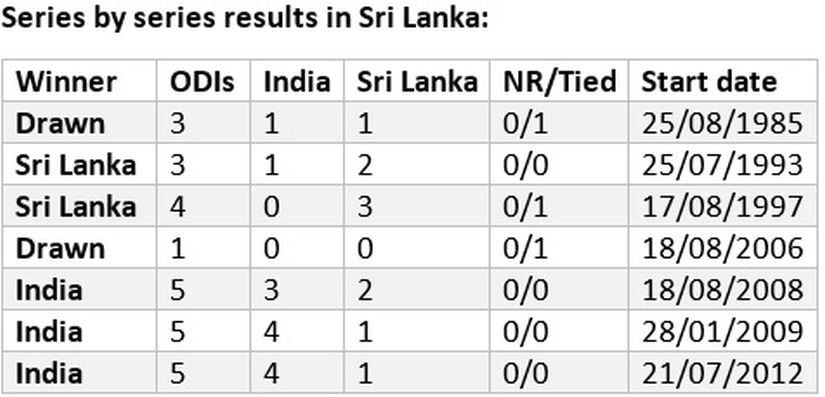 India are the only team whose top order's batting average is more than 50 in the last two years in ODIs.

Sri Lanka have lost most number of ODIs in last one year.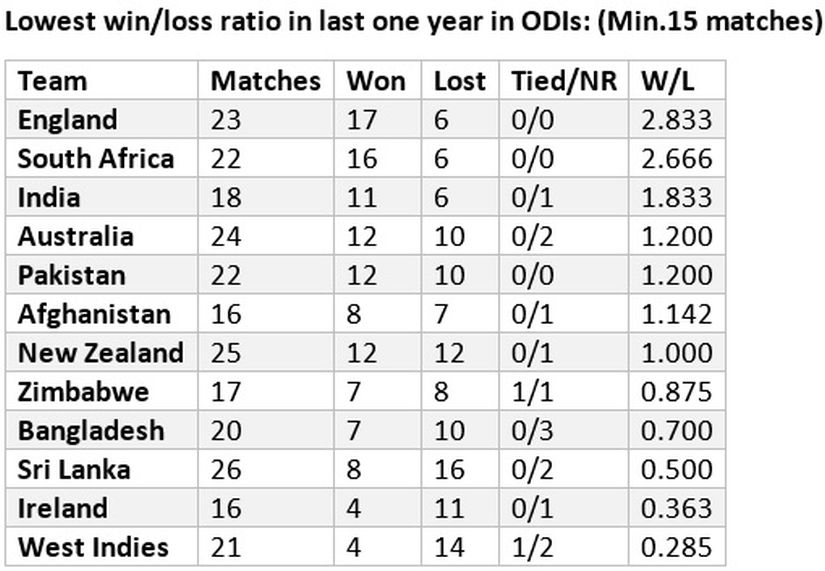 India's win-loss record in last 10 ODIs is 6-4 while Sri Lanka's is 4-6.
Recent form (Last 10 ODIs) – Most recent showed first
India: W, L, W, W, L, W, W, L, W, L
Sri Lanka: L, L, W, W, L, L, W, L, W, L
Some individual records in India-Sri Lanka ODIs in Sri Lanka:
Highest total
India: 363/5 at Colombo (RPS) in 2009
Sri Lanka: 320/8 at Colombo (RPS) in 2009
Lowest total
India: 103 at Colombo (RPS) in 2008 and at Dambulla in 2010
Sri Lanka: 142 at Dambulla in 2008
Leading run-scorers
India: 1023 runs by Sachin Tendulkar (avg. 40.92)
Sri Lanka: 1580 runs by Sanath Jayasuriya (avg. 42.70)
Highest individual score
India: 150 by Gautam Gambhir at Colombo (RPS) in 2009
Sri Lanka: 133 by Kumar Sangakkara at Hambantota in 2012
Most centuries
India: 4 by Sachin Tendulkar from 28 innings
Sri Lanka: 3 by Sanath Jayasuriya from 39 innings
Leading wicket-takers
India: 33 wickets by Harbhajan Singh (SR – 35.3)
Sri Lanka: 31 wickets by Muttiah Muralitharan (SR – 57.4)
Best bowling
India: 6/59 by Ashish Nehra at Colombo (RPS) in 2005
Sri Lanka: 6/20 by Angelo Mathews at Colombo (RPS) in 2009
Most catches
India: 11 by Sourav Ganguly from 22 matches
Sri Lanka: 17 by Mahela Jayawardene from 37 matches
Most wicket-keeping dismissals
India: 35 by MS Dhoni from 26 matches
Sri Lanka: 37 by Kumar Sangakkara from 29 matches
Most matches
India: 29 by Sachin Tendulkar
Sri Lanka: 41 by Sanath Jayasuriya
Milestone alerts:
- MS Dhoni needs to affect three stumpings to become the first wicket-keeper in ODI history to have 100 stumping dismissals.
- Lasith Malinga needs to take two wickets to become the fourth Sri Lankan bowler to take 300 ODI wickets.
Updated Date: Aug 20, 2017