"MS Dhoni just came up to me and said that I want you to open the innings as I am confident that you will do well. Since you can play both cut and pull shot well, you have the qualities to succeed as an opener," Rohit Sharma told PTI earlier this year.
Dhoni was at the other end when Rohit scored his first double century in ODIs against Australia at Bengaluru in 2013 and the former was India's captain in that match.
Fast forward to 2017 and Rohit has now hit his first double century in ODIs as a captain and Dhoni played as a wicket-keeper batsman in the match. How times have changed and also how Rohit has changed!
Some players have certain qualities that make them unique, and for Rohit, it is those extra one-and-half seconds to time the ball that makes him so special.
He has the talent but there is a thin line between being talented and being successful. Rohit Sharma version 1.0 was talented but not successful but the version 2.0 has both along with the consistency.
To get a perspective of Rohit's rise, his ODI career should be divided into two phases. The first phase, in which, he played 86 matches, he scored 1978 runs at an average of 30.43 and opened only thrice. From the time he made his debut till 2012, Rohit's average of 30.43 was the lowest among all the Indian players who scored 1000-plus runs in ODIs.
Rohit's career was not on right track until MS Dhoni came with a masterstroke to make the Mumbai batsman open the innings. It was in the home series against England that Rohit opened in two ODIs and scored 87 runs, and then he became India's regular opener from the 2013 ICC Champions Trophy.
He has amassed 4439 runs at an average of 58.40 in ODIs since 2013 which is the second most by any player. Only Hashim Amla has hit more centuries than him since he has become India's regular opener in ODI cricket.
Rohit hit only two centuries in his first 86 ODIs while in his next 87 ODIs, he has hit 14 tons which means a century after every six ODIs, and he is now an indispensable member of Indian cricket team.
Let's take a look at Rohit's numbers in ODI cricket: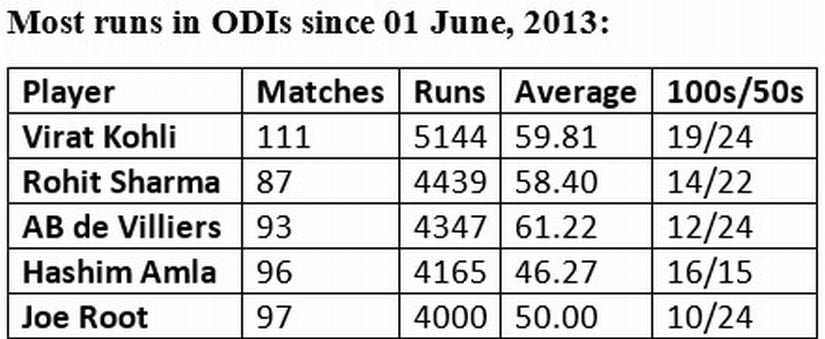 His numbers will definitely improve in future but as of now he has got a hobby of making  200s for fun. Who knows, maybe he can score a triple ton in ODIs, too.
And now, let's look at all the records created and broken by Rohit during his third double ton in ODIs at Mohali in the second ODI between India and Sri Lanka:
Only AB de Villiers and Shahid Afridi have now hit more ODI sixes than Rohit in a calendar year. De Villiers hit 58 sixes in 2015 while Shahid Afridi hit 48 sixes in 2002.

Rohit is the only player to score more than one double century in ODIs.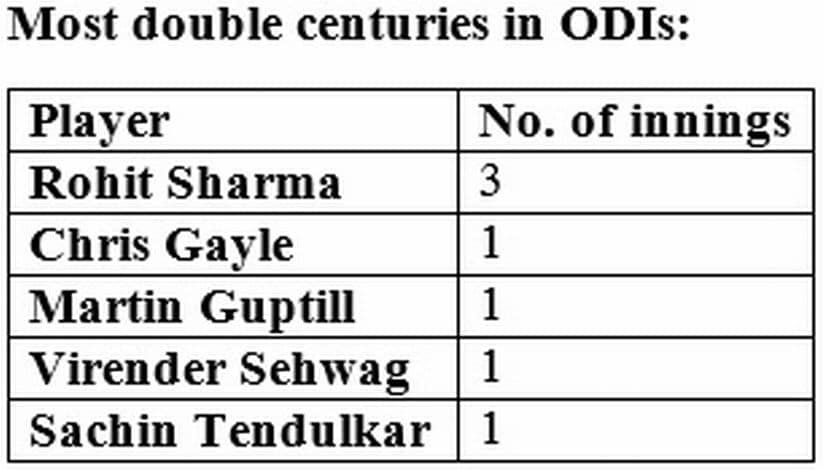 Rohit is now at the second place in the list of player hitting most sixes in ODIs.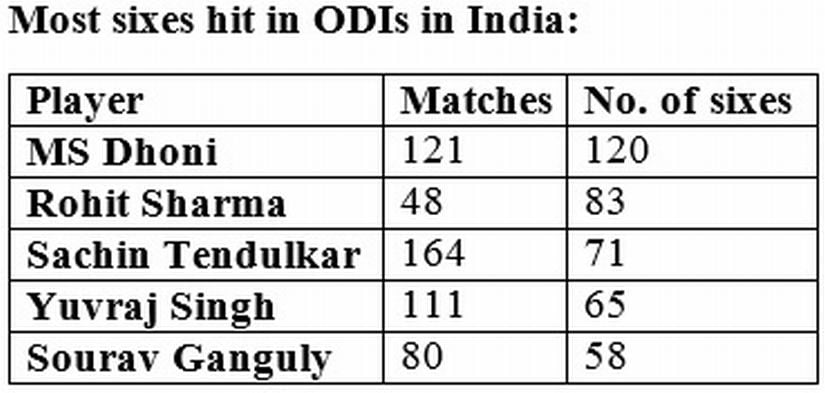 Rohit has hit 14 centuries as an opener in ODIs which is the joint third most among all Indian openers. Sachin Tendulkar had hit 45 centuries as an opener in ODIs which is a record.

Rohit became the second captain to score a double century in ODI cricket after Virender Sehwag who achieved the same feat against West Indies at Indore in 2011.

Rohit's 12 sixes at Mohali against Sri Lanka in the second ODI are now the second most by a captain in an ODI match.

Rohit is one of the three players to hit 10-plus sixes in an ODI match on two separate occasions. The other players who have achieved the same milestone are AB de Villiers and Martin Guptill.

Rohit became the second Indian player to hit 50-plus sixes in international cricket in a calendar year after Sachin Tendulkar who hit 51 sixes in 1998 across formats.
Rohit is known for hitting sixes at his will as he is now at the fourth place in the list of Indian players hitting most sixes in ODIs.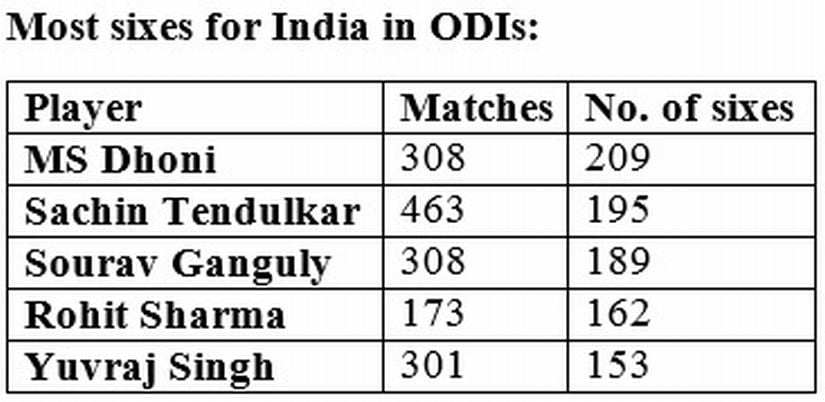 No player has scored more 150-plus scores in ODIs than Rohit Sharma. Sachin Tendulkar and David Warner have also hit same no. of 150-plus scores as Rohit.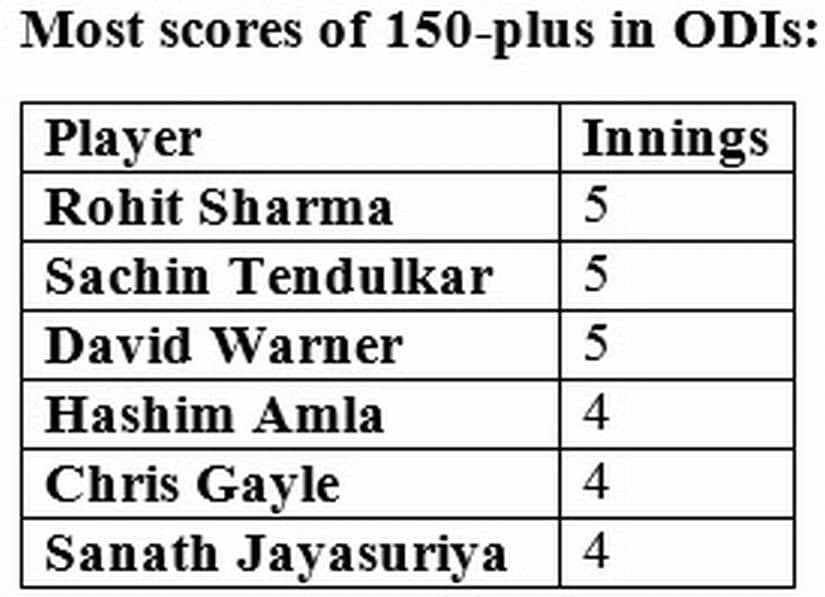 Rohit has hit six centuries in ODIs in 2017 which is the joint most by any player along with Virat Kohli in this year in ODI cricket.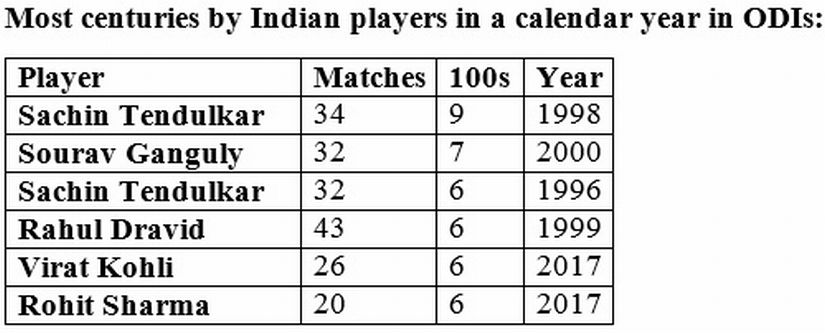 With inputs from Riddhi Dasani.
Updated Date: Dec 14, 2017 19:24:32 IST