The first Test at Eden Gardens was not a stroll in the park for India as Sri Lanka showed their true potential with the ball. The first Test indicated that batting certainly is a weakness of this Sri Lankan team and if India can post a mammoth total while batting first then they can beat Sri Lanka convincingly as they have world-class pacers and spinners in their squad.
Rangana Herath was not as effective in the first Test as the duo of Ravichandran Ashwin and Ravindra Jadeja, but they will come into play at Nagpur given the nature of the pitch over the years. It will be intriguing to see whether India will go in with Ishant Sharma or Kuldeep Yadav to replace Bhuvneshwar Kumar, who has been released from the squad after the first Test.
It can be estimated that Murali Vijay will replace Shikhar Dhawan as an opener. But he has to solve his own quandaries before India go to South Africa, otherwise he will be picked as the third opener in South Africa for sure. The onus will be on him to make it difficult for Indian team management by performing well in the second Test. India will hope that the first Test was just a one-off failure for the reliable Ajinkya Rahane. The hosts will also want Cheteshwar Pujara and Virat Kohli to continue their rich form.
In the second Test, Sri Lanka need to be consistent throughout and not let India to win crucial moments. If they cannot do this, their wait to win a Test in India will stretch longer.
Here's a complete statistical lowdown before the second Test begins at Nagpur.
India have lost only match at Nagpur's Vidarbha Cricket Association Stadium so far — a defeat which came in 2010 against South Africa while this is the first time Sri Lanka will play a Test at the mentioned venue.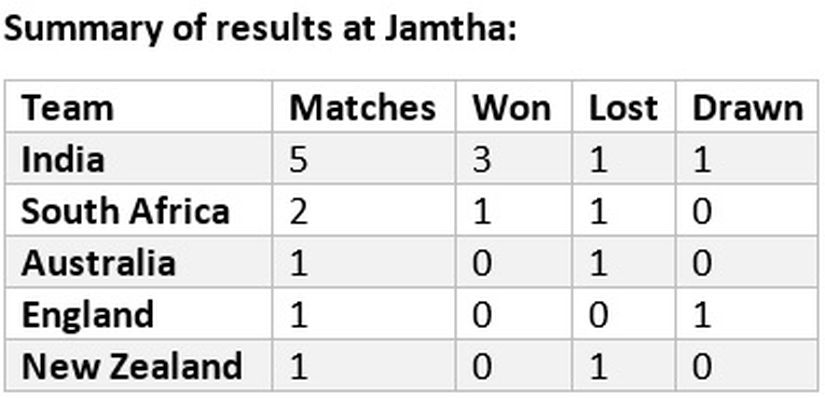 The numbers show that it is preferable to bat first at Jamtha after winning the toss as only once the team who have batted second have won a match at the venue.
Why it pays to bat first at Jamtha in Tests:
Matches – 5
Matches won by team batting first – 3 (60.00%)
Matches won by team batting second – 1 (20.00%)
Spinners have taken 52 wickets at an average of 35.98 at Nagpur in the first and second innings of Tests combined, while they have taken 42 wickets at an average of 26.07 in the third and fourth innings combined at the venue which further indicates that why a team should prefer to bat first at Jamtha.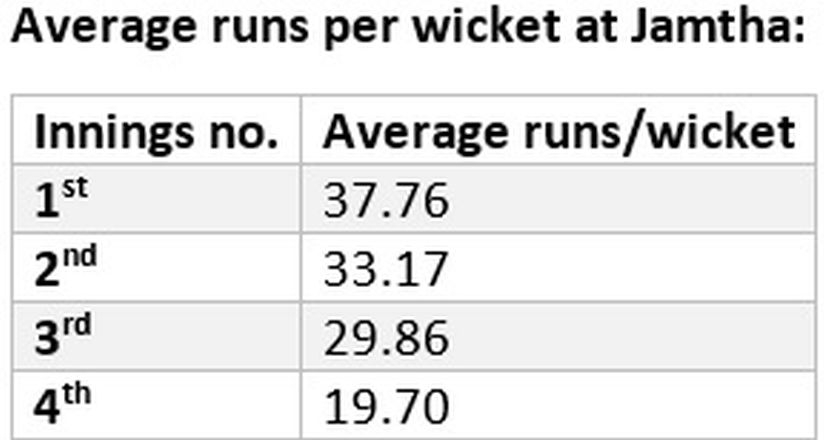 There is not much difference in numbers of pacers and spinners at Nagpur in Tests but in India, it's always difficult for visiting batsmen to play spinners on the fourth and fifth day of a Test.

Pujara's batting average of 66.07 is the best among all the players who have scored at least 500 runs in Tests in 2017. He needs to score 75 more runs to become the first Indian batsman to score 1,000 runs in Tests in 2017.
Dhawan has been released from India's squad for the second Test so Vijay will get a chance to prove himself. The southpaw should grab it by both hands as his average of 32.57 in Tests in 2017 is the second lowest for him in a calendar year in Tests.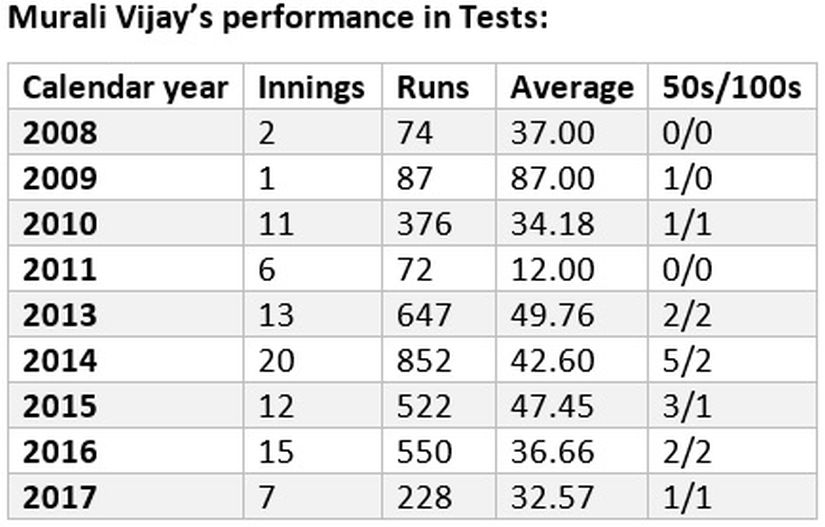 Vital stats at Jamtha in Tests:
Highest team total: 566/8 decl by India against New Zealand in 2010
Lowest team total: 79 by South Africa against India in 2015
Highest individual innings: 253* by Hashim Amla against India in 2010
Best bowling figures in an innings: 8/215 by Jason Krejza against India in 2008
Best match bowling figures: 12/98 by Ravichandran Ashwin against South Africa in 2015
Most runs by an individual: 357 runs by Virender Sehwag from four Tests (avg. - 59.50)
Most wickets by an individual: 15 wickets by Ravichandran Ashwin from two Tests (SR – 43.2)
Numbers game:
Ravichandran Ashwin needs eight wickets to become the fastest player to take 300 wickets in Tests. Currently, Dennis Lillee holds the record of taking 300 Test wickets in the fewest number of matches. He achieved the feat in just 56 Tests.
Umesh Yadav needs to take three wickets to become the joint second slowest Indian pacer to have taken 100 Test wickets. Karsan Ghavri took 36 Tests to complete his 100 wickets. Umesh Yadav has taken 97 wickets from 35 Tests so far.
Updated Date: Nov 23, 2017 13:10:30 IST