Virat Kohli operates two machines at the moment, that of runs and centuries, and the efficiency at which he does his job makes him stand out from other batsmen in this era.
Opening batsman Gautam Gambhir was once declared as 'Man of the Match' but he said that he couldn't receive it, and handed it over to Kohli, making for a touching moment.
In case you have difficulty remembering the occasion, it was an ODI against Sri Lanka at Kolkata. While Gambhir produced a brilliant unbeaten knock of 150 runs, Kohli scored his first century in international cricket in the very same encounter.
Who would have thought at that point in time that this aggressive young player will go on to score his 50th international century in international cricket at the same venue and against the same opposition, albeit in a different format, after nearly eight years.
But achieve the feat he did, and in some style, in the first Test against Sri Lanka, captaining the Indian team at the same time.
Back then it was the beginning of a new era as it was for the first time that he touched the magical three-figure mark in international cricket, but now it is impossible to think an international series in which he does not raise his bat, roar and pump his fist in delight.
Watching Kohli celebrate his 50th international century was a moment perfect for anyone seeking motivation in life. He scores centuries for fun it seems, but the hunger which he shows after scoring 50 international centuries forces people to think that he can achieve anything, and India head coach Ravi Shastri certainly has a similar opinion.
"Sky is the limit. He (Kohli) is a fabulous player and I am very happy," Shastri told on the sidelines of a promotional event after the first Test against between India and Sri Lanka, which ended in a draw.
Kohli is a modern-era prodigy when it comes to scoring centuries on a consistent basis, taking it for breakfast, lunch and dinner. The next target for him will be touching Sachin Tendulkar's record of 100 international centuries — the achievement of which certainly looks arduous on paper. Then again, few things have been presented to him on a platter since he began his cricketing journey.
The Delhi lad is once in a generation player who breaks records day-in-and-day-out and keep statisticians busy. Eminent sports presenter and commentator Harsha Bhogle once remarked that he "meets stats people around the world and they treat Kohli like an examination". He is right and statisticians probably know what changes Kohli has brought in world cricket in recent times.
The journey of a hundred centuries began with one step at Kolkata in 2009, it has reached its halfway mark in 2017, once again in the 'City of Joy'. The rapid progress that he is making at the moment, it shouldn't come as a surprise if he reaches the hallowed milestone down the road in a few years time.
Let us now take a look at a comprehensive statistical analysis of Kohli's 50 international tons in international cricket.
No player has hit 50 international centuries in fewer innings than Kohli. He is only the second Indian player to score 50 centuries in international cricket after Tendulkar.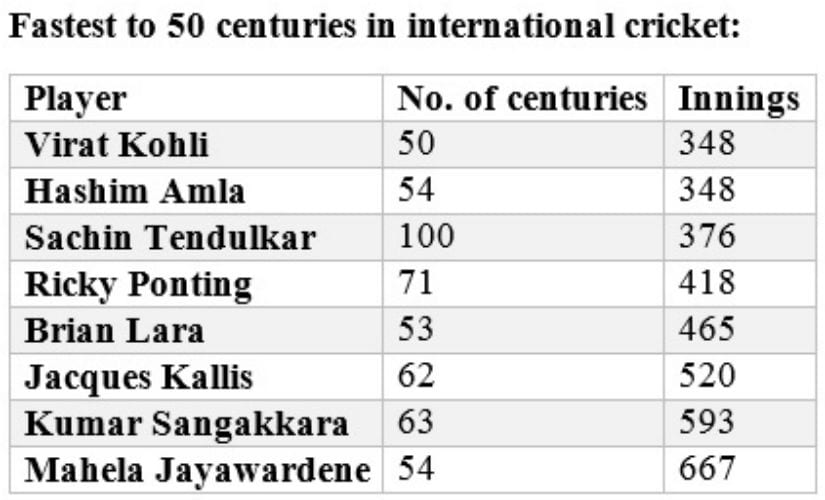 Kohli is second in the list of players scoring most centuries in international cricket before turning 30.
Kohli scores a century at an interval of nearly six innings in both Tests and ODIs. He is yet to score a century in T20Is.
Kohli also has an average above 50 in all formats of international cricket at the moment.

Among the nations Kohli has played at least one innings against, Ireland remains the only nation against which he is yet to score a ton. Australia and Sri Lanka are the sides he has scored the most international centuries against.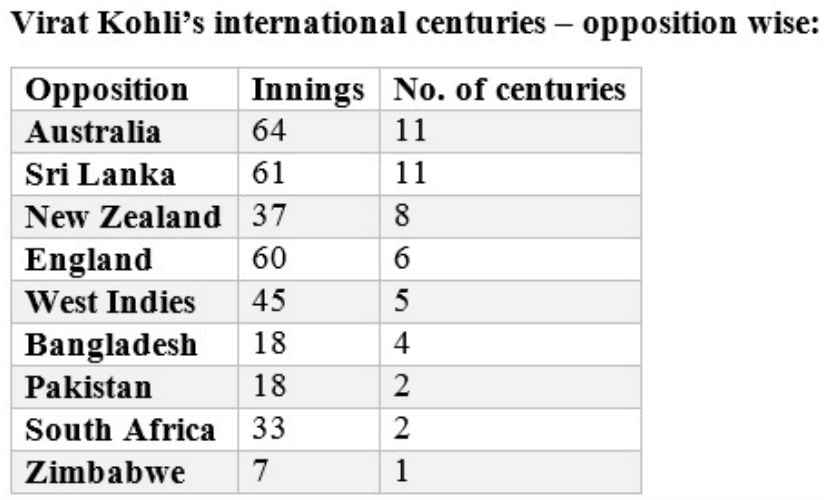 Kohli's nine centuries across formats in 2017 is the most for him in a calendar year in international cricket.
Kohli has scored more centuries in away conditions than at home in international cricket, which speaks volumes of his character and substantiates that he is a batsman for all the conditions.
He has hit nine international centuries in Australia, which is the most for him in a foreign country.

No player has hit more centuries than Kohli in international cricket since his debut.

Here are some of the records which Kohli broke after reaching his 50th international ton.
— He has now scored 11 centuries as a captain in Tests, which is the joint-most among Indian leaders. Sunil Gavaskar had also scored 11 Tests centuries as an Indian captain.
— Kohli has scored nine tons across formats in 2017, is the joint most by a captain in a calendar year. Ricky Ponting (2005 and 2006) and Graeme Smith (2005) had also hit nine centuries in international cricket as captain of Australia and South Africa respectively.
— Kohli's nine international tons in 2017 is also the third most by an Indian player in a calendar year in international cricket. Tendulkar holds the record of scoring most centuries in international cricket in a calendar year, scoring 12 in 1998.
Updated Date: Nov 21, 2017 11:33:42 IST