A total of 8,729 runs in 57 matches at an average of 59.78, a strike rate of 92.64 with 29 hundreds and 52 half-centuries.
You are staring at the phenomenal statistics of India's top order (positions 1-3) in ODIs since the 2015 ICC World Cup in Australia and New Zealand. To put things into perspective, that is 61.61 percent of all runs India have made in one-day internationals since the showpiece event in 2015. What further highlights the sheer impact of the top three is that no other team has more than 18 hundreds from their top three or a batting average of more than 46.
The major guns behind this whopping contribution are the familiar names — Rohit Sharma, Shikhar Dhawan and Virat Kohli. While Kohli has pitched in with 2,886 runs, Rohit Sharma has 2,244 and Dhawan 1,802.
The outrageous form of these three have given India a superb win percentage of 1.947 since the World Cup, but the shoddy performances from the middle-order have gone unnoticed in the glory of the top order heroes.
India comfortably beat other teams in terms of runs contributed from top three since the Champions Trophy but the same cannot be said of their middle-order (numbers 4-7) which has managed just 4,877 runs at an average of 35.93. Six teams have more runs from their middle-order and three have better averages.
The highest contributor from the middle-order (since the World Cup) is MS Dhoni with 1,455 runs in 54 matches at an average of 46.93, boosted by 12 not-outs. The strike rate for Dhoni during this time frame is interesting. It is 84.29, which is 4 less than his career strike rate. Kedar Jadhav is the next highest contributor with 778 runs in 39 matches at an average of 40.94, again boosted by seven not-outs, and an impressive strike rate of 109.88. Hardik Pandya follows with 583 runs in 33 matches at a pretty good strike rate of 117.54.
However, cut down the numbers to post the Champions Trophy final loss to Pakistan last year and you witness that the numbers take a slight, yet important turn.
Dhoni is still the highest run-scorer with 612 runs in 25 matches and his average has shot up to 61.2 (with 11 not-outs) but his strike rate dips further to 79.89. Pandya still has a strike rate in excess of 100, but his average goes down to 24.20. Jadhav also has a decent strike rate (92.21) but his average sits at 26.90. Dinesh Karthik, the only other middle-order batsman (other than Dhoni) to have a 40-plus average (61.00) has a shocking strike rate of 69.84. This shows that India's middle-order has either hung around with a low strike rate or hit a quickfire 20 or 30, but nothing more.
Of course judging batsmen on sheer average and strike rate is cruel, particularly since the situation of the match like balls remaining or how much the top order contributed etc also makes an impact. For instance, the poor numbers in the middle-order could just be because the top three have been so good that the others haven't been needed much. But is that really the case?
Cut down the list to ODI matches India have lost since the Champions Trophy (five) and you see that the lack of contribution from the middle-order has been a vital factor in each of these losses. In two of the games — against New Zealand at Mumbai and South Africa at Johannesburg — India had centurions from the top three yet lost because the run-rate hadn't really shot up after the dismissal of the century-maker.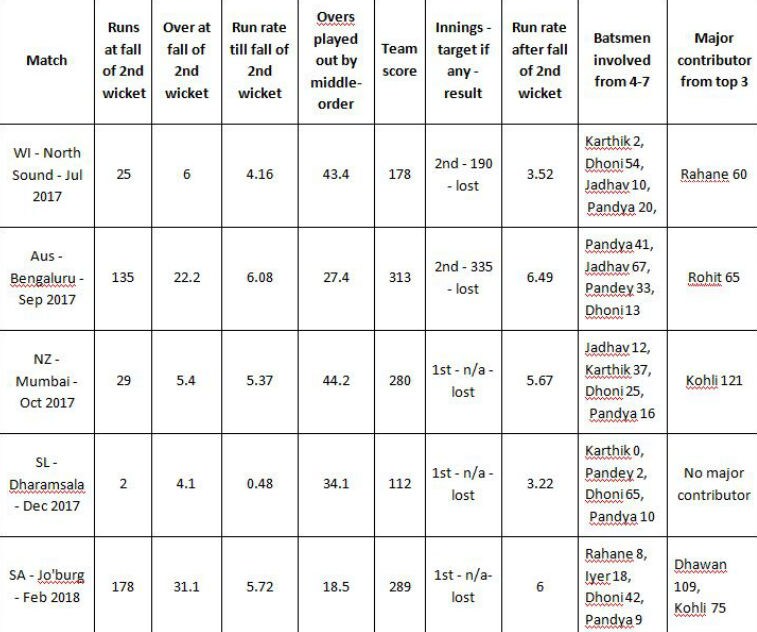 India got into the middle-order within 10 overs in three of these matches but struggled because the others couldn't put their hands up and fight. A notable factor in all of these losses is how the run rate hasn't gone up by much when the middle-order comes in. The only time two of them made 40-plus in the same match was against Australia at Bengaluru, but the asking rate then was much higher compared to the rate at which the middle-order batsmen scored.
Another factor to consider is how long the middle-order have got to settle in and then attack. and so we filter down the matches in which a minimum of nine overs remained when the second Indian wicket fell and also see the matches in which the run rates have shot up since the fall of the second wicket.
This should ideally mean the middle-order has contributed big because the run-rate since the fall of the second wicket to the end of the innings is comparatively higher (six or more).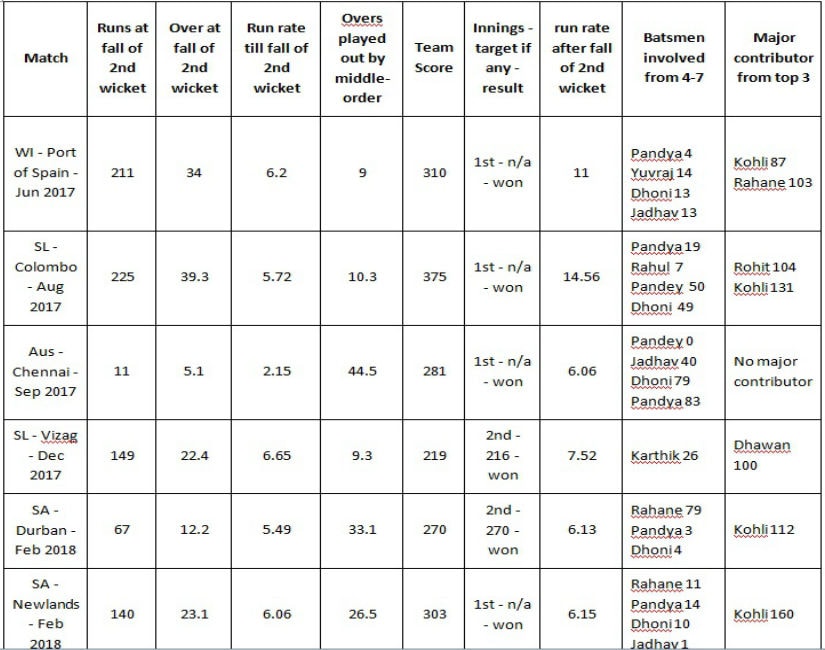 But we see that the only match in which the guys from the middle-order have been sole contributors to a win is against the Australians at Chennai. On every other occasion one of the top three has made a hundred and there have been half-centuries from the middle-order in only two games (Rahane against South Africa at Durban and Manish Pandey against Sri Lanka at Colombo).
While it is established that these middle-order batsmen have had little impact when there is enough time to settle down and then launch, further digging shows up that they haven't been particularly good either when the number of overs left is less than 10.
In these games, the only time the run rate of middle-order was somewhere close to that of the overall run rate since fall of second wicket is against New Zealand at Kanpur when Dhoni's and Jadhav's blitz gave them 55 runs off 37 balls (a run rate of 9.01 comparable to overall run rate since fall of second wicket, 9.28). In two of these games (against West Indies at Port of Spain and Sri Lanka at Vizag), the middle-order chugged along at a rate of less than six an over, which means the run rate boost, if any, came from the settled guy at the other end.
All of this points towards a rather mediocre impact from the middle-order in ODIs of late (be it with enough overs remaining or not). The shocking aspect is failure of these batsmen to combine strike rate with a good score. Rarely have the two synced for India's middle-order batsmen in ODIs in the last few months. The only one who comes close is Pandya, who has a few good scores plus a healthy strike rate, but he too has been inconsistent with his returns in terms of runs, an argument justified by his average of 24.20 since the Champions Trophy.
While Rohit, Dhawan and Kohli hammer down the opposition from the top, the few times they do not make an impact, India have struggled to hold things together from the middle-order — a point further established in the pink ODI at Johannesburg when just 59 runs came in the final 10 overs. India will need more impactful contributions and a better rate of striking from the belly of their batting order. The heavy reliance on the top three batsmen does not auger well particularly with openers Rohit and Dhawan possessing several chinks in their respective batting techniques.
Note: Statistics are up to date as of 12 February 2018
Updated Date: Feb 12, 2018 20:28:36 IST