India were untouchable at home in 2017. But with the turn of the year India face a very different kind of test when they begin the first chapter of their overseas adventures with the tour to South Africa.
Well begun is half-done. And that's exactly what India will be aiming for when they travel to the Rainbow Nation for a three-match Test series.
It's a battle between the top-two ranked teams in the world so there's been a lot of talk in the build-up to the series. Virat Kohli will be captaining India once again post his marriage while for South Africa, their two stalwarts in Dale Steyn and AB de Villiers, will be keen to prove their mettle in the whites on their return.
The series can be seen as a clash between pace bowlers of both the teams as India are well-equipped with in that department this time around and possibly go to South Africa with its best Indian pace bowling attack. All of the Indian pacers can hit the 140 kph mark consistently, and that's bound to cause the South Africans some problems.
On the contrary, South Africa rule the roost at home just like all the other teams in the world with their pacers so often proving to be the match-winners. They have variety in their bowling attack that can trouble India. Morne Morkel's height will help him generate extra bounce while Rabada with his hit-the-deck bowling has an outstanding record in his short Test career. Vernon Philander shines when it comes to bowling in South African conditions and Steyn will use all his experience to dismantle Indian batsmen.
So the big question is whether Indian batsmen are mentally prepared to face these four or not?
"We come to South Africa knowing that the wickets are going to be different from back home. Even the last time when we've played there was talk about we getting bounced out and we're going to struggle against the short ball. But I think our batsmen stood up really nicely. If you remember, clearly on Day 1 of the Jo'burg Test we put up a great fight, we handled their bowlers pretty well and we made them work hard. We almost won that Test, it ended up being a draw. So, we are prepared as to what we're going to get here and we're not under any delusions as to what we're going to be presented with, come fifth of January," Indian captain said while addressing media before going to South Africa.
Combination dilemma
India can't play two spinners in South Africa according to many experts but at Cape Town, pacers have taken wickets at a strike rate of 65.7 while spinners have taken wickets at a strike rate of 75.7. On the other side, it will be tough for Indian management to drop in-form Rohit Sharma. If they pick Rohit then one from Jadeja and Ashwin has to sit out. However, the spotlight will be on Hardik Pandya who was rested in India-Sri Lanka Test series particularly for this tour. His chances of making it to the starting XI are very thin though as India would be tempted to play three of the five proper pacers at Cape Town.
"These one-and-a-half years will define Indian cricket," Shastri told in the pre-departure press conference in Mumbai. The onus will be on Indian players to substantiate it.
History might discourage India as they have not won even a single Test series in South Africa yet. The Proteas have been on winning side six times when it comes to India-South Africa Test battles.


The recent form is with India as they have won nine consecutive Test series but they last won a Test series outside Asia except Zimbabwe and West Indies back in 2008-09 when they defeated New Zealand by 1-0. However, South Africa have won only five Tests out of their last 10 which is not up to their own high standards.
Recent form (last 10 Tests, starting from the most recent)
India: D, W, D, W, W, W, W, D, W, L
South Africa: W, W, W, L, L, W, L, D, W, D
India have come close to winning the Test match many-a-times in most recent years in overseas conditions but the real challenge for India will be to win the sessions consistently. Indian skipper Kohli insisted on the same in his press conference after reaching South Africa that, "For us, it's about winning sessions." There is a difference between saying it and putting it to practice but this Indian team has done that at home so they have a chance to replicate it away from home now.

The following table indicates an intriguing fact. It tells that South Africa have always been ruthless in their own den as India have won only two Tests in South Africa which is the joint fewest for them away from in a single country.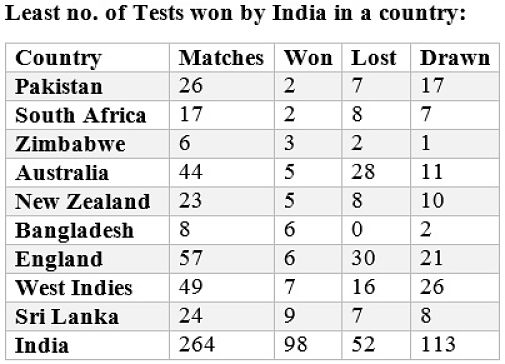 South African pacers have taken 15 wickets per Test against India in South Africa which is the most by them against a country among Test nations against which they have played atleast 20 Tests at home. The stat indicates the threat which the Proteas' pacers pose.

If India's quartet of Vijay, Pujara, Kohli and Rahane play well then Shastri will sleep well in South Africa. They were not experienced when India came to South Africa in 2013-14 but with the experience under theirbelts, they have the chance to help Shastri has less headaches on the tour.
However, Rahane is the only batsman from the mentioned four whose batting average in away conditions is better than in Asia in Tests. Cheteshwar Pujara's numbers tell a different story but Pujara is known for writing his own story. A second coming for him in away conditions can be different as he has been a different player since then.

India's No 6, No 7 and No 8 batsmen have contributed well in the last two years and their batting average of 39.80 was the second most among all the teams. India are heavily dependent on their top-five batsmen but if the batsmen who will play at No 6, No 7 and No 8 can do what they did in the last two years then that can be the difference between the two sides at the end of the series.

India's win percentage of 64.29 in overseas conditions across formats since 2015 is the best among all teams who have played more than 50 matches. This record is fine one but it must be noted that in those two years, India did not play much Test cricket outside Asia.

Indian batsmen's ability to leave the ball and their bowlers' ability to bowl with the Kookaburra ball will decide the result of the series.
Here are some of the individual records held in India-South Africa Tests held in South Africa:
Leading run-scorer:
For India: 1161 runs by Sachin Tendulkar from 15 matches
For South Africa: 974 runs by Jacques Kallis from nine matches
Leading wicket-taker:
For India: 45 wickets by Anil Kumble from 12 matches
For South Africa: 40 wickets by Allan Donald from seven matches
Leading wicket-keeper:
For India: 19 dismissals by MS Dhoni from seven matches
For South Africa: 41 dismissals by Mark Boucher from eight matches
Leading fielder:
For India: 11 by Virender Sehwag from eight matches
For South Africa: 14 by Jacques Kallis from nine matches
Highest total:
For India: 459/10 at Centurion in 2010
For South Africa: 620/4d at Centurion in 2010
Lowest total:
For India: 66 at Durban in 1996
For South Africa: 84 at Johannesburg in 2006
Highest individual score:
For India: 169 by Sachin Tendulkar at Cape Town in 1997
For South Africa: 201* by Jacques Kallis at Centurion in 2010
Best bowling figures in an innings:
For India: 7/120 by Harbhajan Singh at Cape Town in 2011
For South Africa: 7/84 by Allan Donald at Port Elizabeth in 1992
Best bowling figures in a match:
For India: 10/153 by Venkatesh Prasad at Durban in 1996
For South Africa: 12/139 by Allan Donald at Port Elizabeth in 1992
Updated Date: Jan 03, 2018 17:24:54 IST