As India prepare for one of their toughest assignments in years, it is time for a certain off-spinner to return to prominence. Ravichandran Ashwin has been something of a talisman for India for about four years now, stamping his authority on the ground especially with the red ball in hand. The kind of impact that he has made, especially in the recent years, has made him indispensable in the Test team.
After charting a steady rise with the Chennai Super Kings (CSK) in the Indian Premier League (IPL), it was during the 2012-13 edition of the Border-Gavaskar Trophy when he really shot to fame, finishing as the top wicket-taker (29 at an average of 20) as the Indians swept the series 4-0. He continued the carnage on home soil against the West Indians later that year, finishing at the top wicket-taker once again.
The last two years, starting from the 2015 home Test series against South Africa, have been especially rewarding for the Tamil Nadu off-spinner. Collecting wickets in heaps against teams such as West Indies, New Zealand and England, he bagged the 'ICC Cricketer of the Year Award' for the year 2016, coming at a time when he was at the peak of his prowess.
The bygone year saw him notch up one milestone after another — as he became the fastest to 250 as well as 300 wickets, beating Australia pace legend Dennis Lillee's records on both occasions. The second one occurred during the second Test against Sri Lanka in Nagpur, in which he dismissed Lahiru Gamage with a carom ball to seal an innings and 239-run win for the hosts.
However, the bigger challenge lies ahead for Ashwin as he prepares to practice his trade on surfaces that traditionally are not known to assist spinners. While he made full use of the rank turners in the subcontinental conditions to progress from 200 to 300 Test wickets in a couple of giant strides, it will be a completely different ballgame once he lands in Cape Town.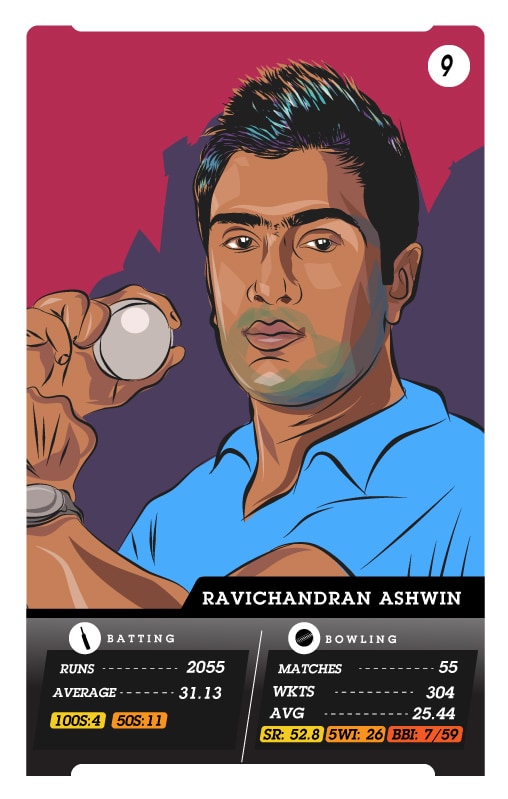 For starters, a green top is what is expected at the Newlands, the venue where the first Test will be played between 5-9 January. As mentioned earlier in this series of profiles, a toss-up between Ashwin and left-arm orthodox spinner Ravindra Jadeja is more than likely come Friday.
Ashwin is yet to grab a Test wicket in South Africa, having conceded 108 runs at Johannesburg in the first Test of the 2013-14 tour without any success. Given the glory that he has basked in in recent times, writing a new chapter in the country that hasn't quite been very hospitable to him will be on top of his mind. He might be a sensation back home, but wickets on conditions such as these are what will help in establishing him as a great of the modern-day game.
Click here to read profiles of other Indian players involved in the Test series against South Africa
Click here for the full schedule of India's tour to South Africa, when and where to watch the matches, live coverage on TV, online streaming
Updated Date: Jan 02, 2018 21:35:14 IST