On India's last overseas leg of 2013-14, it was the trio of Ajinkya Rahane, Virat Kohli and Murali Vijay that saved the nation from embarrassment.
While many of the countries' batsmen, including Rohit Sharma and Cheteshwar Pujara, didn't have the best of times, it was these three, who chipped in at crucial times to help India salvage some pride.
Of the three, it is Murali Vijay whose achievements have often not been celebrated in the same way as those of the two stars of Indian cricket — Rahane and Kohli, perhaps because of only playing Tests and not appearing in limited-overs games.
Born in Chennai in 1984, Vijay was from a studious family in which he was the odd one out. After flunking the XII exam and leaving the home comforts to stay in a hotel for 6 months, he worked at a snooker parlour to make ends meet. That as a 17-year-old was Vijay's idea of 'getting a kick' out of life. As his father recalls, indeed Vijay was always a 'different man'.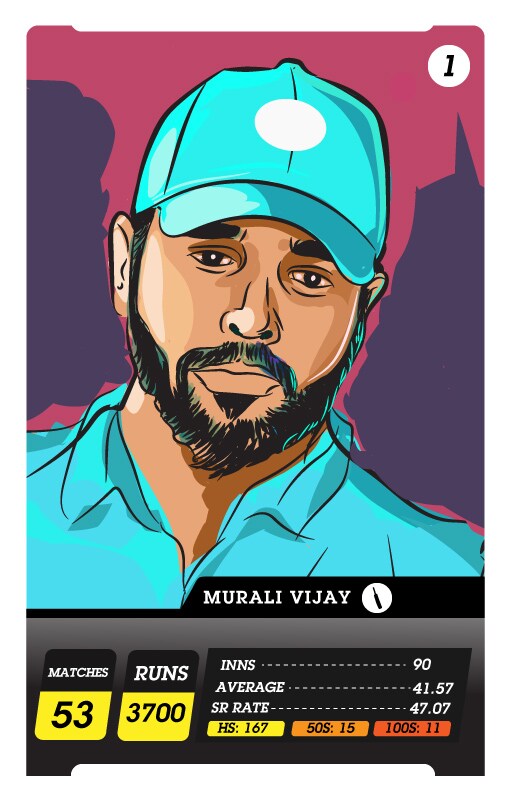 Vijay maintained this persona on the cricketing field too. Unlike many of his counterparts, Vijay didn't rise through the age-group system. After being discovered by Bharath Arun while playing college cricket, Vijay made it to Tamil Nadu's Ranji team in 2006.
His good run in country's premier domestic tournament soon earned him a chance to play for India, as he made his Test debut against Australia in 2008. However, just like in life, it took a while for Vijay to get a hang of the requirements of the International cricket, as juggling between the demands of T20 cricket with those of Test cricket proved too much for the Chennai batsman.
His career thus, can be divided into two parts — from 2008 till 2011, and then from 2013 to 2017.
In the first part of his Test career, Vijay played a total 12 games across four years, where he scored 609 runs at an unsatisfactory average of 30.45. During this period, he could only make one hundred and two fifties.
After his surprise recall in 2013, when India finally decided to look past the pair of Gautam Gambhir and Virender Sehwag, Vijay was a different batsman. He scored two hundred in the series against Australia, and as the cliché goes, he hasn't since looked back.
Since his return to the fold in 2013, the right-handed opener has scored over 3000 runs in 41 matches at a healthy average touching 45. He has also scored 10 hundreds during this period, with a century a piece in England and Australia. It is clear that Vijay's second coming as a Test cricketer has been a blessing for the Indian cricket team, a team that traditionally struggles for good openers in overseas conditions, a skill set that he has mastered over the years.
Vijay attributes this change in fortunes to a new-found maturity, saying, "I'm more mature now. I know my game better."
Now as India are on course for another long away season, starting with the South Africa tour, the Men in Blue will look up to Vijay for a solid start. Designated as the first choice opener, with KL Rahul and Shikhar Dhawan fighting for the other slot, the Tamil Nadu opener would be well advised to follow his success mantra of leaving a plenty of balls outside the off stump to frustrate the bowlers.
His game, which is based on the virtue of effortless timing and patience, would pose a good challenge for the South African attack, many of whom are recovering from injury.
Vijay can also derive confidence from his performance in the 2013 tour of South Africa. Although he didn't set the stage ablaze, the opener made the bowlers work very hard for his wicket, and very nearly missed on a hundred in Durban.
Vijay's responsibility as a senior batsman in the team heightens in light of the rut in which his teammate Ajinkya Rahane presently finds himself. Rahane, who scored a score of 90 or more in each of the overseas tour of India the last time, is amidst a horrendous run of form, which has seen his average fall below 20 in the home series against the Sri Lankans. Not to say Rahane wouldn't return to form in the upcoming series, his dry run does put the onus on Vijay, Kohli and Pujara to do the bulk of scoring for the time being.
Personally too, Vijay would himself realise that age is not on his side. A late bloomer, Vijay would be 34 by the month of April, and it's quite possible that this stretch of tours could be his last as an overseas opener. With a KL Rahul always breathing down the neck of the current openers, and players such as Mayank Aggarwal waiting in the wings, it wouldn't take long since India start thinking of an existence beyond him. With all this in mind, Vijay would ideally like to put forward his name in the conversation of best Indian openers ever with a string of performances, and hopefully, guide India to their first ever series victory in the Rainbow Nation.
Click here to read profiles of other Indian players involved in the Test series against South Africa
Click here for the full schedule of India's tour to South Africa, when and where to watch the matches, live coverage on TV, online streaming
Updated Date: Dec 30, 2017 21:59:29 IST