Kings XI Punjab were playing Mumbai Indians in the Indian Premier League (IPL) in May earlier this year at the iconic Wankhede Stadium in Mumbai. Faced with a mountain of runs, the home team had mounted a frenetic charge. Ishant Sharma, who had not been picked up in the auctions, and could be a part of the tournament only due to Punjab coach Virender Sehwag's magnanimity, had had a pretty forgettable season till then. And, on that evening at the Wankhede, it got all worse for him. He got tangled up in his follow-through and took an ugly tumble not once, not twice, but three times, no less, much to the mirth of the crowd. Ishant got up and gave an embarrassed toothy grin. It was a comedy of errors.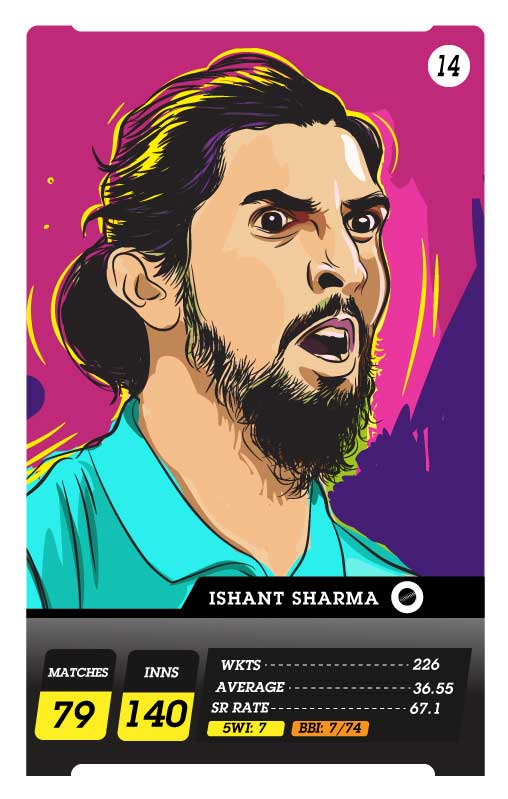 "The man with two left feet," said Laxman Sivaramakrishnan on commentary. Matthew Hayden, who was having trouble controlling his laughter, said Ishant reminded him of "a newly-born giraffe". "Udta Punjab" went the big screen. The Wankhede crowd booed and mocked. Punjab captain Glenn Maxwell and coach Sehwag couldn't resist laughter either. In that match, Ishant set a dubious record of bowling the most number of deliveries without taking a wicket. From being the toast of the nation, who gave Australian legend, and Hayden's former teammate, Ricky Ponting sleepless nights, Ishant had become a butt of ridicule.
That, in short, has been the story of Ishant really. Abundance of talent, but that talent has not always been utilised optimally. There have been patches of brilliance, a searing spell or two, then a period of relative quietude, then a coming back to form, only to fall back again into a period of listlessness.
The lanky Delhi speedster, who started with a bang, taking a fifer in only his second Test, against Pakistan in Bengaluru, has been dogged by inconsistency throughout. He has not been able to live up to his enormous potential, and that is why even after a decade of making his Test debut, and widely tipped at the start of his career as someone who could go on to lead the Indian pace attack for years, he is today nowhere close to being the frontline pacer of the side. And in the ultra-competitive atmosphere in Indian cricket at the moment, Ishant has his task cut out.
There was a time when former India captain Sourav Ganguly felt that Ishant was going to be the "future of Indian bowling" in the years to come. But sadly, that has not materialised, and Ishant has seen the likes of Mohammed Shami, Umesh Yadav and Bhuvneshwar Kumar forge far ahead. With the trio expected to be in the starting XI in the South Africa series, with Hardik Pandya giving you the option of the fourth seamer, Ishant may just end up warming the bench. In fact, the Indian team management may go with a three-pronged pace attack comprising two out Shami, Umesh and Bhuvneshwar, and all-rounder Pandya, who gives the team great depth and balance. They could also want to try out the exciting, young speedster Jasprit Bumrah ahead of Ishant. Indeed, there is a huge clamour from all quarters to unleash the slinger Bumrah in Tests. He has already established himself as one of the top bowlers in limited-overs cricket at the moment, and although Ishant scores on the experience front, it won't be surprising if Bumrah gets the nod ahead of Ishant.
However, not all is lost for Ishant. He had a fruitful outing in the recently-concluded Test series against the visiting Sri Lankans and bowled far better than his figures of 3/37, 2/43, 3/98 and 0/32 suggest.
"Ishant is bowling really well. This is the best I have seen him bowling in the long time," India coach Ravi Shastri said in an interview to CNN News18 a few days back. He had played a stellar part in India's Test series win in Sri Lanka in 2015, after 22 long years, and stood out as much for his fiery demeanour, especially his run-ins with Dhammika Prasad, as his bowling skills, so much so that captain Virat Kohli noted, "An angry fast bowler is a captain's delight."
That was the last time that Ishant took a five-wicket haul in Tests. Since taking 5/54 at the Sinhalese Sports Club in Colombo in 2015, he has gone 27 times without a fifer. Out of these, he has gone wicketless nine times, has taken one wicket in an innings 10 times and two wickets five times. So that is 24 times when Ishant could manage only 0-2 wickets in an innings since taking his last fifer in Tests. During this period, he has taken 34 wickets in 15 matches, at about 31 runs apiece, with a strike rate (balls bowled per wickets taken) of 68.9.
After the Sri Lanka series in 2015, he didn't do much during the tour of West Indies, nor in the home Tests against South Africa and England. His performance was reasonable against Bangladesh and Australia at home, and he made headlines with his aggressive body language again, when he tried to get under the skins of Australians Matt Renshaw and Steve Smith in the Bengaluru Test. Incidentally, he took a tumble on his follow-through in that match too.
Let's compare his figures since his last Test fifer, in August, 2015 to those of his competitors. Umesh has played 22 matches during this period, claiming 54 wickets at nearly 34 apiece, and a strike rate of 64.6. Shami has also played 15 matches, and has taken 48 wickets at a very good average (runs conceded per wickets taken) of 25.52 and a strike rate of 51.1. Bhuvneshwar, on the other hand, has played only seven matches during this period, but has a superb average of 17.75 and a strike rate of 43, having taken 24 wickets.
Clearly then, there is some tough jostling for places in the Indian team that is going on, and it has been the case in all departments for quite sometime now. There is someone of the calibre of Jaydev Unadkat waiting in the wings. And how about someone like young Rajneesh Gurbani, who on Saturday became only the second man to take a hat-trick in a Ranji Trophy final? He has been in prime form this domestic season and is all the more reason Ishant would be looking anxiously over his shoulder.
The biggest problem that Ishant has had to deal with is his line and length, often bowling too short and straying down leg, ending up being taken for runs. This is where he could have learnt from the master Glenn McGrath, who one remembers bowled that 'perfect over' to England captain Nasser Hussain during the 2002-03 Ashes in Brisbane, landing ball after ball on almost the same good length spot, setting Hussain up expertly, before having him jabbing at the last ball of the over, that was pitched a bit further up and moved just a shade away off the wicket. If only Ishant could have been even half as accurate!
"... that is the simple truth about Ishant - he has just not bowled enough potential wicket-taking balls, and it reflects in his record," Sanjay Manjrekar wrote in an article for ESPNCricinfo in 2012. In that article, Manjrekar referred to a conversation with West Indies great Courtney Walsh, who pointed out the deficiencies in Ishant's bowling, and they had mainly to do with the head falling away sideways at the time of delivery and a faulty wrist position.
"I don't know whether it is about pressure of performing or not but Ishant has stopped learning. He is not a 'baccha' (kid) anymore. He has played over 50 Test matches and he should have been a strike bowler and leader of pace attack", former India coach and national selector Madan Lal said, as Ishant was having a torrid time in New Zealand in 2014. "He is simply not pitching the ball in right area and trying to bowl too fast," Lal added.
"There are too many mistakes in his bowling. Firstly, he is just putting the ball rather than bowling it. His turnover timing while delivering the ball is wrong, while he doesn't have his wrists and fingers right behind the seam as it should be," said India's premier fast-bowling coach TA Sekar, who has worked with the likes of Javagal Srinath, Venkatesh Prasad, Zaheer Khan and had been the assistant to Dennis Lillee at Chennai's MRF pace academy.
Ishant has a terrible record against South Africa. Eleven matches have seen him take only 21 wickets, while going for 1,074 runs. His average of 51.14 and strike rate of 96.6 are his worst against any team in Tests. In South Africa, Ishant has taken 12 wickets in nine innings. If you take away the 4/79 in Johannesburg in 2013, he has taken eight wickets in as many innings. In the 'Rainbow Nation', his average and strike rate stand at 54.16 and 91.3 respectively. Pretty shoddy record that.
Can Ishant do any better this time around? Shastri has belief in him, but it would not be easy to deliver. After all, even on the wickets at Cape Town, Centurion and Johannesburg, that are expected to aid pace, bounce and movement, you have to still put the ball in the right areas to get purchase.
Click here to read profiles of other Indian players involved in the India-South Africa Test series.
Click here for the full schedule, when and where to watch the matches, live coverage on TV, online streaming.
Updated Date: Dec 31, 2017