Cricket South Africa (CSA) is not going to be petrified by International Cricket Council's new demerit points clause for pitches being branded 'below average', 'poor' or 'unfit' by the match referee. The new system that came into force from 1 January could result in venues being fined and banned from hosting matches if they came up with excessively flat or extremely bowler-friendly pitches.
In a nutshell, this means that the current Indian team might not have to encounter the sort of pacy Kingsmead pitch on which South Africa's hostile four-man pace attack routed them for 100 and 66 in the tumultuous summer of 1996.
But CSA won't be too worried about ICC's action against them in case they provide such a mean and nasty pitch. Instead, they would be more worried of the impending fallout from television revenue and how it could adversely impact their near-bankrupt organisation if any Test got over in three days' time!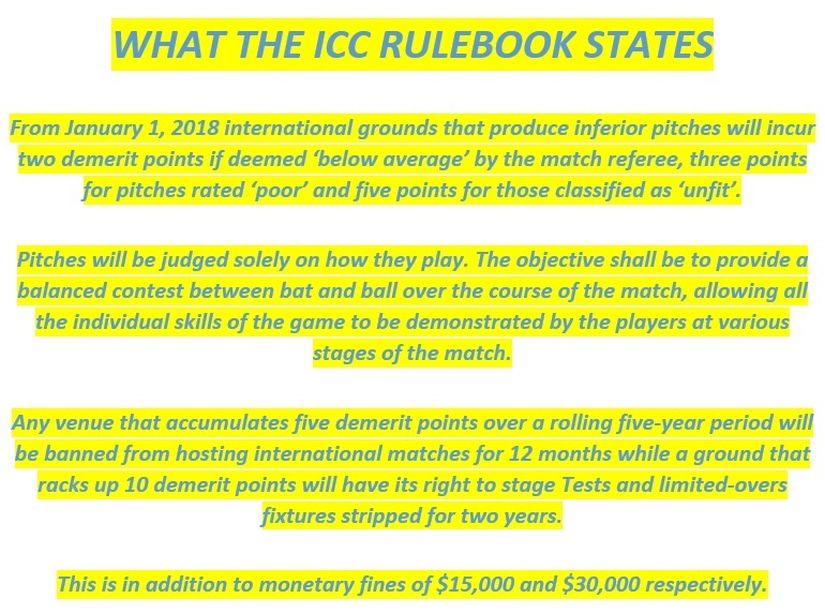 That three days was the time frame required to polish off India's famed batting line-up of Sachin Tendulkar, Rahul Dravid, Sourav Ganguly and Mohammad Azharuddin among others in a Test match at Kingsmead, Durban in 1996. In fact, the second innings lasted just 34 overs.
The crucial difference these days is that three-day finishes involving big money-spinning teams like India would be a financial disaster for the host broadcaster, and ultimately for the host country itself.
Thus, even if the ICC's match referee condones a host association for reasons of drought — parts of South Africa are undergoing extreme drought — or rains or whatever, market forces would be a lot less forgiving.
A couple of years ago, India wrapped up the Mohali and Nagpur Tests against South Africa inside three days while the Bengaluru Test was ruined by four consecutive days of rains. Consequently, host broadcaster Star India's loss in advertisement revenue in the four-Test series was estimated to be a whopping Rs 100 crores.
That was the series in which spin twins Ravichandran Ashwin (31 wickets) and Ravindra Jadeja (23 wickets) ruled the roost on 'special' Indian pitches and India romped home to a 3-0 series win.
Thus, even if South Africa believe this would be payback time for them it is unlikely they will prepare tracks that would wipe out the Indian team in three days. The financial consequences for an impoverished board, forced to cut its losses by postponing Global T20 League, its version of the IPL T20, would be too huge to bear. Like Sri Lanka, Pakistan, West Indies, Zimbabwe, Bangladesh and New Zealand cricket boards, the South African board too is near bankrupt and cannot afford to mismanage the potentially lucrative India series. Already, enough hype has been built around this series to excite sponsors, advertisers and spectators and CSA now need to milk it to their advantage.
A few days ago, South Africa played an experimental four-day Test against Zimbabwe and wrapped up the pink ball Test in under two days. Their cricket association knows that two and three-day finishes in Tests are okay against Zimbabwe, Sri Lanka, Bangladesh, West Indies and others. But it would be idiotic to try and fix the pitch for a Test against India.
Of course, India have suffered terrible three-day losses in the recent past — to Australia by an innings and 37 runs at Perth five years ago; to England by an innings and 54 runs and by 244 runs at Manchester and The Oval respectively in 2014. In England, the soft and seaming tracks floored the clueless Indian batsmen. It is unlikely they would encounter such tracks in South Africa.
Typically, Tests which finish in two and three days' time are a consequence of an extremely lopsided contest in which one team simply overpowers the other. On the other hand, five-day Tests, unless they are played on dull, flat pitches, are a lot more attractive for spectators and television audience as there is uncertainty in the result right up to the fifth day.
In this context it is good that India are not playing any Test on that lively Kingsmead pitch.
This is not to say that the South Africans would lie on their back and prepare pitches that would allow the Indian team to trample all over them. They would prepare good, lively pitches with true bounce and hope this could help them wrap up the Tests deep into the fourth or fifth day.
The onus, like always, would be on the Indian batsmen to stand up and be counted. If they hold up, India can afford to play five bowlers. Else this could so easily descend into one more series where damage control could be the name of the game.
Updated Date: Jan 04, 2018