All the hype that surrounds India's tour of South Africa is primarily because Virat Kohli and his men have gone unchallenged (barring the series against Australia in 2017) since handing the Proteas a 3-0 drubbing in India in 2015. As one-sided wins became the norm, there was a need to spice things up, and with India set to travel overseas this year, there is finally a sense of some competition.
A formidable South Africa look set to question India's hegemony. Another way to look at this impending challenge is to reckon that this Indian side is geared for the safari in the Rainbow Nation. In such a high-voltage mano-a-mano, often the triumphant is the one who has the goods to battle long hours, strength to withstand pressure and still have the ability to progress.
There are very few players in the world who embody all the aforementioned qualities. Cheteshwar Pujara tops that list.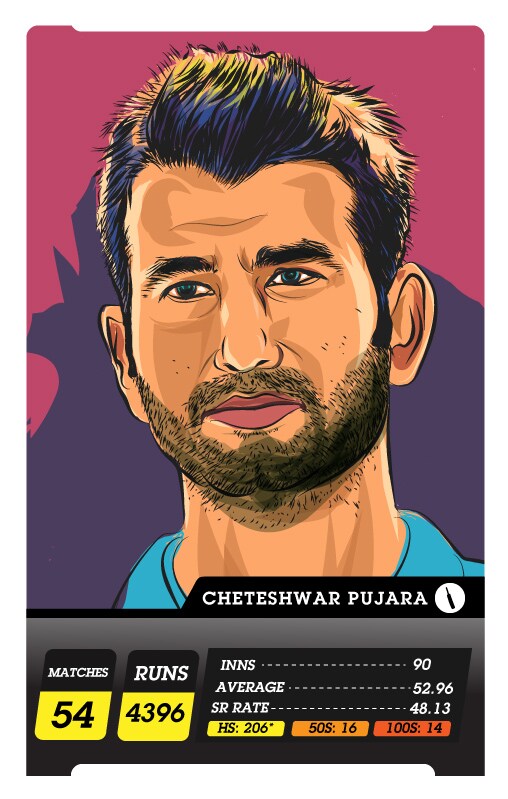 Currently ranked number three in Tests, Pujara's gusto lies in attrition warfare. Ball-by-ball, over-by-over, hour-by-hour, session-by-session, and when in mood, even day-by-day, the 29-year-old has the adroitness of wearing the opponent down to the point of submission.
In an era of power-hitting and higher strike-rates being used as a yardstick to measure greatness, Pujara is an outlier. Albeit, what he brings to the team and world cricket is very rare. The Saurashtra batsman's penchant for playing the long innings and his huge appetite for runs sets him apart. Last year, Pujara went past Rahul Dravid in terms of the most number of balls faced by an Indian in a Test innings where he transcended into zen mode to bat 525 balls for his 202 against the mighty Australia.
A limited-overs discard, Pujara is a player who goes back to the rigours of Ranji Trophy when the Indian side is playing in coloured clothing. Unsurprisingly, he broke Vijay Merchant's record of most double tons by an Indian in first-class cricket — a record that stood for almost 70 years — after smashing his 12th double century against Jharkhand a couple of months ago.
Due to his limitations in white-ball cricket, Pujara is not on the radar of Indian Premier League (IPL) franchises either. But, it doesn't seem to perturb him as he fulfills his desire of playing the sport by flying over to England and participating in county cricket. He has represented Derbyshire, Nottinghamshire and Yorkshire in multiple county stints.
In an interesting chat, wherein Kohli was interviewed by Pujara himself, the former revealed it was Pujara's genius that taught him to concentrate for long periods and score massive runs.
The year 2017 was immensely successful for both the batsmen as Pujara amassed 1140 runs at 67.05 while Kohli garnered 1059 runs at 75.64 to finish second and fourth respectively for the leading run scorers of the year. Essentially, the two were the primary reasons behind India's surge.
Although India lost the two-Test series 1-0 in 2013, then captain Graeme Smith believes Kohli and Pujara will be the two men Proteas need to be wary of.
Whilst there is little question over Pujara's achievement as a Test batsman in sub-continent, where he averages over 65, a lot is left to be desired when Pujara's overseas record is viewed. His average plunges below 30 in the 17 Tests away from the sub-continent with only one century to his name.
Pujara might take some solace in the fact that, India is touring South Africa before it visits England and Australian shores, because comparatively South Africa is where he has got some runs, including the lone away century he scored in Johannesburg five years ago.
The current Indian squad is filled with match-winners, but there are very few, whom you could trust when the opposition are on top and the team under the pump needs to find out a way to wriggle out a draw – a possibility that can arise in South Africa – Pujara is that man the team turns to when in crisis, he is a 'match-saver' if you would like to call him that.
In his third tour to South Africa, Pujara will look to erase the blemish of not being the same batsman he is back home. Perhaps the only thing that stands between Pujara and being considered a Test great is some consistent performances abroad. What better opportunity than 2018 where he will get a chance to improve his overseas record beginning in South Africa.
The new year could not have started on a better personal note for Pujara as he announced that his wife and he were expecting a child in 2018.
We're expecting our little bundle of joy this year. May the coming year be as blessed and happy for everyone as it'll be for us 😇pic.twitter.com/PSFhmkvL2K

— cheteshwar pujara (@cheteshwar1) January 1, 2018
Click here to read profiles of other Indian players involved in the India-South Africa Test series.
Click here for the full schedule, when and where to watch the matches, live coverage on TV, online streaming.
Updated Date: Jan 02, 2018 23:20:28 IST