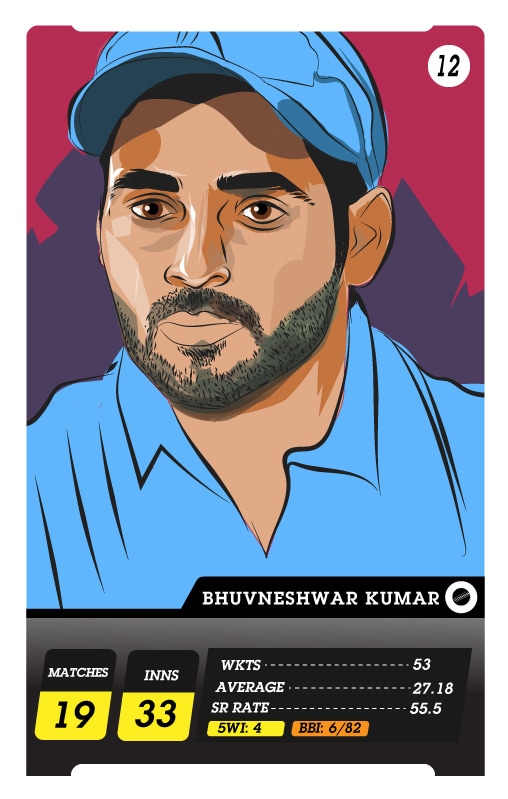 In his first Test since an all-round performance in the series against England in 2014, Bhuvneshwar Kumar's honeymoon in Test cricket came to an end.
Playing in Sydney against an Australian side leading 2-0, the Meerut pacer's struggle told a long replayed story — a promising Indian medium pace swing bowler struggling to make an impact when it doesn't swing.
Like his state teammate Praveen Kumar; another Meerut bowler, who too prospered on one England tour, it seemed Bhuvneshwar too would fall out of the selectors' radar. The end, even if not as a limited-overs bowlers yet, seemed near.
Now, at the fag end of 2017, Bhuvneshwar is nowehere near his end. Hailed as one of the two best death bowlers going around by Australian run machine Steve Smith, the 27-year-old is on the right track to forge a successful Test career as well, as part of the five-man pace attack selected for the Indian tour of South Africa.
After being found out against Australia in Sydney at the start of 2015, where Wriddhiman Saha had to stand up to him at one point, the right-arm bowler had two choices — stick to what he does best, that is, swing the ball, and hope for the best, or take the other option — work on his pace, and risk losing it all.
There have been instances of people ending up losing their innate qualities while trying too much. But there have also been players who have resisted all suggestions to change, and yet been successful. Virender Sehwag is one such player who never bothered to change his game, come what may. There were always questions about his footwork when he failed in overseas conditions, but Sehwag continued his reliance on hand-eye coordination and played all through his career with the same approach and technique.
However, unlike Sehwag, Bhuvneshwar didn't shy away from making a change to his natural game when his present set of skills were proving ineffective, a change which made him a better bowler in the years to come.
For a generation often berated for being brash and unwelcoming, Bhuvneshwar comes across as a humble, sincere student of the game in his short career so far — willing to adapt, learn and work on his shortcomings. Here too, he chose to learn and teamed up with Shankar Basu, Indian cricket team's trainer to work on gaining pace.
He was put on what he calls 'power training' after the Sri Lankan tour of 2015. And the results showed soon, with the Uttar Pradesh player visibly gaining a few yards. After a blip against South Africa in the limited-overs series, Bhuvneshwar found the swing again, and has used it to great effect in the limited opportunities he has got in game's longest format.
"I was put on to this thing called 'power training'. Our trainer, Mr Basu, helped me a lot as well. I followed the programme given by him. Initially, I wasn't too convinced with it as it was a bit different but gradually as I got into a route of doing the things he had prescribed, it helped," said Bhuvneshwar.
Since his comeback in the Test team in 2016, he has taken 24 wickets in seven Tests — which includes two five-wicket hauls — at an average of 17. 75.
Alongside Jasprit Bumrah, Bhuvneshwar has become India's premier limited-overs fast bowler over the past 12 months. The South African tour presents him with the prospect of doing something similar in white clothing.
It would be interesting to see if the team management considers giving him a go in South Africa, a country which traditionally offers more help to hit-the-deck breed of bowlers.
For him to be considered a regular in the playing XI, the onus will be on him to get past the label of being only a good-weather bowler, and convince Virat Kohli that he has more to offer than just swing bowling.
Umesh Yadav and Mohammed Shami, based on their performances during the 13-Test long home season, look set to be the two frontline pacers. It will be for the third slot that the Uttar Pradesh lad would have to battle with Bumrah and Ishant Sharma, who made a return to the team in the series against Sri Lanka.
What could tip the scales in his favour is his relative comfort with a bat in hand, along with his knack of running through line-ups. He has scored three fifties in his Test career so far, and more recently, shepherded India to an ODI win against Sri Lanka alongside MS Dhoni. In conditions which are expected to be hostile for batting, a player like Bhuvneshwar, who could contribute some handy runs in the end, could be a valuable asset for the Men in Blue.
For all his well-documented journey so far in cricket, the upcoming tour could transform Bhuvneshwar from an also-ran to a pivotal part of the Test team. Let's just hope he also sees it this way.
Click here to read profiles of other Indian players involved in the Test series against South Africa
Click here for the full schedule of India's tour to South Africa, when and where to watch the matches, live coverage on TV, online streaming
Updated Date: Dec 29, 2017 16:42:51 IST