"In hindsight I would say another ten days of practice here would have made a difference. But that's no excuse," Ravi Shastri said in a press conference ahead of the third Test between India and South Africa at Johannesburg.
India so far have played good cricket in patches but in order to win an overseas Test series, a team has to win back-to-back sessions on a consistent basis. The scoreline of 2-0 in South Africa's favour shows that India have failed to achieve that in the Rain bow Nation so far.
The visitors have plenty of problems while South Africa have all the bases covered. They have a settled unit and they would not like to change their winning combination. India will be looking to Ajinkya Rahane a chance because he was India's best batsman in these conditions last time. The decision to drop Bhuvneshwar Kumar was not understandable in the second Test but he will be included in the third Test again as he brings value down the order with the bat as well apart from his bowling. He is also in the form of his life in all the three formats of the game.
Cheteshwar Pujara will be keen to prove his potential in overseas conditions after failing in the first two Tests. India's chances in the final encounter on he series will rest on his contribution.
South Africa would like to carry the momentum forward in the third Test while India will look to prevent their first ever whitewash in Tests against
Ahead of the final Test at Johannesburg, here's a look at some of the stats and facts from India-South Africa Tests at The Wanderers Stadium.
India have not won a Test series in SENA (South Africa, England, New Zealand and Australia) countries in this decade. They last drew a Test series in these countries in 2010 against South Africa.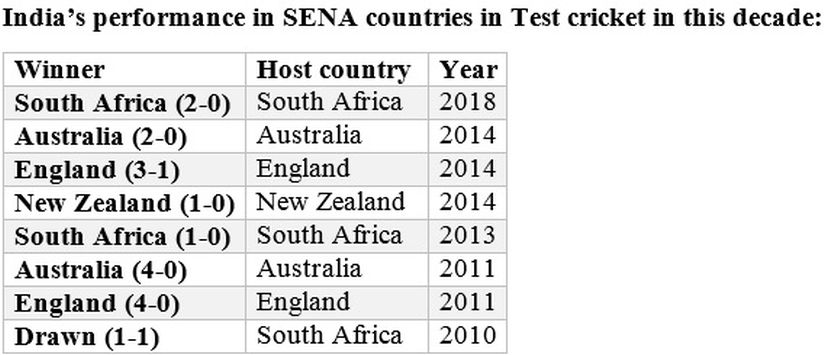 Kagiso Rabada has been in some form in the ongoing series in the whites as he is the second highest wicket-taker behind Vernon Philander. He has been South Africa's leader of the bowling attack since a year now. He led them well in Australia in the absence of Dale Steyn and with this wicket-taking ability, he has flourished in the past two years.
No pace bowler has taken more wickets than Kagiso Rabada in Test cricket in the last two years. His bowling strike rate of 39.6 in the past two years is the best among all the players who have at least taken 20 wickets in whites.
He has the skill, he has shown the consistency and now it's about continuing it for a long period. The onus will be on him to make things happen for himself again.
All the four South African pacers will pose an equal amount of threat at Johannesburg in the third Test against India but the average score in the fourth innings at The Wanderers is better as compared to other South African venues which means that teams who will bat second, could remain in the game till the very end.
However, the win/loss ratio tells a different story. Teams who batted first previously at the mentioned venue have a win/loss ratio of 1.6000 while teams who fielded first, have a win/loss ratio of 0.625.
The following numbers suggest that whosoever bats first in the third Test, have to score big in the first innings as the average runs per wicket in the fourth innings is 27.87 which is the lowest among all the innings.

Pacers have always enjoyed bowling at The Wanderers Stadium in the past as the difference in bowling strike rate of pacers and spinners is 20.4. India may opt to include Bhuvneshwar instead of Ravichandran Ashwin to go with an all-pace attack in the third Test along with Hardik Pandya as an all-rounder.

There is not much difference in pacers' strike rate in each innings at The Wanderers Stadium but their strike rate of 62.5 in the first innings which is highest, suggest that batting in the first innings of a Test will be easier as compared to other innings.

India have to perform well in all the three departments of the game along with making some smart changes in their playing XI if they want to win a Test in South Africa because at this point in time, they are nowhere near.
Everything is possible for the No 1 Test team if they execute their plans well on the field along with winning crucial moments of the game.

The difference in strike rate between both teams' pacers prove that why South Africa are hot favourites to whitewash India. The onus will be on India to prove it incorrect.

India have to stick with one opening pair and allow Cheteshwar Pujara to play his natural game as South Africa's upper-order have a better average than India's in the series so far.
Vital stats at The Wanderers Stadium in Tests:
Highest team total: 652/7d by Australia against South Africa in 2002
Lowest team total: 49 by Pakistan against South Africa in 2013
Highest individual innings: 214 by Greg Blewett against South Africa in 1997
Best bowling figures in an innings: 9/113 by Hugh Tayfield against England in 1957
Best match bowling figures: 13/192 by Hugh Tayfield against England in 1957
Most runs by an individual: 1148 runs by Jacques Kallis at an average of 39.58 from 18 Tests
Most wickets by an individual: 53 wickets by Makhaya Ntini at a strike rate of 39.8 from 10 Tests
The Great Diwali Discount!
Unlock 75% more savings this festive season. Get Moneycontrol Pro for a year for Rs 289 only.
Coupon code: DIWALI. Offer valid till 10th November, 2019 .
Updated Date: Jan 23, 2018 17:40:34 IST