Alastair Cook took guard for England for one final time at The Oval and the records were meant to be broken.
His relationship with India began with scores of 60 and unbeaten 104 in his debut Test, and ended with 71 and 147 in his final appearance. There was similar determination, if not flamboyance, in his approach in his last Test.
Thank you, Chef, for keeping alive the art of opening the batting in Test cricket. You have to be boring to become successful and he did it throughout his career, which puts him above all.
Let's look at his outstanding, if not without its share of lows, career with some interesting numbers:
Cook is one of the five players whose average never dropped below 40 throughout his career among players who played 100-plus Tests, which tells us about his consistency. His career can easily be understood with the help of product life chart which involves introductory stage followed by growth, maturity and decline. But the one thing which separates him from the rest is that of finishing on a high note, which a very few cricketers can achieve.
He played cricket for around 13 years, and in only four calendar years did his average dip below 40 — 2008, 2013, 2014 and 2018.
However, his average of 28.66 in 2018 was the lowest in a calendar year for him.
Cook's Test career in different phases: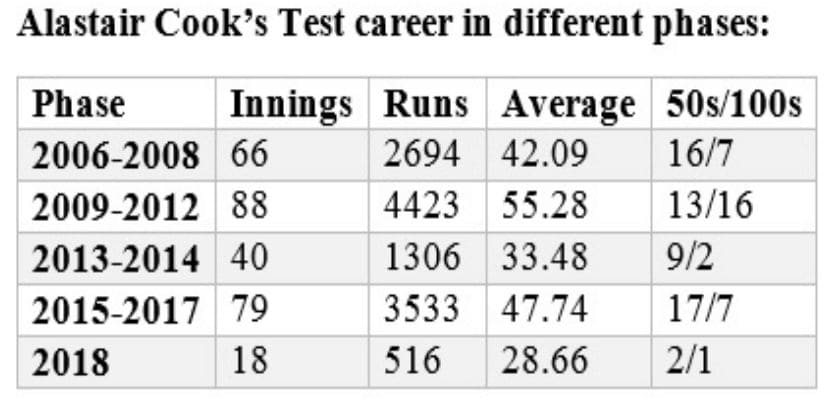 Non-Asian players dream of scoring runs in Asian conditions, where spinners rule and it's always difficult for them to adjust to different conditions, and rightly so. But Cook did it in some manner, as no visiting batsman has amassed more runs in the whites in Asia.
His nine centuries are also the most by a visiting batsman in Asia in Test cricket. It is only in Africa where his average is below 40 among the five continents.
Most runs by visiting batsmen in Asia in Tests:
Cook is now at the fifth place in the list of players scoring most runs in Test cricket. Moreover, no left-handed batsman has scored more runs than him in Tests and he is the only opener to score 10,000-plus runs in Test cricket.
Most runs by openers in Test cricket: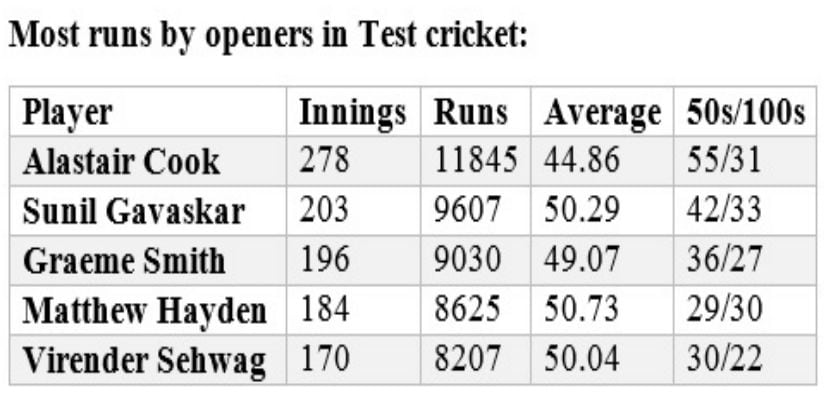 He is the only batsman in Test cricket to score a fifty and a hundred in each of his first and last Test match. He eventually made sure that first impression is the last impression by doing so.
Century in batsman's debut and final Test: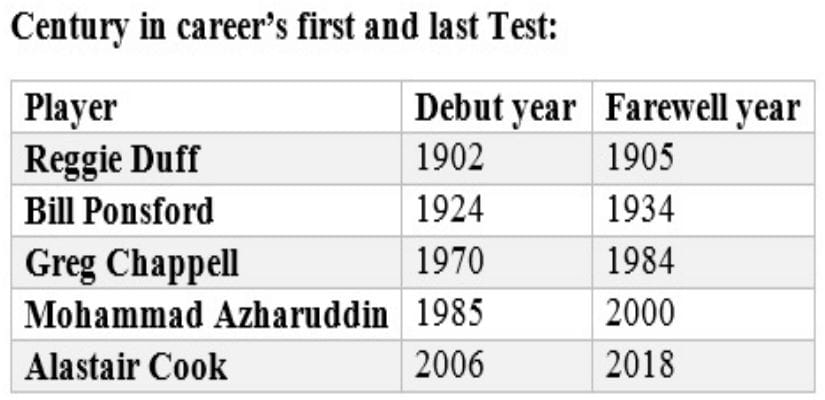 It has always been challenging to carry one's bat in Tests and when Cook did it last year, he broke the record of scoring most runs while carrying the bat in a completed Test innings. It was just a rare example of how he carried England on his shoulders throughout his Test career.
Most runs while carrying bat in a completed Test innings: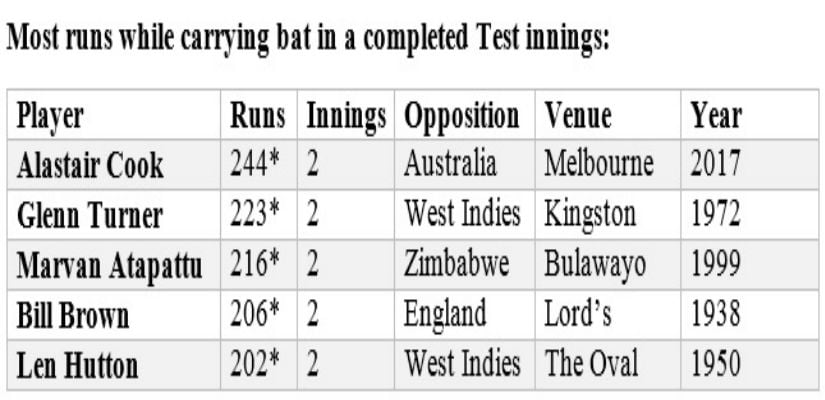 It is always difficult to be an opener in English conditions, as well as in team's second innings. Cook, in this regard, stands out for having scored most centuries in team's second innings in the whites.
Most centuries in team's second innings in Tests: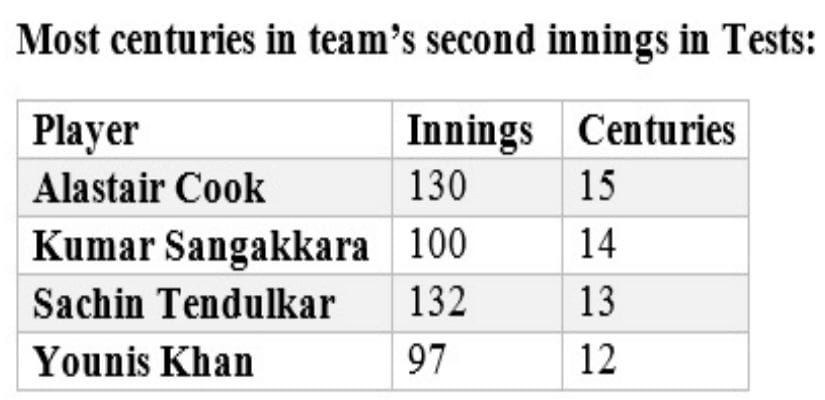 Let's look at a few interesting statistical nuggets from Cook's Test career:
- Cook is the only England player to win 'Man of the Match' award in farewell Test.
- He is the only player to score a century in each of his first five Tests as a captain.
- He was involved in 24 century stands for the opening wicket — the joint most in the whites along with Jack Hobbs and Graeme Smith.
- England's last Test against India at The Oval this summer was Cook's 159th consecutive appearance for England in Tests – the most ever by any player.
- No other England player has more Test caps (160), more wins (67) and more losses (55) than Cook for England.
Updated Date: Sep 12, 2018 19:54:35 IST