Editor's note: Cricket's story in India is a fascinating one which has roots in the 18th century. Though the first club was established in Kolkata at the end of the century, it wasn't until 1932 that we played our first Test match. From then on began the journey of 80 years until India would go on to become the top-ranked Test team in the world in 2009.
Through changes in strategy, the retirement of crucial players and new developments in the game, fans' interest and keenness has never wavered. In a new book, From Mumbai to Durban: India's Greatest Tests, two such fans S Giridhar and VJ Raghunath weave together the story of the Indian cricket team through 28 significant matches. S Giridhar and VJ Raghunath have followed the game since the 1950s by listening to radio commentary, watching TV broadcasts, reading newspaper reports, and watching legends make history in the stadium. Indian cricket's finest moments — think the wins against the West Indies and England in the 70s or the 2001 Test in Eden Gardens.
From Mumbai to Durban: India's Greatest Tests is published by Juggernaut. In this excerpt, they write about the Headingley Test match of 2002, which proved India's ability to perform in trying circumstances.
***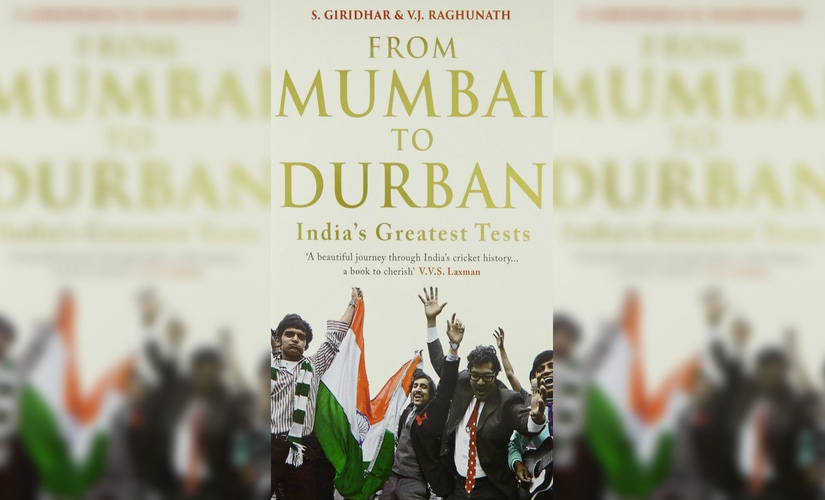 If we were to choose one Test that was a decisive inflection point in India's ascent to the top, it would be Headingley 2002. On a green top, in conditions tailor-made for the home team's seam bowlers, India batted first, put up a great total and then took 20 wickets using the same conditions better than their opponents. It was not just a win. It was a statement that India could overcome opponents even in the most difficult circumstances. From Headingley onwards, India began to win abroad regularly, almost four out of ten tests in the next eight years. Thirteen years after this Test, Kumble said, 'We were able to prove people wrong. Sourav decided to bat first in Headingley under conditions not helpful for batting. It was a bold move and the players responded to the challenge by beating England. It ignited a spark in us that we could perform away from home.'
The lead up to Headingley was not rosy. On the cricketing front, after its thrilling NatWest Trophy triumph, the team had lost the Lord's Test and was trailing 0-1 in the four-match series as it headed to Headingley for the third Test after drawing at Trent Bridge. Meanwhile, the players were also embroiled in a dispute as ICC World Cup rules prohibited individual advertising contracts and they were vehemently opposing these restrictions. Jagmohan Dalmiya, the BCCI boss, was threatening to send a second-string team to the ICC Champions Trophy if a solution was not found. Wright tried to get the team to focus on the cricket, telling them that a strong performance on the ground would help their cause more than anything else.
Coach and captain made some bold moves that summer. None bolder than their decision to move Sehwag up as opener. In hindsight, it was perhaps the most important decision during the Wright–Ganguly period. Sehwag announced himself with blazing knocks of 84 and 106 at Lord's and Trent Bridge and never looked back, only to become the most attacking opener in Test history. The Indians also decided to play two spinners, a serious shift as India had of late played Harbhajan as first/sole-choice spinner with Kumble as the backup. At Headingley, they dropped left-arm fast bowler Ashish Nehra to accommodate both spinners, and in a tactically sound move to balance the team, they brought in Sanjay Bangar as opener in place of Wasim Jaffer. They also overlooked S.S. Das, who had scored a 250 against Essex in a tour game before the Test. This gave them the flexibility of using Bangar as the backup third seamer in conditions where his sensible swing bowling would be useful.
At Headingley, overcast, leaden skies and a damp, greenish pitch, as if tailor-made for English seamers, greeted them. But the team had, in Kumble's oft-repeated words, decided to 'take the conditions out of the equation'. Wright wrote Dravid 'was sick of us putting teams in on-green wickets and not being able to roll them; he argued that with our spin attack, we'd always have a chance if we could make the other side chase 200 in the fourth innings'. Ganguly, Kumble, Dravid and Wright had made up their minds to play two spinners, bat first even in seam-friendly conditions, put up a score and beat England with spin in the fourth innings. Ganguly's confidence stemmed from having the strongest batting side in the world, as he himself said later. Before the game, the team visited Geoff Boycott's home and while Mrs Boycott served them a Yorkshire lunch, Boycott gave them sound advice for the game at Headingley.
Next morning, Botham at the toss interview could not believe Ganguly had chosen to bat. 'You are batting first?' he asked to make sure he had heard correctly. 'Yes, we are playing two spinners and want to bowl last.' 'You need luck' was all that Botham could manage before going over to interview Nasser Hussain. Within a few overs, Sehwag was dismissed and Dravid strode out to join Bangar. Matthew Hoggard was bowling downhill and Andrew Caddick in the channel outside off with a cordon of close-in catchers to grab the edge when it came. In such tough conditions, Bangar and Dravid had to be brave, concentrate fiercely, take blows on fingers, chest and shoulder and ensure India did not lose another wicket soon. The Wisden Almanack recorded that 'Dravid was immaculate from the start, watching each ball like a seamstress and ignoring the ones which thudded into his shoulder, helmet or chest. Bangar was an admirable sidekick.' Anand Vasu wrote, 'It all began, as it so often does in Indian cricket, with Dravid showing his bat-maker's label to every ball bowled at him and setting up the kind of platform his freer-stroking colleagues could exploit maximally. With the obdurate patience of a Trappist monk, Dravid saw off the early movement on a rain-soaked day at Headingley, defied the gloom that shrouded Leeds in the guise of a thick blanket of clouds, and showed his colleagues what was possible with a little application.'
The fifty came up only a few minutes before lunch but the Indians had negotiated the first session with character. As the two Indian batsmen prepared to resume battle, Wright sought out Dravid who he had marked as most crucial to India's first-day effort. 'Trying to plant a positive thought, I told Dravid at lunchtime that a hundred in those conditions would probably be his best.' Dravid knew better than anyone else that the post-lunch period would be no easier. Ralph Dellor in his dispatch on the first day noted, 'Every over was a test of patience and, even when the sun came out, the ball still swung and the batsmen were still happy to concentrate on survival.'
The sensible, courageous role of Bangar in this Test has often been overlooked, and his maturity and fortitude understated as he gave durable company to his illustrious partner. His fifty was even slower than Dravid's and he survived a catch to Andrew Flintoff in the slips after crossing the landmark. He added 170 with Dravid and his vigil lasted almost five hours before he was caught off a lifter from Flintoff , bowling from the Kirkstall Lane end. 'A splendid study in concentration,' said Ralph Dellor in praise of Bangar. He had surpassed Ganguly's expectations by miles.
Tendulkar was playing his 99th Test and walked out to huge cheers, and with the comfort that India had already played out the most demanding phase of the match. The scoreboard read a healthy 185 for 2. A few minutes later, Dravid flicked to leg and brought up one of his most satisfying centuries. G. Viswanath's report for The Hindu was appropriately titled, 'A priceless effort by Dravid'. Towards the end of the day, as the bowlers flagged, runs were easier to come and Dravid had handsome hits to cover, straight down the ground and the leg side too. In the Guardian, David Hopps wrote, 'Even his finest cover-drives, or clinical clips through square-leg, encouraged appreciation rather than excitement.'
This was the kind of innings that defined Dravid – steely of purpose and resolve, fierce concentration and courage and application of the highest skill in the most testing conditions. Dravid told us: 'I was born with a good temperament and concentration came naturally to me as a kid. I had an ingrained value for my wicket. I was my school's best batsman and therefore right from those days you know how important your wicket is for the team. I was born with some talent for the game; it is a God-given gift. And to make the most of it, I practised for long hours to help me focus ball by ball. I am by nature an analytical person and think about my game a lot. But in time, I also recognised not to overdo it and realised one has to trust oneself and one's game. Experience teaches you and it is critical that one is watching and learning all the time. And what is important is also to recognise that there will be some areas which you will never crack and be comfortable.'
The next day, Tendulkar and Dravid unfurled attacking strokes to every part of the ground, rattling along at over four runs an over. All the watchfulness and self-denial of the previous day was now being cashed in with interest. When Dravid finally departed, he had made 148 of the finest runs and India had reached an imposing 335 for 3.
Boycott recalled that when the Indian team got on to their bus at the end of the day his wife catching Dravid's eye, called out, 'Well played, Rahul,' to which Dravid replied with a smile, 'It was your lunch that did it, Mrs Boycott.'
The Prince of Kolkata came out to replace Dravid, swinging his bat in his left hand and not merely because Ashley Giles was bowling – left-arm spin was favourite fodder for his bat – but because he now had England on the ropes. Tendulkar was past fifty when Ganguly joined him. David Hopps observed, 'Tendulkar has been charmed by his first Test appearance at Headingley. Yorkshire have named a hospitality box after him in their new East Stand, in celebration of his season here a decade ago as the county's first overseas player, a historic breakthrough that as a Bombay broth of a boy he never entirely recognised. He has what might be a unique effect upon even the most brusque of Yorkshiremen: he makes them sound like old softies… There was a serene, even cheery, air to his innings…'
He made the day memorable for himself and his countrymen as he overtook Bradman with his thirtieth century. Even as Hussain and Giles tried to chain him with left-arm over-the-wicket, Tendulkar responded with his best batting of the summer. The real entertainment came in the last session of the day. As the light deteriorated, Ganguly refused the umpires' offer to stop play and instead decided to rub the advantage in. He reached his hundred and then smashed two consecutive sixes. An elderly gentleman in the stands was struck on the head by one of these hits and was led away bleeding. Luckily, he did not suffer serious damage. The gloom dispelled as Ganguly and Tendulkar hit the third new ball for 96 at nine an over. Their 249-run partnership was India's best-ever fourth-wicket stand against England.
Hopps wrote of the carnage that evening, 'The Prince of Bengal, to his delight, had reduced England's bowlers to servility. His attacking shots, until the final assault, were sometimes as flawed as Tendulkar's were unblemished but he proceeded throughout as if the flagging bowlers were servants in his employ. He did not much care for running, ambling along as if a sedan chair was awaiting him a few yards down the road.' The day ended with Ganguly's dismissal for 128 off just 167 balls and India on a mammoth 584 for 4. India had added 348 runs in 83 overs on day two, including the blitzkrieg against the third new ball. Vasu wrote, 'It was an all-out assault that dismantled every tactic Hussain could conjure up, bruised every carefully cultivated bowler's ego, and thrilled the fans.'
Next morning, Tendulkar could not complete a double-century and Ganguly declared at 628 for 8. Vic Marks, the former English player, in his column for the Guardian said, 'This is not a batsman's paradise, but for most of the match the batsmen have prevailed. To be more precise, Indian batsmen have prevailed; their golden middle-order triumvirate of Rahul Dravid, Sachin Tendulkar and Sourav Ganguly all played sublime innings that ultimately humiliated mechanical English bowlers.'
Hussain's openers began well. Robert Key and Michael Vaughan took England to lunch at 61 without loss, but the breakthroughs came after lunch. Key was caught off Zaheer, his mode of dismissal prompting English scribes to write him off from the Ashes tour that winter. Kumble had Vaughan palpably leg before but was denied by umpire Orchard. Vic Marks did not hesitate to lash out at this error, saying, 'How he failed to give Michael Vaughan out lbw to Kumble when England's most fluent batsman was on 52 is beyond me.' A short while later, Orchard raised his finger to send Mark Butcher on his way, upholding an appeal from Kumble, as England became 109 for 2. Skipper Hussain joined Vaughan and was patently uncomfortable, taking knocks on his fingers as Ajit Agarkar, bowling a splendid spell of eight overs, tested him. Vaughan survived a dropped catch behind the stumps but off the next ball, Sehwag caught him at cover for the score to become 130 for 3. The rains came down and interrupted the afternoon's game. When play resumed, Hussain and John Crawley tried to fight back but the pressure told, as Zaheer trapped Hussain leg before for 25. If it was Kumble who troubled England before the rain break, it was Harbhajan who brought them to a skidding halt with twin strikes after the interruption. At 164, he got Crawley caught by Laxman and off his next ball he had the prized wicket of Flintoff , winning a raucous but marginal lbw from umpire Orchard. At 164 for 6, the follow-on target of 428 looked as far away as the next planet. Amidst all this, Alec Stewart was fighting hard. He enjoyed a life off the first ball he faced from Zaheer but after that, seemed least troubled by either the two spinners or the pace of Zaheer and Agarkar. At 185 for 7, he found a willing partner in the doughty Ashley Giles and the two stitched a 70-run partnership before Giles fell for 25. A little later Harbhajan claimed Caddick and England ended the day on a sorry 264 for 9, more than 350 runs adrift. As Vic Marks noted in his dispatch, 'England knew they would be hard-pressed to save this game if the rain stays away.' On the fourth morning, Kumble quickly knocked over Hoggard – the two spinners had bowled 51 overs between them for six wickets and the pacemen Zaheer and Agarkar had chipped in with four wickets bowling 34 overs between them, in what was a wonderful team bowling effort.
With England trailing by 355, it was enough for Ganguly to ask Hussain to bat again. When they came out to bat again, Agarkar was in full form and got the priceless wicket of Vaughan cheaply. The Yorkshireman was trapped leg before when England had just 28 on the board. Vic Marks with kindly humour said, 'Agarkar has had a half-decent summer but he still celebrates every wicket as if he cannot quite believe it.' Mark Butcher, more famous for his resolute heroics in Ashes contests against Australia, now joined Key and attempted to import that same dogged determination to help England survive. Key, under pressure, tried to focus on his batting. A few good drives interspersed his defence, but better men than him have been transfixed on the crease by Kumble's quicker ball. India's champion spinner nailed him on the back foot. That brought Hussain to the crease, jaws clenched in determination.
Butcher had fought well for his 42 in two hours of watchful batting when he fell to a lapse in concentration against the gentle swing of Bangar. Suddenly India's fifth bowling option had given them a break when their front-line bowlers had come to a halt. A little later Bangar again provided a breakthrough as he got John Crawley for his second failure of the match, a victim of indifferent bounce as his drive ended up in the hands of a jubilant Sehwag. At 148 for 4, the old firm of Stewart and Hussain set up repair shop. In contrasting style, the two veterans proceeded to battle for the next three hours. Tea came and went. Hussain did not hesitate to play attacking shots, taking the odd risk or two with aerial hits. Stewart, not as fluent or confident as in his first innings, hung on and denied the Indian bowlers for nearly 40 overs as the Englishmen ended the day at 239 for 4. The pair had put on 93 runs in an unbroken partnership; Hussain was just ten runs away from a fine century. Indian spirits were droopy and Marks made the telling observation that 'it was India's captain Sourav Ganguly who was a listless figure by the close. In the early-evening shadows, when Hussain drove one ball past him at mid-on, Ganguly failed to pursue it, allowing Hussain to run four while a none-too-impressed Sachin Tendulkar raced across from mid-off to retrieve the ball'. In the same essay, Marks showered praise on Hussain's fighting qualities: 'He closed the fourth day 10 runs short of what would rank among his finest Test centuries, four hours' unyielding effort that conquered his own exhaustion… It is too early to talk of Michael Atherton, and his epic captain's resistance over 10 hours in the Johannesburg Test seven years ago, but Hussain's aim will be to emulate it.' England had fought hard and kept the Indians at bay in the fi nal session.
Unfortunately, the fight was snuffed out rather quickly on the final day. India required just 25 overs to capture the remaining six wickets. The Madras-born Hussain was not to be denied his century. He and Stewart took England to 265 before Hussain edged Kumble to Sehwag at short-leg. It was ironic that the more secure Hussain lost his wicket even as the struggling Stewart had survived. Within minutes Flintoff collected a pair as Zaheer Khan had him caught in the slips by Dravid, a continuance of his horrendous record at Headingley. This was his fourth straight duck in four appearances at the ground. At the same score, Stewart now fell, this time Kumble getting him caught off a legbreak that took the edge.
Kumble had delivered twin blows with top-class deliveries. He was getting the ball to turn and rear up from a difficult length. With seven gone, there seemed little to play for as Giles and Alex Tudor put up a semblance of resistance, which ended with a misunderstanding between the two of them over a single. The last two wickets – Tudor and Caddick – were shared by Kumble and Harbhajan and the Indians celebrated with abandon as the last English pair walked off disconsolately. They were beaten by an innings and 46 runs in their own backyard, in conditions that were meant to overwhelmingly favour them. Hussain was gracious in defeat, saying, 'We've been thoroughly outplayed from the first morning to this afternoon. All credit to the Indians. They handled the conditions much better than we did.'
What is remarkable is that India won virtually every session in the match. First, when they batted in conditions that favoured the bowlers the Indians demonstrated the virtues of concentration, determination and confidence in their technique. When it was their turn to bowl, they showed a much greater awareness of length and line as well as the benefits of a balanced attack that bowled with unflagging concentration. Every player contributed; the big century makers, the pace bowlers and the spinners and the unsung hero Bangar. What escapes the radar in such flawless wins is the kind of thinking, planning, preparation and execution. Ganguly said: 'It was a big decision to bat first and the way we batted then was important to us. Kumble's a great bowler. Both he and Harbhajan bowled very well together in tandem but it was a very good team effort. We've played well overseas for the past year and we are a good unit. We stick together.'
This was the game where self-belief propelled the Indian team towards glory. They did not choose an easy option; they chose the harder one and they knew that if they succeeded, such a victory would have far-reaching benefits for the team. Wright, noting that it was India's first Test win in England since 1986, called it India's best overseas win ever. No wonder either that Kumble, one of the heroes of this Test, rated the win as one of India's most crucial achievements in cricket.
S Giridhar and VJ Raghunath are colleagues at Azim Premji University and authors of Midwicket Tales: From Trumper to Tendulkar and From Mumbai to Durban: India's Greatest Tests
Updated Date: Aug 17, 2018 19:31:56 IST