"What Jimmy has achieved and what he is capable of achieving still is astounding," Joe Root said at The Oval.
The late bloomer James Anderson has finally done it. He took more wickets than the number of times that he sledged Indian players in the series. His consistency was on another level. He was luckless against Virat Kohli, but still he was the only bowler to take more than 20 wickets in the series.
He performed as if Root put a coin on the wicket and told him to bowl there and he was doing it five out of the six times every over. He swings the bowl both ways but still the length at which he bowls at the age of 36 and with the kind of consistency that he is showing, 600 will just be another number for him in the upcoming days.
Like every other cricketer's journey, it took Anderson some time to become the leader of the attack for England and now, Root enters wicket in his mind, calls Anderson and Anderson delivers. Consistency is key in any form of cricket and that's what separates him from others.
Let's look at his Test career in detail with the help of few key stats.
Anderson is now the highest wicket-taker among pacers in the whites with 564 scalps to his name.
Most wickets by bowlers in Test cricket:

He is becoming better with the age as he has taken 296 wickets at an average of 23.64 after the age of 30 which is the second most by any bowler. Only Courtney Walsh is ahead of him with 341 victims in that list.
James Anderson's milestone wickets in Tests:
When it comes to performing at home, Anderson is no different from others. He has taken nearly taken twice as many wickets at home as in overseas conditions. All his 10-wicket match hauls have come at home in the whites and the difference in average and strike rate at home and away, further indicates that he is an asset in English conditions.
Performance – Home v Away:
Peter Siddle is the only batsman to be dismissed by Anderson more than 10 times in Test cricket.
Bunnies in the whites: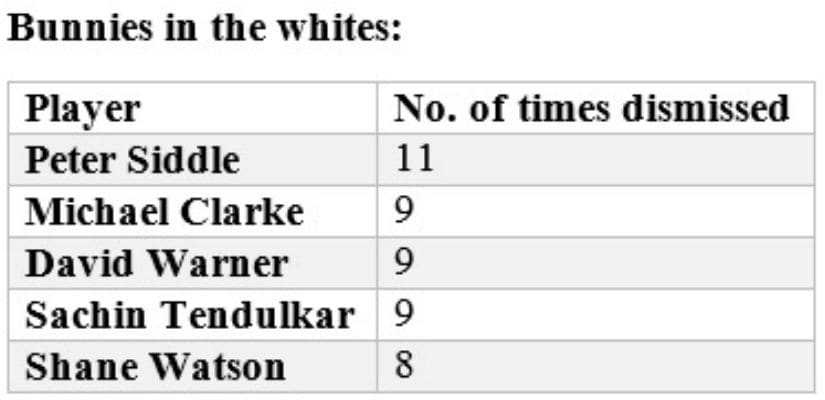 Only Muttiah Muralitharan has taken more wickets than Anderson at home in Tests. Anderson loves bowling at home under clouds and particularly against India as he has taken 84 wickets against them in England which is the most for him against any opposition at home in Tests.
Most wickets at home in Tests:
Anderson has taken most of his wickets under Cook's captaincy (191) while he is currently enjoying playing under Root as his bowling average and strike rate is the best under him compared to any other English captain. He is just three wickets away from completing 100 wickets under Root in Tests.
Performance under each captain in Tests: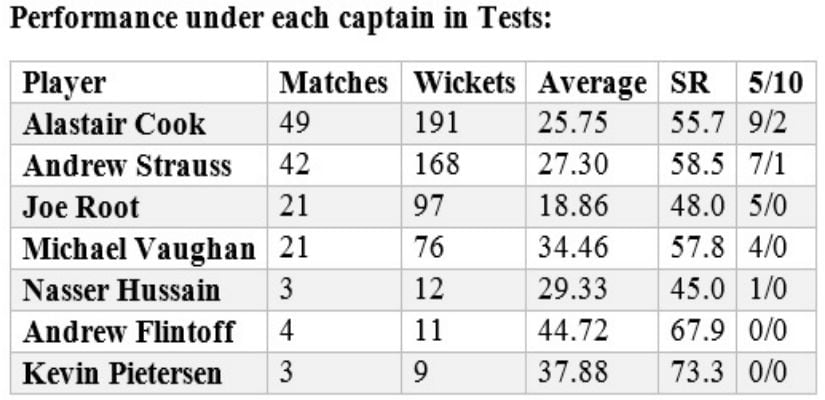 Anderson is one wicket away from the becoming the highest wicket-taker while opening the bowling in Tests. Of his Test wickets, 96 percent have come while opening the bowling in Tests and rightly so, as he has opened the bowling in 95 percent of the Tests that he has played till now.
Most wickets while opening the bowling in Tests:

India fought hard in each Test of the recently completed series barring of the second match which was played at Lord's, where Anderson made the difference by picking up nine wickets, in the series. He takes more wickets with a better average in the second match of a Test series which further gives reminder to every team which will play against him in the near future.
Performance in each match of the series:
Anderson is a match-winner and has been performing as well as he can for England in the longer version of the game in the past few years. No England player has won more Man of the Series awards than him in Tests.
Most Man of the Series awards won for England in Tests:

Find latest and upcoming tech gadgets online on Tech2 Gadgets. Get technology news, gadgets reviews & ratings. Popular gadgets including laptop, tablet and mobile specifications, features, prices, comparison.
Updated Date: Sep 13, 2018 19:04:02 IST