Sri Lanka weren't a match to India as the Men in Blue did not allow them to win a single game on their own patch throughout the tour. Australia's last limited-overs' trip against India in India was abortive but since then many things have changed. It is impossible to gainsay the importance of the momentum in international cricket especially in this era.
India's progress in recent times under Virat Kohli is not following a sine curve but that does not mean that India are overwhelming favourites as most of the Australian players have more than rudimentary knowledge of Indian grounds because of their experience of playing in Indian Premier League over the years. Moreover the format of the game also eliminates the threat of Indian spinners which does not include the duo of Ravichandran Ashwin and Ravindra Jadeja atleast for the first three ODIs.
"Conditions in Test matches and ODIs are a lot different. You get flat pitches to bat on in ODIs and T20s. 95 percent of the pitches around the world are similar in ODIs," the former Australian skipper Michael Clarke said on Tuesday.
India have retained most of the players from their tour of Sri Lanka and recalled their two ace pacers in Umesh Yadav and Mohammed Shami for the first three ODIs. But they have some decisions to make during the series. Manish Pandey has shown a lot of promise and will fight with KL Rahul for a place in the side. Rahul is traditionally an opener but with Shikhar Dhawan already released from the squad, both him and Pandey will get a chance to showcase their skills. India's three young spinners Axar Patel, Yuzuvendra Chahal and Kuldeep Yadav displayed in the ODI series against Sri Lanka that they are more than capable of taking wickets at crucial stages of the game and keeping out the experienced duo of Ravichandran Ashwin and Ravindra Jadeja from the 50-over format.
Australia have already began their tour of India in some style after defeating Board President's XI by 103 runs. The visitors will certainly miss the services of Mitchell Starc and Josh Hazlewood throughout the series but that will allow them to give maximum opportunities to players like Kane Richardson and Pat Cummins. Steve Smith can be called erudite when it comes to face Indian bowlers irrespective of the format just like an instructor who is able to answer every question asked by the students. David Warner is a fecund batsman in the ODI format who can quickly take the game away from the opposition and then Australia have players like Travis Head, Glenn Maxwell and James Faulkner who can ask India some tough questions on any given day and in any situation.
This series has its own importance just like every other series and both teams want to win but also use it as a preparation for 2019 ODI World Cup. However, the result of the series will be determined by the bowlers' performance as both teams have quality batsmen who can turn the game in their respective team's favour in a matter of few seconds.
Here's look at some important numbers over the years in ODIs played between India and Australia.
Australia have won more ODIs than India in India-Australia ODIs played in India but they have won only five ODIs against India out of last 15 that were played in India.
India will look to beat Australia in a bi-lateral series and thus register their fourth series win against the visitors. Australia have won 5 bi-lateral series against India so far.

If India-Australia rivalry was dominated by the team from Down Under in the beginning, then India have not only made the battle more interesting but also got the success in recent times. Thus onlookers now-a-days wait for India-Australia matches just like they wait for India-Pakistan matches.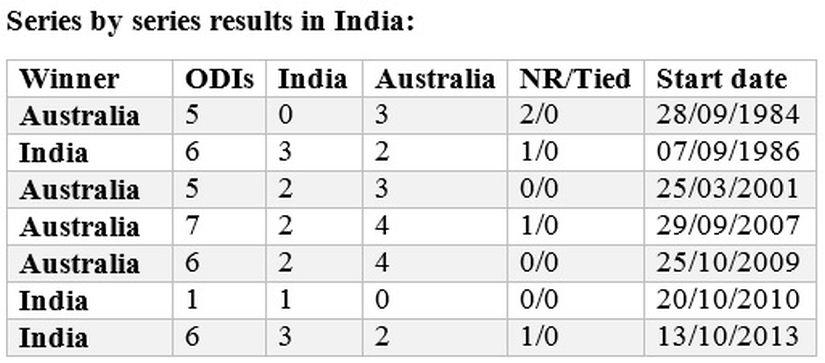 The recent form favours India but Australia have all the arsenal to defeat the hosts. However beating India in India is like climbing a mountain, irrespective of the format.
Recent form (Last 10 ODIs) – Most recent showed first
India: W, W, W, W, W, W, L, W, W, L
Australia: L, L, L, W, W, W, L, W, W, W
Note: N/R and abandoned matches are neglected.
It has been becoming a norm in ODI cricket particularly in Asia that a team's top order sets up most of the matches for a team. India are the only team whose top-order's batting average is more than 50 in the last three years in ODIs but Australia are not far behind.

Virat Kohli's 27 ODIs wins from first 35 ODIs as a captain of India is a joint third-best by any captain.
The first match of the series will be played at Chepauk, Chennai and Australia have not lost an ODI at the venue in the history.

Australia could have included Nathan Lyon especially after knowing the fact that their spinners' have nearly taken 10 overs to take a wicket in India in the ODIs played in the last ten years.

Some individual records in India-Australia ODIs played in India:
Highest total:
India: 383/6 at Bengaluru in 2013
Australia: 359/5 at Jaipur in 2013
Lowest total:
India: 148 at Vadodara in 2007
Australia: 141 at Ahmedabad in 1986
Leading run-scorer:
India: 1561 runs by Sachin Tendulkar (avg. 52.03)
Australia: 1091 runs by Ricky Ponting (avg. 47.43)
Highest individual score:
India: 209 by Rohit Sharma at Bengaluru in 2013
Australia: 156 by George Bailey at Nagpur in 2013
Most centuries:
India: Four by Sachin Tendulkar
Australia: Three by Ricky Ponting
Leading wicket-taker:
India: 19 wickets by Zaheer Khan (SR – 45.1)
Australia: 31 wickets by Mitchell Johnson (SR – 31.2)
Best bowling:
India: 6 for 27 by Murali Kartik at Mumbai in 2007
Australia: 5 for 26 by Mitchell Johnson at Vadodara in 2007
Most catches:
India: 13 by Sachin Tendulkar from 30 matches
Australia: Seven each by Ricky Ponting (25 matches), Andrew Symonds (15 matches) and Shane Watson (14 matches).
Most wicket-keeping dismissals:
India: 19 by MS Dhoni from 22 matches
Australia: 28 by Adam Gilchrist from 20 matches
Most matches:
India: 30 by Sachin Tendulkar
Australia: 25 by Ricky Ponting
Updated Date: Sep 16, 2017 18:53:55 IST