Ever since Shikhar Dhawan made his international debut in India colours, he has gone on to become a vital cog of their ODI setup. He was one of the main reasons behind India's title victory in the 2013 edition of Champions Trophy, their run to the semi-finals of the ICC World Cup in 2015 and also to the final of the Champions Trophy in 2017.
In fact, Dhawan led the batting charge from the front in all of these tournaments and is continuing to do so even now, as summed up by his ODI tally of 897 runs in 2018 at an average of 49.83 and strike rate of 102.28.
A decade ago, these achievements would have been enough to regard a batsman as one of the best limited-overs players. However, the same couldn't be said now as they have to prove themselves against the challenges offered by the T20 format as well. And Dhawan was struggling to find his feet in this very format until a year ago. Despite his ODI success, the 32-year old somehow always struggled when it came to performing in T20Is for India.
Prior to 2018, Dhawan's T20I numbers for India read 543 runs in 28 innings at an average of 21.72. While the average still seemed to be decent for a T20I opener, his overall strike-rate of 118.30 wasn't at all acceptable looking at what the modern format demands. In fact, both his figures were lower than the global average and strike-rate — 23.33 and 122.06 — for batsmen with 500 or more T20I runs batting at positions between 1 and 7, in the period between Dhawan's T20I debut and end of 2017.
Comparison of Shikhar Dhawan's T20I average and strike-rate with global standards since June 04, 2011 until end of 2017
The gap becomes much wider if the statistics for openers with 500 or more runs, between his T20I debut and the end of 2017, are considered. While the global average for openers has been 24.86 during this period, their strike rate reads just a shade under 125. And Dhawan's numbers during this period has been way lower than these figures as well.
Even though he had a higher overall average of 30.98 in 189 matches of entire T20 format till 2017, his overall strike-rate of 120.04 still didn't seem to be cut out for meeting the modern-day demands of the format.
However, there has been a change in his T20 fortunes since 2018. It looks like he has reinvented his game and modified his approach completely. He began the year with a swashbuckling knock of 72 off just 39 deliveries against South Africa at Johannesburg. Such sublime and classy stroke-play all around the park had seldom been seen from him in this format.
Those who thought that knock to be a one-match wonder or a fluke were proven wrong as the year progressed. Innings' of 90 off 49 deliveries and 55 off 43 deliveries followed against Sri Lanka and Bangladesh respectively during Nidahas Trophy in March and people were jubilated to see his sudden transformation.
He then carried his rich vein of form into the Indian Premier League (IPL) as well, amassing 497 runs in 16 matches at an average of 38.23. He has always been a prolific run scorer in IPL over the years, but his strike rate had always been a cause of concern. But Dhawan didn't let anyone complain about that this season as he recorded a strike-rate of 136.91 batting at the top of the order, his highest since 2008.
He didn't stop there and continued the carnage with knocks of 74 off 45 deliveries against Ireland at Dublin in June and 92 off 62 deliveries against West Indies in Chennai. And now, with India in Australia, he helped them to take the challenge on to the hosts with knocks of 76 off 42 and 41 off 22 deliveries in the first and third T20Is respectively.
The reason behind such an improved and enhanced T20 avatar of Dhawan can be attributed to his balanced playing approach on both sides of the wicket.
Previously, he used to predominantly be an off-side player and wasn't that strong while playing big shots down the ground and through the leg side. While he had the luxury of nudging deliveries out of his comfort zone for singles and twos in the one-day format, there is little room and time to score with such a limited approach in T20s. That was why he failed to keep up with other T20 batsmen in terms of scoring rate and also volume of runs.
Now that he has modified his technique with a slightly open stance, it allows him to score on both sides of the wicket with equal freedom. The pick-up shot he has developed to dispatch deliveries into the midwicket boundary is quite exceptional as well. Also, he focusses on scoring straighter down the ground more often now. He was already strong through the off side, and now his ability to play with equal precision on the other side as well allows him to score at a rapid pace without taking major risks. Moreover, he has reduced his habit of manufacturing premeditated shots and scores with the help of traditional textbook drives, flicks, pulls and cuts.
The southpaw from Delhi is now the leading T20I run-getter in 2018 with 689 runs to his name in 18 innings, scored at a massive average of 40.52 and equally brilliant strike-rate of 147.22. His partner-in-crime, Rohit Sharma, is the next best with 590 runs to his name followed by Pakistan's Fakhar Zaman and Babar Azam with 576 and 563 runs to their names respectively.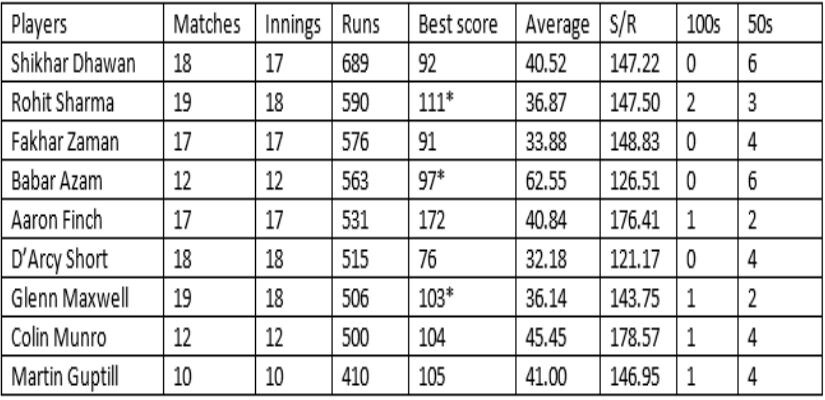 List of leading T20I run getters in 2018
Moreover, Dhawan has the most number of fifties (six) in T20Is this year alongside Azam, with four of those coming in winning causes. If Dhawan's numbers are compared to the global average and strike-rate for batsmen in T20Is this year, it will be seen that he has taken rapid strides forward in the format compared to where he stood last year.

Comparison of Shikhar Dhawan's T20I average and strike-rate with global standards this year
The left-handed batsman now has 1,232 runs in 45 T20I innings at an impressive overall average and strike rate of 29.33 and 132.90 respectively. Dhawan's place in the T20I squad had constantly been under scrutiny until 2017. Players like KL Rahul, Rishabh Pant and others had been staking their claim for his place. Now that the upgraded version of Dhawa is going all guns blazing, there is hardly anyone who can challenge his place in the team in the days to come.
Updated Date: Nov 26, 2018 13:52:59 IST