India's comprehensive 3-0 series win over Sri Lanka in the recently-concluded Test series happened to be the first time the former registered a clean sweep in an away series comprising of three or more Tests. Talk about making a statement!
Sri Lanka's transition period in Test cricket has persisted longer than a master's degree in engineering, and there don't seem to be any signs of it coming to an end anytime soon. Cricket is a funny game, and rightly so, but the game demands consistency to stay on top, and that's what Indians have presented once again while Sri Lanka's effort was abortive.
India have variety and depth in their batting order and bowling attack while Sri Lanka are yet to find their main weapons in Test cricket, with veteran left-arm spinner Rangana Herath set to bow out of the game anytime soon. Though India's biggest challenge lies outside Asia, their win over Sri Lanka certainly demonstrated that they are here to stay.
"I would like to believe that has been our strength in the last couple of years. That's why we've been able to get the results that we have because we have played different players on different occasions but everyone has been fit and ready to come and do the job. Mostly we have played people depending on the conditions where we feel they will be most effective," Indian captain added after the Test when asked about the depth in the side.
"Let me tell you something my friend. Hope is a dangerous thing. Hope can drive a man insane" – Red to Andy Dufresne in the 1994 classic The Shawshank Redemption.
India invested hope in the ebullient Hardik Pandya but his performance in the third Test forced people to think that that India's quandary of a pace bowling all-rounder has finally been solved. While it can still be a fallacy as he has only played three Tests so far, it was once in a generation innings nevertheless.
"Remember, Red, hope is a good thing, maybe the best of things, and no good thing ever dies." — Dufresne, in reply to Red.
"I don't think I need add any more lines, his performance has spoken for itself. People might have problems with the kind of demeanour he has or the belief he carries with himself, but we, certainly in the team, have no doubts on that. We let him be who he is, we let him express himself. You know, a guy who can get a fifty and a hundred in his first three games batting at No 8 has to have something special in him," Virat Kohli told when asked about Hardik Pandya's performance.
"And the innings that he played here, after being 320 for 6, it wasn't just mad slogging. He actually used his brain and batted with the tail which I think is a great sign for us. He brings in great balance to the team, he's a gun fielder and he gives you those crucial breakthroughs, he's very handy with the ball and we know what he can do with the bat as well. All doubts aside from the outside, inside the team we absolutely have 120 percent faith in him," added Kohli.
Sri Lanka's national language is colloquial for many Indians, but their performance in recent times in all the three formats of the game has been gobbledygook to the world. Form is evanescent, but talent is forever; that's what they have to remember while selecting a team for the ODI series in order to give India some fight, and find players who can perform for them consistently and for a long time.
Let's look at all the records created and broken in the third Test between India and Sri Lanka played at Pallekele.
KL Rahul is only the second player to score seven consecutive fifty-plus scores in Test cricket without scoring a hundred after Chris Rogers.

Rahul and Shikhar Dhawan's opening stand of 188 runs is the highest opening stand by a visiting pair in a Test in Sri Lanka.

Pandya became the fifth Indian player to score his maiden first-class hundred in a Test match. His previous highest score in first-class cricket was 90 which he made against Railways at Delhi while playing for Baroda in 2015.
Pandya's century off 86 balls is the second-fastest by an Indian player outside home in Tests. His century is also the joint fastest by an Indian player batting at No 8 in Tests. It was also the joint fastest century by a visiting player in Sri Lanka.

Pandya is the only Indian player to score 100-plus runs before the lunch on any day of a Test cricket. Ben Stokes holds the record of scoring most runs in the first session on any day of a Test cricket. He amassed 130 runs before the lunch break on Day 2 in a Test against South Africa at Cape Town in 2015/16.
The recently-concluded Test series witnessed 37 sixes, which is highest in a three-Test series in Asia.

Pandya is joint-second among batsman with most sixes batting at No 8 or lower in a Test innings, following his seven sixes in India's first innings. Wasim Akram hit 12 sixes batting at No 8 against Zimbabwe in a Test at Sheikhupura in 1996. His seven sixes are also the most by an Indian player in a Test innings outside India.

Ravichandran Ashwin became the fastest bowler to take 250 wickets in a continent in Test cricket during the third Test against Sri Lanka at Pallekele.

The innings and 171-run win at Pallekele also happens to be India's second-biggest away innings win in Test cricket.

Kohli has now won seven overseas Tests as captain, which is the second-most by an Indian captain. Sourav Ganguly holds an Indian record of winning most overseas Tests.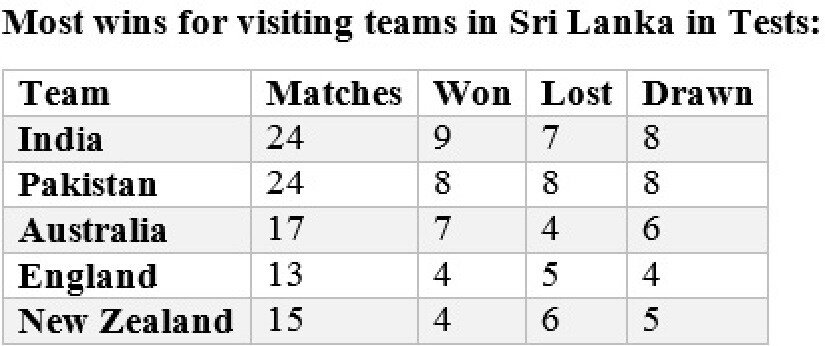 More stats:
— Pandya made 26 runs off the 116th over of India's innings bowled by Malinda Pushpakumara, the most runs scored off a single over by an Indian batsman in Tests. He went past 24 runs scored by Sandeep Patil off Bob Willis at Manchester in 1982, and also by Kapil Dev off Eddie Hammings at Lord's in 1990.
— India became the first visiting team to add 400-plus totals in each of the three Tests hosted by Sri Lanka in a series.
— Dhawan is the only Indian left-handed opener to score five overseas centuries in Tests.
— Sri Lanka batted 37.4 overs in their first innings in the third Test which was their third-shortest completed first innings at home in Tests in-terms of overs.
— India have now won five consecutive Tests in Sri Lanka which is the most by any team against Sri Lanka in Sri Lanka.
Updated Date: Aug 15, 2017