"I feel like I am in the best form of my life right now," said AB de Villiers after the second Test at Centurion.
He was clearly the big difference between both the sides in both the Tests. He has amassed 200 runs in this series so far at an average of 50.00 which is most by any player. He backed his hitting strengths to force India's bowlers to change their plans when South Africa were 12/3 in the first innings of the first Test and 3/2 in the second innings of the second Test, scoring 65 and 80 runs respectively.
As a result of it, India lost their first ever international series under Virat Kohli's captaincy and they ended their streak of playing 10 series without a defeat in Test cricket.
"I don't think so. There are 11 guys in the field, I try to do my best and so does everyone else. I certainly don't think like that. No one in the change room thinks like that. Sometimes another batsman plays through the innings and you feel like, you are too dependent on him. Anyone can have a day where they can bat through the innings but that doesn't mean that they are too dependent on that particular player. So, everyone has contributed for the team at different times–you can't win games of cricket with one or two people. Everyone has done well in the past and that's why we have done well, it just hasn't been able to come well together here. That's the reason why we haven't able to win these games," Kohli said in the post-match conference when asked about India's dependency on him.
It was indeed true in the second Test as Kohli was the lone warrior in the first innings and when India lost their captain in the second innings, chances of winning the Test was always to be more difficult.
It was vital for India to correct their mistakes and pick their best XI for the second Test, but instead they dropped in-form Bhuvneshwar Kumar for Ishant Sharma. However, the bowlers picked 20 wickets, and it was their batting that let the team down.
India did not play like No 1 Test team but South Africa played like No 2 Test team and defeated India in each and every department of the game.
India has to change certain things before the third Test otherwise series whitewash is very much on the cards.
Let's look at few records that were broken and created during the second Test:
Hashim Amla was termed as out of form in the first Test but he replied in some style in the second Test by scoring 82 runs in the first innings, and he now holds the record of scoring most runs at Centurion in Tests eclipsing Jacques Kallis' tally of 1267 runs.
During his innings, he also went past his record of scoring most runs at a venue. He scored 1244 runs at Newlands in the whites which was his previous record.

Amla was set to score a century but he ran himself out. It was the sixth time that he was run out in Tests–the joint second most times among South African players.

Mohammed Shami was not up to the mark in the first Test but in the second Test, he improved his lengths and got the reward for it. Moreover, he is now the third fastest Indian pacer to take 100 Test wickets, behind Kapil Dev and Irfan Pathan.
Virat Kohli's fighting knock helped India to post 300-plus total in the first innings. He scored 153 runs out of total runs of 307 balls  – 49.83%. This was the most he has contributed in an all-out innings in his Test career so far. His previous highest was 44.76% in the fourth innings in a Test played at Adelaide in 2014-15 against Australia.
He also became the first visiting captain to score a century at Centurion in Tests.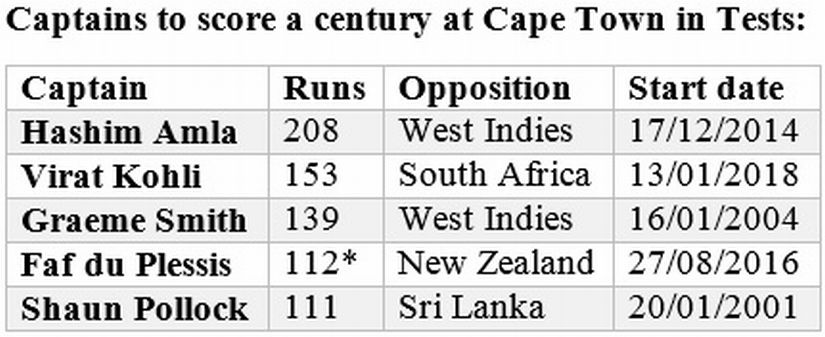 Kohli also became the second Indian captain to register a ton in Tests in South Africa after Sachin Tendulkar. No other Asian captain has now scored more centuries than Virat Kohli in Test cricket.
During Kohli's knock of 153 runs, he went past Sourav Ganguly's record of 12 overseas centuries as Indian captain.

No other captain has now scored more 150-plus scores in Test cricket than Kohli. Don Bradman had scored eight 150-plus scores in Tests.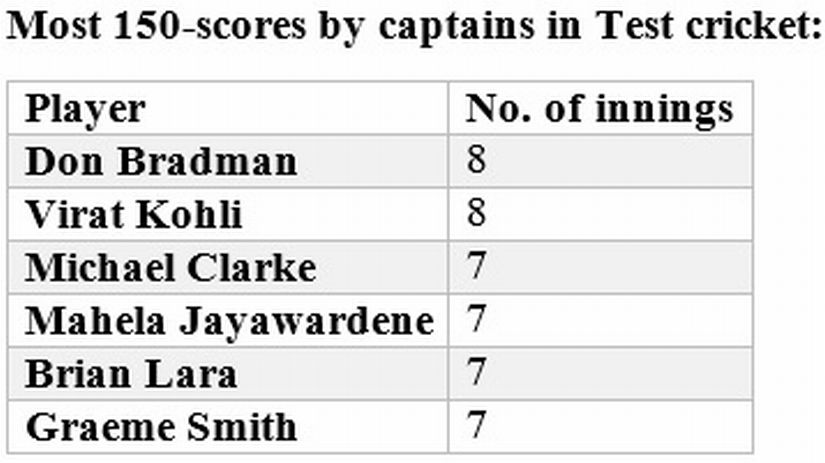 Cheteshwar Pujara bagged the first golden duck of his Test career in the first innings of the second Test while in the second innings, he became the first Indian batsman to be dismissed run-out in both the innings of a Test.

Pujara the only other No 3 batsman other than Zaheer Abbas and Andrew Jones to be dismissed run-out twice in a Test.
Pujara also became the first Asian batsman to be dismissed run-out twice in a Test against South Africa.

Lungi Ngidi was on fire in the second innings as he became the 23rd South African player to take a five-for on Test debut. He became the seventh South African player to win a Man of the Match award on Test debut.

The Great Diwali Discount!
Unlock 75% more savings this festive season. Get Moneycontrol Pro for a year for Rs 289 only.
Coupon code: DIWALI. Offer valid till 10th November, 2019 .
Updated Date: Jan 19, 2018 16:12:37 IST