"Confidence doesn't dent after one match. If it happens, then you don't deserve to play. Learn from the mistake you made and go forward. There is not a single cricketer who has not made a mistake. You keep learning and you keep improving all the time. We are trying to rectify our mistakes and move forward," Jasprit Bumrah asserted in the press conference before the second Test between India and South Africa at Centurion.
Despite making his debut just a week ago, his confidence and maturity suggest that India are not ready to throw in the towel yet. That's great news for each and everyone who is connected with the series.
Being confident is a definite precursor to become successful and Virat Kohli is a valiant man. His team should act like the way his captain acts on the field. A defeat will end India's chances of salvaging anything from the series and put this Indian team in the same bracket of previous sides that failed to have a successful run away from Asia.
Faf du Plesis will be very cognizant of the fact that India will come hard at his team but he would not mind as it can work against them too. So it will be important for India to mix caution with aggression.
Kohli and Co have many selection quandaries to solve before the second Test begins while South Africa will focus on winning the series by not making many changes to their winning combination.
Pujara's struggles outside Asia
Cheteshwar Pujara was second highest run-scorer in 2017 in Tests but this year has brought a new challenge for him as India will play their Test cricket in overseas conditions. He is someone who knows how to play in tough situations but has been known for doing it only at home or in Asia. He averages 65.55 in Asia in Test cricket which is the highest for any batsman who has played at least 30 Test innings in the mentioned continent.
There is a vast difference in showing an intent to stay at the crease and converting it to runs. The Indian captain mentioned that after the first Test. "We need to have intent because the kind of bowling attack they have — especially on these pitches they get extra bounce and they get extra pace off the wicket — you can't be in a zone of not having intent and see off 35-40 overs. You need to find the perfect balance to do well in South Africa especially where there is more bounce."
Pujara has done that in Asia many-a-times where the first two to three days of the Test are more-or-less perfect for batting but in conditions like South Africa where the trouble is always one delivery away, a player has to find ways of scoring runs by using his own methods and Hardik Pandya portrayed that by showing an intent in his knock of 93 while Pujara failed by just trying to occupy the crease.
He has the technique but his batting average of 28.58 outside Asia in Test cricket certainly doesn't do justice to his ability. He needs to understand that he just cannot last long enough on pitches to taste the fruit of his patient approach outside Asia.

The Saurashtra batsman's average of 28.58 in Tests outside Asia is the fourth lowest among Indian batsmen who have at least batted 30 times in top-order in outside Asia in the whites. The onus will be on him to come up with different plans at Centurion or be prepared to be dropped for the third Test for not showing an intent of scoring runs.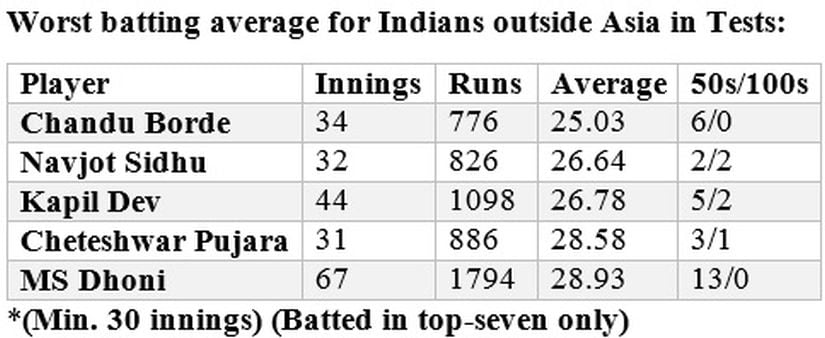 Centurion – Worst venue to bat in the fourth innings
The difference between average scores in the first and fourth innings at SuperSport Park, Centurion is 180 which is massive and scary for the team who will bat second in the upcoming Test.
However, there is not much difference in win/loss ratio at Centurion between teams who have batted first (0.900) and fielded first (1.111).
There is a significant decrement in average runs per wicket between first two innings and last two innings at centurion in Tests over the years.

It will be very difficult for teams to bat in the fourth innings at SuperSport Park as the average runs per wicket of 23.12 in the fourth innings at the venue is the lowest among all South African venues at which minimum five Tests have been played till date.

Centurion – Heaven for pacers
India would be tempted to go in with an extra pacer in the second Test as the pacers have taken wickets with a strike rate of 53.3 at Centurion while the spinners have taken wickets at a strike rate of 93.5.

Moreover, the pacers take nearly 10 overs to take a wicket in the first innings at Centurion because of decent batting conditions while they take nearly six overs to take a wicket in the fourth innings so there should not be any surprise if India play either Ishant Sharma or Umesh Yadav in place of Ravichandran Ashwin at Centurion.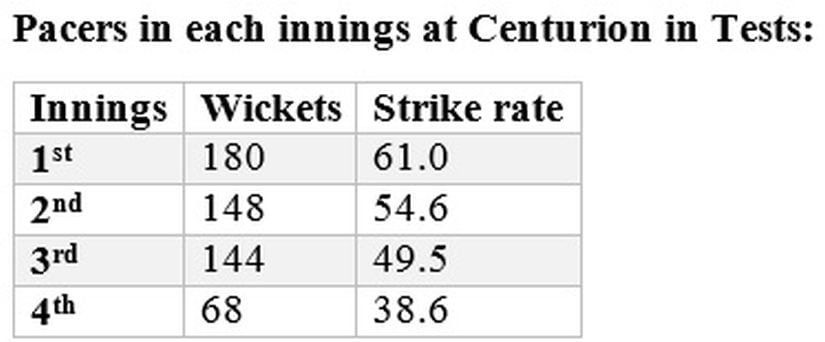 Centurion – South Africa's fortress
South Africa's win/loss ratio of 8.500 at SuperSport Park, Centurion in Tests is the highest for them at a home venue among venues where they have at least played 10 Tests. India are already behind in the series and these numbers tell that they need a dramatic batting performance to comeback at Centurion to remain alive in the series.

The Rohit-Rahane stat debate
Indian captain made his reasons for selecting Rohit Sharma over Ajinkya Rahane pretty clearafter the first Test at Cape Town.
"Well, we decided to go on current form. Rohit has scored runs in the last three Test matches that he has played, and he was batting well. We did that similar thing in the past and Shikhar as well. Look, these things can always be looked at in hindsight — thinking what if or what if not. But we decided to go with this combination and current form was definitely the criterion," Kohli said.
However, the numbers outside Asia for both the batsmen tell a different story as Rahane averages 54.66 while Rohit's average is lower than 25. The comparison between both these batters isn't fair as both are different in every sense but Rahane was one of India's top batsman when they traveled SENA countries (South Africa, England, New Zealand and Australia) last time.
Indian management needs to decide as early as possible to go in with either one or include both as they may drop Ashwin to include Rahane to strengthen the batting by trusting Pandya to come good as a fourth bowler.
It would be difficult for Kohli and management to drop Rahane again after the first Test defeat as the Mumbai batsman's average of 54.66 outside Asia in Tests is the highest among all Asian batsmen who have at least played 25 Test innings outside Asia till date.

It will be vital for team India to stand up and show South Africa that they are No 1 in cricket's longest version of the game and they have the ability to comeback in the series.
Vital stats at Centurion in Tests:
Highest team total: 620/4d by South Africa against India in 2010
Lowest team total: 101 by England against South Africa in 2016
Highest individual innings: 208 by Hashim Amla against West Indies in 2014
Best bowling figures in an innings: 7/29 by Kyle Abbott against Pakistan in 2013
Best match bowling figures: 13/144 by Kagiso Rabada against England in 2016
Most runs by an individual: 1267 runs by Jacques Kallis at an average of 70.38 from 16 Tests
Most wickets by an individual: 56 wickets by Dale Steyn at a strike rate of 30.3 from nine Tests
Updated Date: Jan 12, 2018 15:14:45 IST