The equation is simple – if India win the series then they stay alive or if they lose, England claim the series. However, England's batsmen make it more complex than it looks for themselves, especially the top-four. Jonny Bairstow – the second highest run-getter in international cricket will play only as a batsman for England in the fourth Test which can turn out to be a crucial decision for them as he averages more as a wicket-keeper (42.33) in Tests than just as a player (28.96). Joe Root has to fire if England are to win the series in the fourth Test. They have more all-rounders than proper batsmen in their side which can cost them the series as they dropped Ollie Pope also for the fourth Test.
"It's a decision made for balance and making sure that we had plenty of bowling options. It's not a decision made on how he's gone in the two games. I'm sure you'll see a lot of Ollie Pope in the future," Root added in a pre-match press conference.
Everything worked for India in the third Test at Trent Bridge which can push Kohli to play the same XI in two consecutive Tests for the first time in his captaincy career.
It will be intriguing to see whether India take a step forward to reach closer towards making history or not.
All eyes will be on England opener Alastair Cook, who has been struggling for runs. No England player has amassed more international runs in winning cause than him. There were talks early of him going past Sachin Tendulkar's tally of 15,921 Test runs but few innings without runs and now, people are talking about dropping him. Cricket enthusiasts demand consistency from star players throughout the year which is highly unlikely. However, lack of consistency and being out-of-form are two different things. Cook is out-of-form this year as his average of 19.21 in Tests in 2018 is the lowest for him in any year in the whites. A big innings from him or long walk back from the team, will happen in a few days time.
England have tried 11 opening combinations since 2015 which is the most among all the teams in Test cricket. They had one player in common in most of them – Alastair Cook but now suddenly, they are looking for two new openers and which cannot happen in between the series as England selectors have backed Cook-Jennings' opening pair to come good for the fourth Test. Their partnership average of 33.68 is the second lowest among all the England opening pairs who have added at least 500 runs. The fourth Test will play a crucial role in deciding Jennings' career, if not Cook's. The onus will be on them to come up with good performances.

Moeen Ali is back in England's XI for the fourth Test after scoring a double century and taking eight wickets in his last First-Class game against Yorkshire. He has a habit of picking up wickets at crucial times and he enjoys bowling against India as he was the second highest wicket-taker in India's last tour of England – 2014. He will be keen to prove himself again in the whites.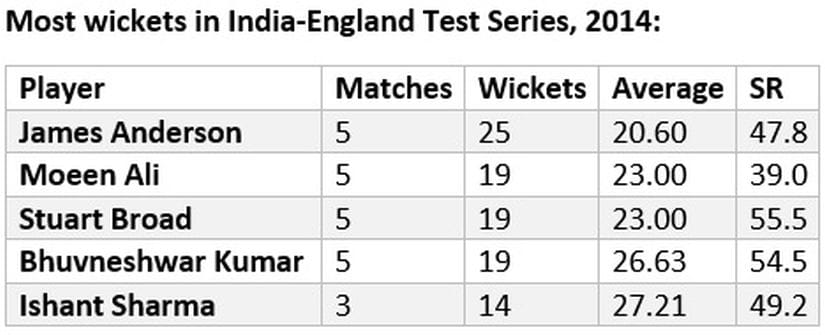 India have taken 20 wickets in six out of seven Tests that they have played this year which speak about their bowling depth and combination. Only Windies have a better bowling strike-rate than them. If Indian bowlers can keep the momentum going then no can restrict India from becoming the second team to win a Test after being 2-0 down after Don Bradman's 1936-37 Australian team.

India are No 1 in ICC Test rankings currently and there is absolutely not a quandary in a fact that they can't win two consecutive Tests in England. If they can win crucial sessions in the fourth Test and there on to win the Test then they will start as overwhelming favourites for the final clash. They did it in 1986 under Kapil Dev's captaincy and they can do under Kohli's, too.

Trivia:
- Virat Kohli needs to score six more runs to become the second fastest Indian batsman to score 6,000 Test runs.
- James Anderson needs to take seven more wickets to become the leading wicket-taker among pacers in Tests.
- Ishant Sharma needs to pick one wicket to become the second slowest player to complete 250 Test wickets.
Updated Date: Aug 30, 2018 09:34:54 IST