New Zealand will become the first country to host the ICC Under-19 World Cup thrice when the first match between Afghanistan and Pakistan will be played at the Cobham Oval. However, New Zealand have not the title yet and the recent form is also against them as they have won only two matches out of 10 in the past two years in Under-19 ODIs.
The India Under-19 team's win/loss ratio of 5.000 is the best among all the teams in the past two years and the numbers in the Under-19 World Cup are also with them. Pakistan can also be seen as a strong contender to win the tournament according to current form as they have lost only four matches out of 17.
This will be a lifetime opportunity for the young players to showcase their skills and make into the teams of their respective nations just like many players who have done in the past by performing well in the tournament. The conditions in New Zealand will be difficult for vising teams and Rahul Dravid also agreed with this in the press conference.
"I think the conditions are going to be an exciting challenge. I don't think any of our boys have played in such conditions. We did a camp in Bangalore and tried to replicate as much as we can. But you can never really replicate that because it is slightly unique. I've played there before and things like the wind and stuff are quite unique to any other part of the world. It's an exciting challenge for these boys to experience that and learn from that. We see that not so much as a challenge but as an opportunity. There's always the pressure of expectations from everyone. They have their own pressure of expectation as well. But it's a great opportunity to grow and learn as players," Dravid added in a pre-departure conference in Mumbai earlier.
The tournament will consist of 24 league matches, so teams need to be very careful at the beginning. Otherwise it can be difficult for them to make a comeback afterwards.
Take a look at the history of the Under-19 World Cup and some interesting numbers from previous editions:
Australia are the only team to win the tournament thrice (1987-88, 2001-02 and 2009-10) while Pakistan are the only team to win consecutive editions (2003-04 and 2005-06).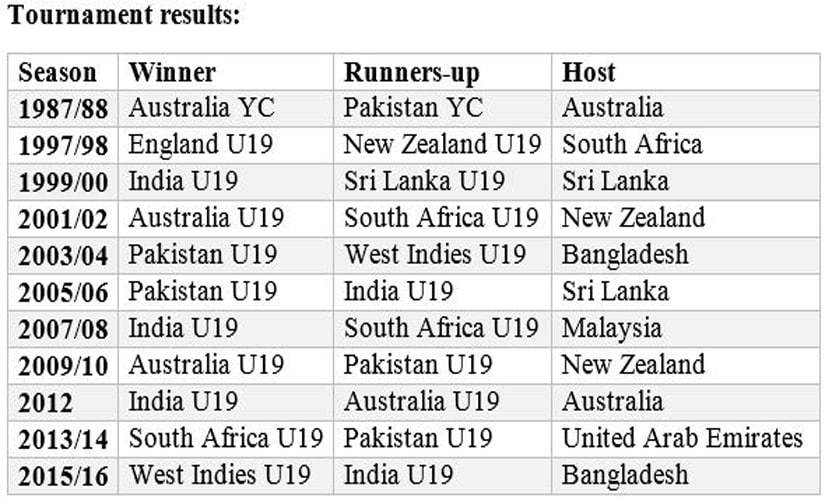 India, Australia and Pakistan are the only teams which have won 50 or more matches in ICC Under-19 World Cup till date and India have won more matches than any other team.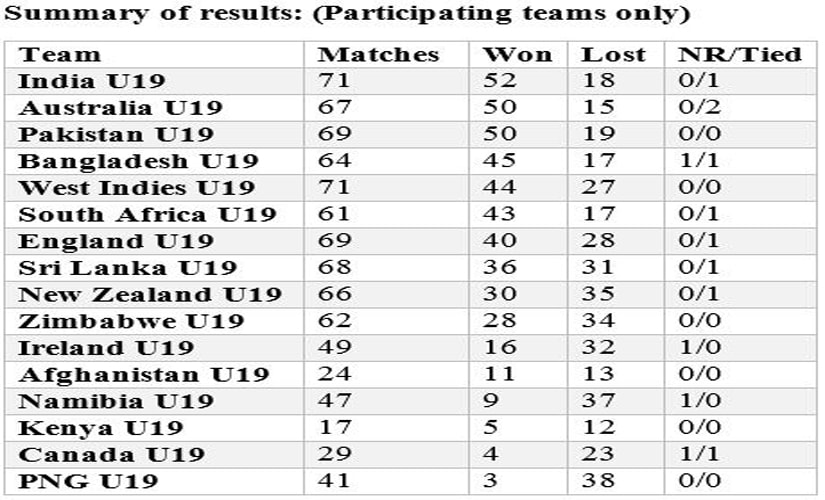 There have been only three instances in the Under-19 World Cup when teams have amassed more than 400 runs.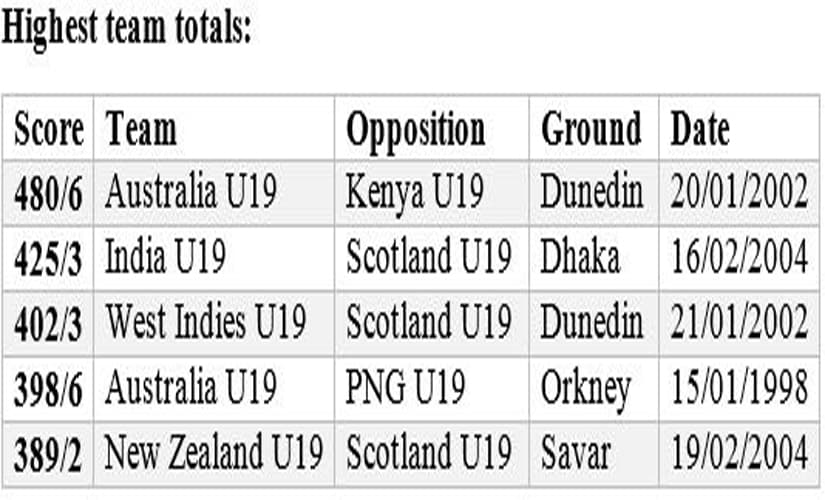 Scotland hold the record of registering the lowest total in the tournament. They scored only 22 runs in a match against Australia at Chittagong in 2004.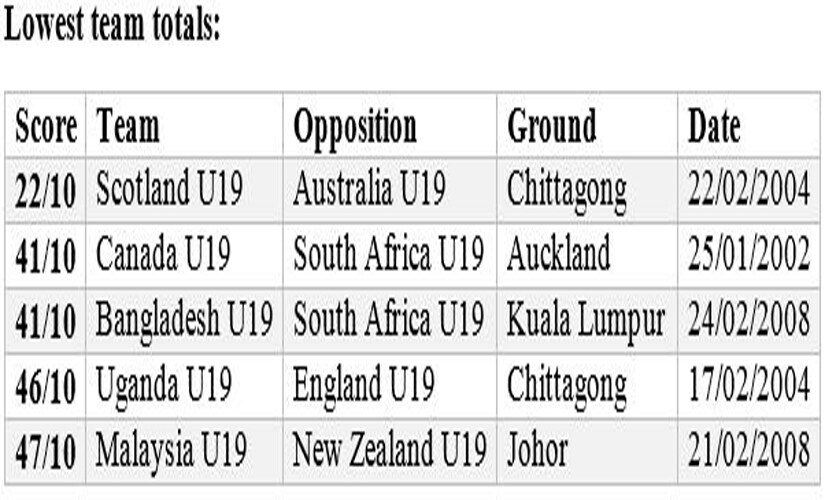 The current England limited-overs skipper Eoin Morgan is the new highest run-getter in the tournament.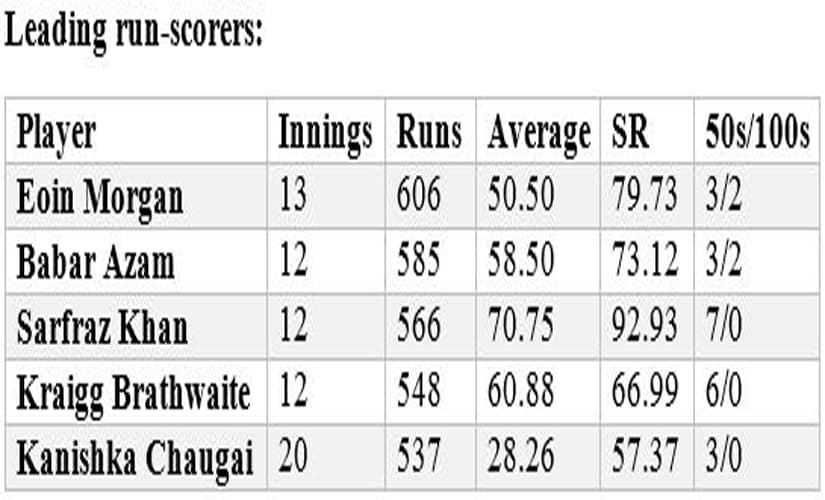 Donovan Pagon is the only player to have scored 175-plus runs in an Under-19 World Cup match.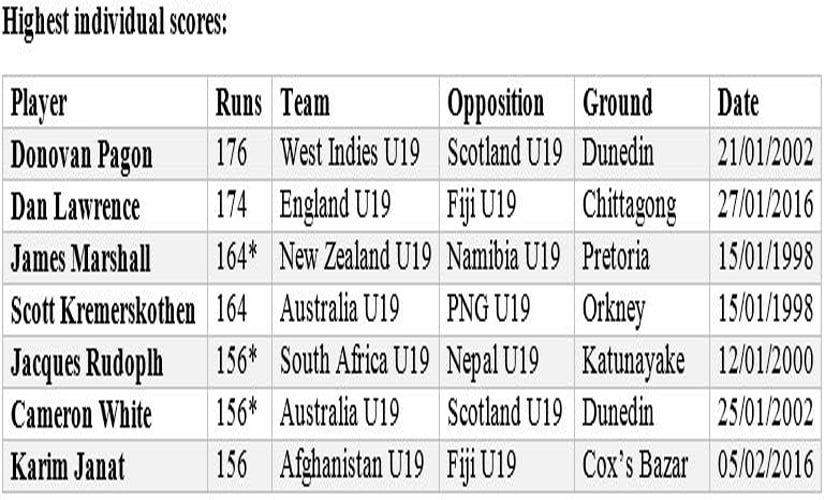 Shikhar Dhawan holds the record of scoring the most number of runs in a single edition of the Under-19 World Cup. He amassed 505 runs from seven matches in 2003-04.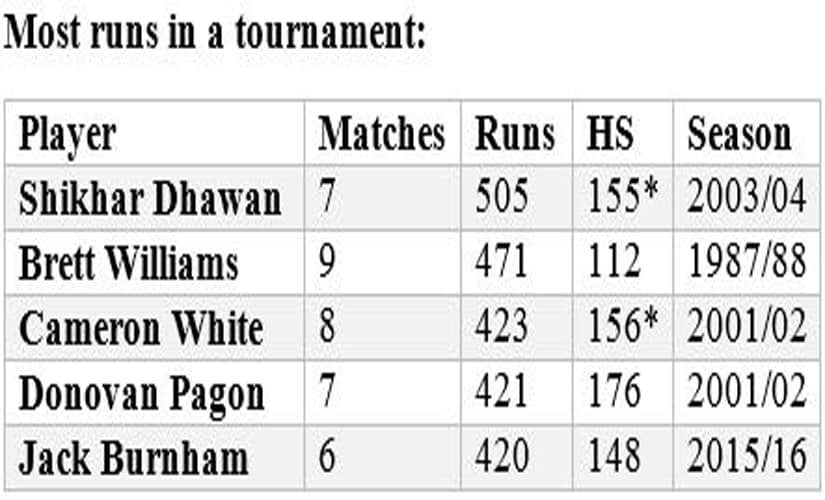 There are only two players who have scored more than two centuries in Under-19 World Cup - Jack Burnham and Shikhar Dhawan.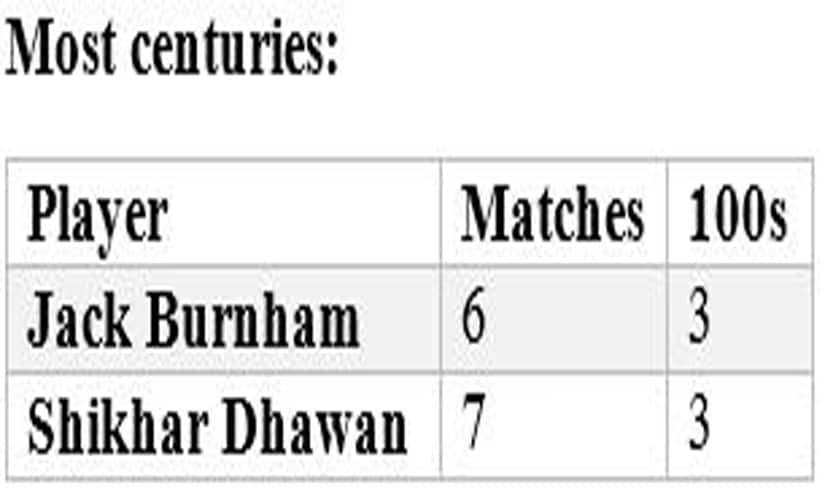 Moises Henriques and Greg Thompson took 27 wickets each in Under-19 World Cup which is a record.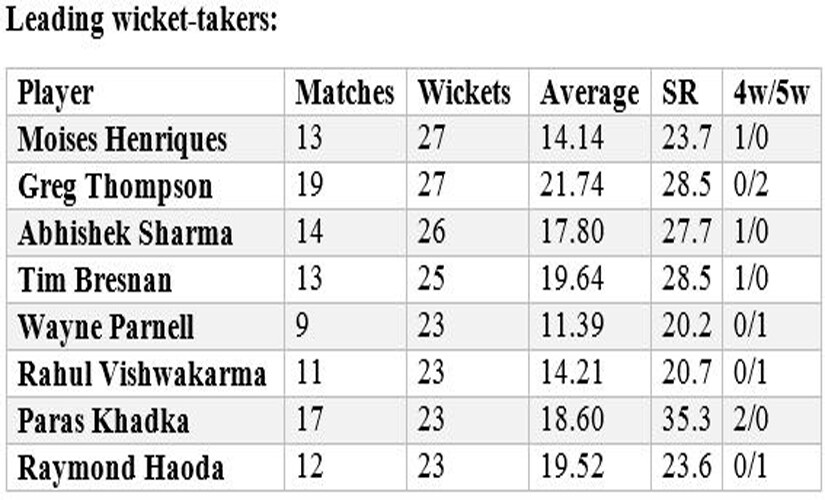 Enamul Haque junior picked up 22 wickets at a strike rate of 19.2 in Under-19 World Cup 2003/04 which is the most by any bowler in a single Under-19 World Cup.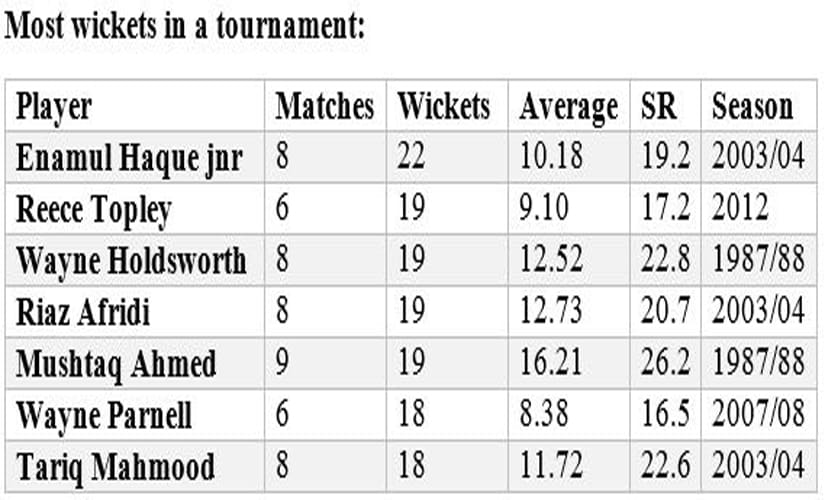 Ajantha Mendis and Trent Boult are the only players to have picked up a seven-for in an Under-19 World Cup match.
Adam Crosthwaite holds the record of affecting most dismissals in Under-19 World Cup.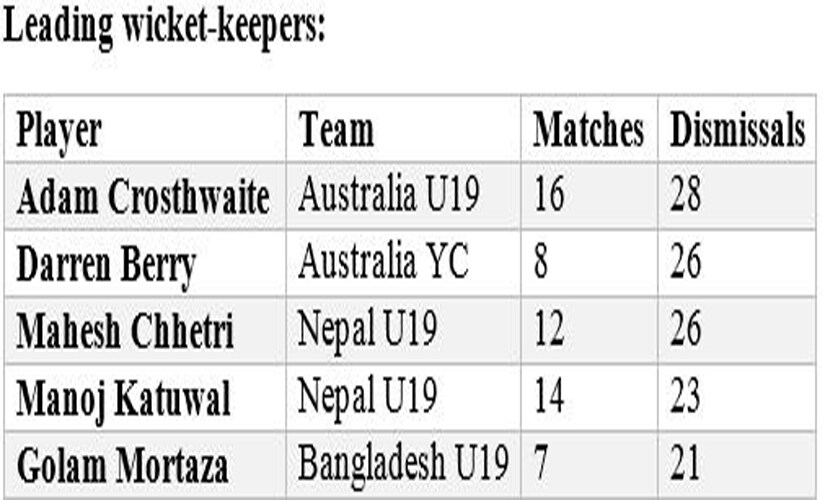 Charith Sylvester affected eight dismissals match while playing for Sri Lanka against Zimbabwe, which is the most by a wicket-keeper in a match till date in Under-19 World Cup.
Sarfraz Khan holds the record of taking most catches as a fielder in the history of the competition.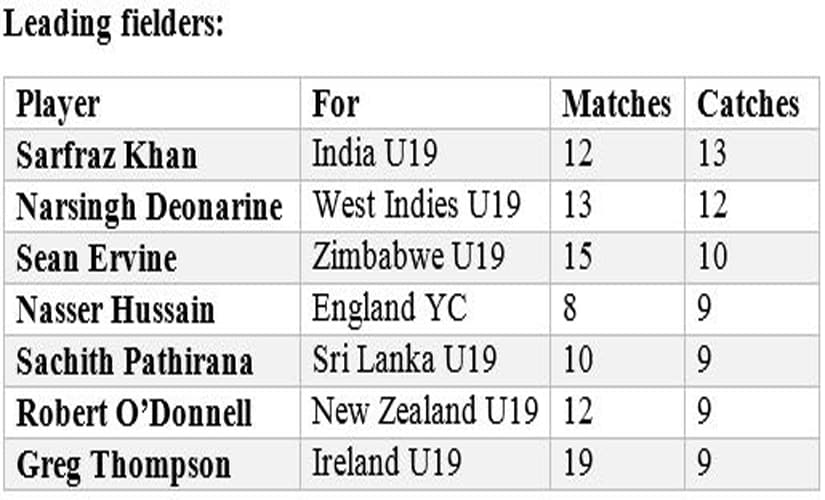 There has been only one pair who added more than 300 runs in an Under-19 World Cup match - Dan Lawrence and Jack Burnham of England - they did it against Fiji at Chittagong in 2016.
No other players has played more matches than Kanishka Chaugai of Nepal in Under-19 World Cup.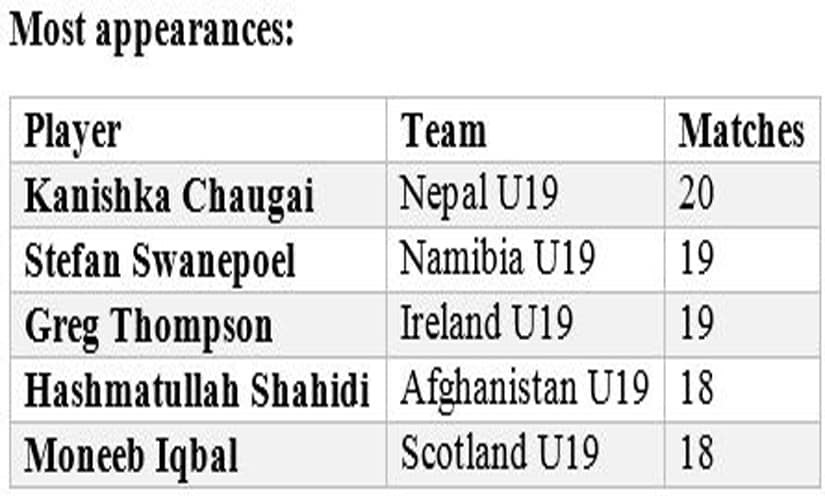 Mehedi Hasan Miraz is the only captain to have won 10 matches in the Under-19 World Cup, making him the most successful captain in the tournament's history.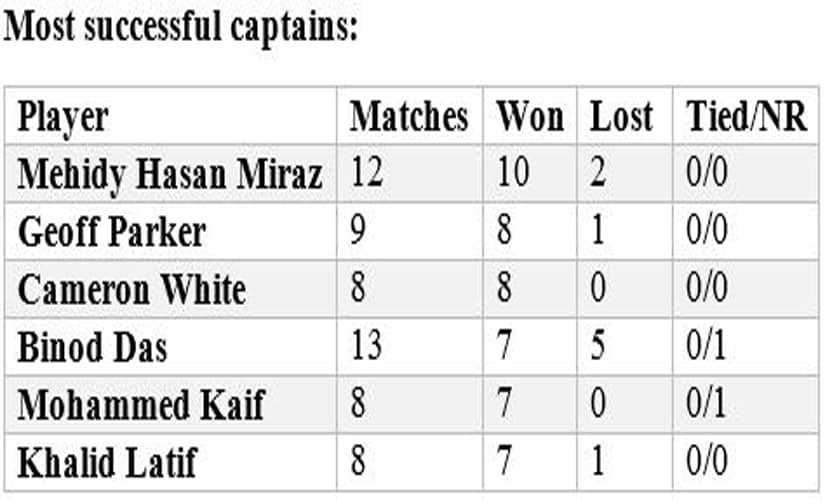 Updated Date: Jan 13, 2018 20:30:37 IST