Kingsmead 1996 and Kingsmead 2010. As we begin the last of our essays, it may be a good time to look at how much the Indian team had changed between these years. Fourteen years ago, at the same Kingsmead ground in Durban, a meek Indian team had been crushed for 100 and 66 in two innings. Then Eden Gardens 2001 happened, and India beat Australia 2-1. Suddenly things fell into place: the team discovered a new spirit, a well of self-belief had been sprung and they went unafraid on tours, confident they could win anywhere and under any conditions, which they did: Leeds 2002, Adelaide 2003, Multan 2004, Johannesburg 2006, Kingston 2007, Nottingham 2007, Perth 2008, Galle 2008 and Hamilton 2009. The one common thread that connected all the achievements during these 10 years was the resilience that the Indian team exhibited. Where earlier, after losing the first Test, India would lose heart and fade away, the modern Indian team fought ferociously when down. This team took pride in its performance and hurt badly when it lost. Other teams began to fear India the most at such times. They lost at Lord's and hit back at Headingley; they lost in Colombo and roared back in Galle; and heartbroken at Sydney, they were like tempered steel in Perth.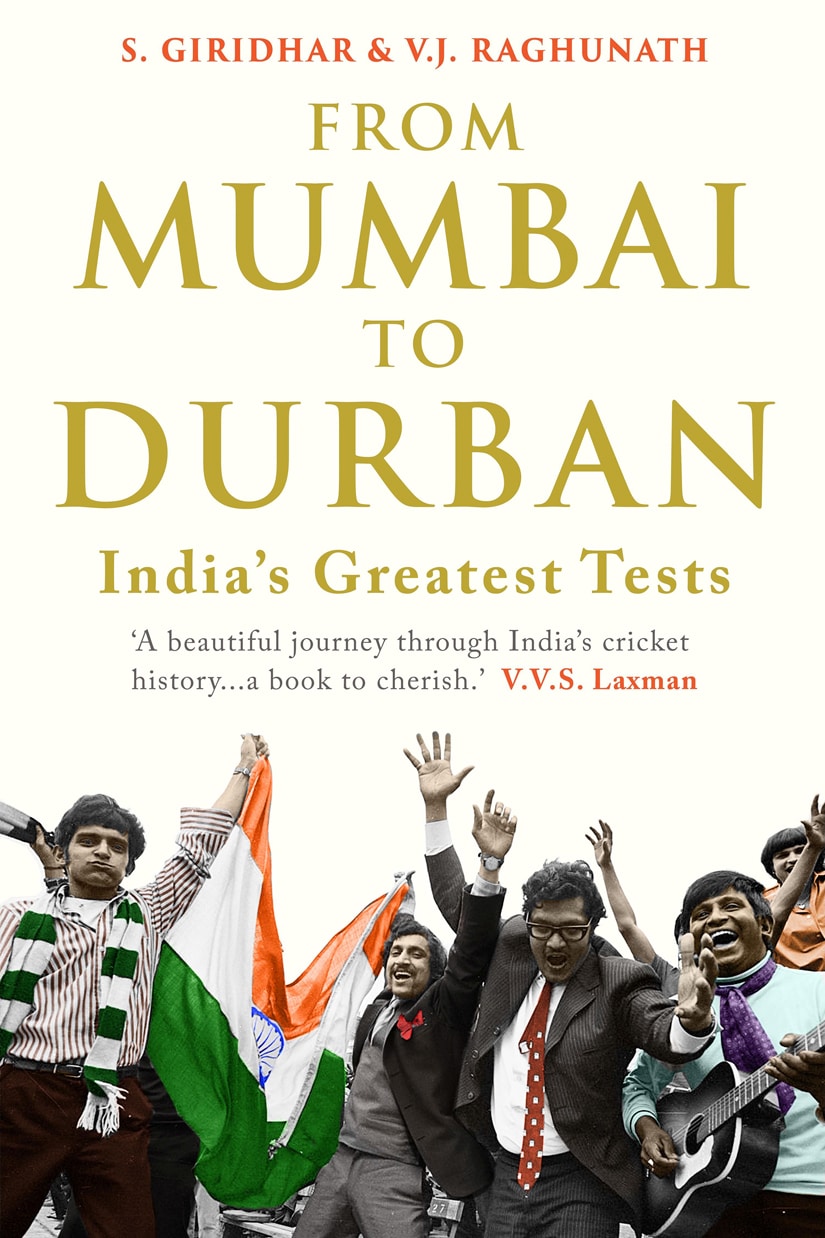 The team became the No 1 Test side in ICC rankings in December 2009 and defended this position through 2010. It now faced South Africa in a three-Test series, and if it did well, would round off 2010 as the world's top-ranked Test team. The record in South Africa did not inspire much confidence; India had won only one Test in three visits to that country, and South Africa, with its fast, bouncy, seaming tracks and strong pace bowling, had always been India's biggest challenge. The first Test at Centurion Park confirmed these fears as India lost by an innings. The only notable takeaway was that Sachin Tendulkar hit a landmark hundred – the 50th Test century of his career. Despite scoring 459 in their second innings, India lost by an innings, such was the gulf in the first innings.
The teams then moved to Kingsmead in Durban, which like Melbourne had the tradition of hosting the Boxing Day Test when teams visited their country. Kingsmead, as Ram Mahesh told his readers, was "a gull's flap from the ocean". The belief was that swing bowlers got assistance from the south-westerly breeze and the change of tide, somewhat like the 'Freemantle Doctor' – the afternoon breeze from the river Swan at the WACA in Perth.
Yet, when the Indians arrived in Durban, it was not a light breeze but rain that greeted them. When they inspected the ground, they were, to quote Anand Vasu from his report, "greeted by the greenest Kingsmead pitch in recent memory". Rain on the first day teased the groundsmen with its stop–start antics and play was delayed by an hour. Mahendra Singh Dhoni lost the toss and Graeme Smith, smiling broadly, sent the Indians in. On that grassy, fast pitch and in overcast conditions, he would unleash Dale Steyn, Morne Morkel, Lonwabo Tsotsobe and Jacques Kallis on the Indians. "Lot of moisture on the track, and tough overhead conditions," said Dhoni, admitting that his batsmen had a tough task ahead. To compound matters, India were without Gautam Gambhir, whose hand had not healed from the injury he suffered in the first Test. Murali Vijay replaced him. On the positive side, Zaheer Khan, the leader of the bowling unit, was back. How important he was to this team! In his absence, S Sreesanth and Ishant Sharma looked inadequate but with Zaheer in their ears, from mid-off or mid-on, the two became totally different bowlers.
Virender Sehwag who usually never took first strike, did so in this game to shield Vijay from the nerves of facing the first ball. Sehwag winced in pain, as Steyn's opening delivery kicked up and hit him on the glove. The two openers began to apply themselves against testing bowling in difficult conditions. The batsmen survived some unplayable deliveries and a dropped catch too even as Sehwag put Morkel away for a couple of boundaries. Steyn was finally rewarded for superb bowling in his sixth over when Sehwag on 25 edged a drive to second slip as an outswinger left him. Steyn struck again in his next over, getting Vijay caught behind for 19. India were stumbling at 48 for two. Rahul Dravid and Tendulkar looked more assured than the openers and they also played a few fine shots, to wit, Rahul's straight drive and Sachin's upper cut off Morkel. India went to lunch at 74 for two. However, in the first over after lunch, Tendulkar perished, attempting a drive off a ball from left-armer Tsotsobe that he could have left alone. It was to be a feature of India's innings – each of the first eight batsmen spent time in the middle and got into double digits, but either threw it away or lost their wicket to South African brilliance. The pitch challenged the batsmen right through, even someone like Dravid who was applying himself. VVS Laxman played gorgeous shots – a pull and a back foot punch to cover off Tsotsobe, followed by a crashing off drive and a hard, flat, pulled six off Steyn. But Steyn broke through when Dravid, in a moment of indecision, gloved an away-swinging ball to Mark Boucher. India were reduced to 117 for four. Cheteshwar Pujara – who had replaced Suresh Raina for this Test – joined Laxman and received a searching examination from the world's best fast bowler. Spin had been introduced a little earlier and Laxman, in great form, latched on to a flat delivery to pull it perfectly to the square-leg boundary to reach 38.
He then succumbed to a moment of sheer brilliance: Steyn bowled short and Laxman drilled a perfectly-timed pull to mid-wicket. By rights it should have struck the hoarding on the fence, but Tsotsobe dived, stretched and flung his right hand out to pluck an amazing catch out of thin air. Laxman was felled in full flight; he was the one batsman who had looked in command and his wicket ensured that the Indian innings would not prosper. Dhoni and Pujara grimly hung together, the latter slowly gaining confidence, not hesitating to hook or cut when the ball was banged short. Yet, he too threw it away, top-edging a pull off Tsotsobe to the 'keeper. By tea, India, at 168 for six, seemed to have surrendered the advantage to South Africa. It was gloomy and overcast, the floodlights had come on and three overs after tea, play was called off for the day.
Next morning, the light was a far sight better than the first day. It was only a matter of time before Steyn dismissed Harbhajan Singh, the thick edge travelled fast but a diving AB de Villiers at third slip took the catch with both hands. Steyn had his five-wicket haul in the innings. Zaheer fell to Morkel in the next over, and Dhoni realising the innings would finish soon tried to get some runs. A top-edged hook was followed by a six over long-off but when he aimed a slash at Steyn, it ended up in Alviro Petersen's hands at deep point. India were all out for 205 when Sreesanth fell first ball to Morkel.
South Africa's openers began by taking a few boundaries off a wayward Sreesanth but in Zaheer's third over, Smith was caught behind of a ball of lovely length and line that moved away – Smith would remain, in cricketing parlance, Zaheer's 'bunny'. Hashim Amla came in at 23 for one, and hit Sreesanth off successive balls to the cover boundary. Zaheer again provided India a breakthrough, bowling Petersen off his pads. 46 for two. That brought Kallis and Amla together.
Ishant replaced Sreesanth, while after a spell of seven overs Zaheer made way for Sreesanth. Immediately, India received a huge stroke of fortune. Amla imperiously drove the first ball of Ishant to the cover boundary. The next ball was smashed back by the batsman but Sharma got his fingertips to it before it crashed into the stumps at the bowler's end. Kallis, backing up, was caught out of his ground. South Africa received another jolt in the next over, the result of a terrific delivery from Sreesanth, who could exasperate his captain with poor deliveries but also had the knack of bowling unplayable deliveries. De Villiers, not yet off the mark, got a lethal leg-cutter that pitched on off, bounced and took his glove on its way to Dhoni. That was lunch. South Africa were 74 for four and India had fought back.
Ashwell Prince and Amla had taken South Africa to 92 for four after lunch when Dhoni brought Harbhajan to bowl. In his second over, Harbhajan got Amla with a ball that pitched on the stumps and kept going straight. Amla missed the sweep and was leg before. Then Zaheer, who had come back into the attack, got Prince with a splendidly conceived piece of bowling. After planting doubt in Prince's mind with balls going either way, he bowled one on a length that pinned the batsman on the crease. The ball held its line and bowled Prince off the inside edge. The South African innings was in tatters at 100 for six. Harbhajan then mopped up the tail, taking out Steyn, Paul Harris and Tsotsobe. He had figures of four for 10. Ishant took Morkel but the credit for that wicket too should go to Harbhajan, who plucked an amazing catch on the fine-leg boundary after covering many yards. Dravid's catch to dismiss Steyn was the 200th catch of his Test career and one of his finest. As the edge flew between slip and 'keeper, Dravid dived to his left and behind Dhoni to pull off a stunning catch. It was a piece of brilliance that one can watch on YouTube with undiminished pleasure. Dravid's catching prowess, like his batting, was the result of lifelong practice. He told us: "You would never ever have seen me without a ball when I was a child. I was always bouncing and catching it from any surface all day long." Tucked into this is the important point about practice with a tennis ball. If some of us learnt to catch cricket balls with soft hands, the answer lies in the fact that we practised with tennis balls that tend to bounce and pop out of the hands; we learnt to 'give' as the ball came to us and this virtue remained with us when we caught cricket balls.
Sehwag and Vijay opened India's second innings with the reassuring cushion of a 74-run lead, Sehwag banging Steyn for a boundary in his first over. He continued in that merry way, flicking Steyn for a boundary and for good measure flaying him again to point and glancing him for more boundaries. Just when it looked Sehwag would take the game away, Tsotsobe suckered him with a wide short ball that he edged to Boucher, out for a 31-ball 32. Sehwag's wicket sucked the momentum out of India's innings. The pitch was still helping the bowlers and sure enough, a brutal delivery from Morkel reared up at Vijay's head and he could only fend it to short-leg. Then Dravid, completely against character, played an extravagant waft at a ball from Tsotsobe to get caught. Steyn in his second spell struck first ball, getting Tendulkar who went for a drive to a ball that seemed right for the stroke but edged it to de Villiers at third slip. At 56 for four, India were in danger of losing the ground they had gained before lunch.
It was midway in the session between lunch and tea, but already 18 wickets had fallen in the day. All 22 players had come to the crease at least once during the day. Laxman, whose first innings of 38 was easily the best of the match, carried that form into his second knock. He played an exquisite cover drive off Kallis and followed this with a pull and whip to mid-wicket off the left-arm spinner Harris. Already Mike Haysman and Allan Donald were arguing on TV – Haysman saying Laxman was famous for his second-innings exploits and Donald saying one was "bound to get a ball with one's name on it". The wit on the ESPNCricinfo commentary typed this after Donald's retort: "I might know why Laxman seldom gets that ball in the second innings. Try writing Vangipurappu Venkata Sai Laxman on a ball. You will run out of space or ink or patience." The day ended with India 165 ahead with six wickets in hand. Importantly, Laxman was not out on 23.
The third day began badly for India as they lost Pujara early to Morkel: 98 for five. Crucially, Pujara had occupied 81 minutes at the crease and allowed Laxman to play freely at the other end. Steyn induced a couple of mishits from Laxman without causing grief. He then tested Dhoni with an in-cutter and outswinger. Dhoni tried to attack his way out of trouble with a couple of boundaries but Steyn kept at him. After a superb four-over spell, Morkel replaced him. Laxman unfurled a square drive off the back foot, all silken grace. Seeing that shot, one can understand why Ian Chappell was so moved by Laxman's extraordinary hand–eye coordination: "If he'd been lost to cricket and become a doctor, as so nearly happened, he'd have been a brilliant surgeon."
At the other end, Tsotsobe had Dhoni caught behind, pushing at a delivery that was slanted across him. Tsotsobe, one felt, was reaping 'soft wickets' because of the pressure created by Steyn and Morkel at the other end. A few balls later, Harbhajan's short stay ended, Kallis catching him off Morkel. 148 for seven, Laxman not out on 47 and once again left with the tail. Yet again – one loses count – Laxman forged an uncanny partnership with the tail. This time it was Zaheer, knuckling down to support Laxman. He faced more balls than Laxman, and had a few hits to the fence too. When they went back for lunch, the two had added 70 runs in 19 overs and taken India close to a 300-run lead. Zaheer fell in the second over after lunch to left-arm spinner Harris.
For those looking for interesting coincidences and statistical trivia, Zaheer and Laxman had added exactly 70 runs at the Wanderers too in that wonderful 2006 win. Zaheer, in a tribute to Laxman when his Eden Gardens knock was rated the finest Test knock of the past 50 years, said, "Laxman had great mental strength and a will to succeed. In tough situations he would somehow find an extra focus, a determination to do well. We believed that he could somehow save us. That was Laxman throughout his career."
When Kallis bounced out Ishant, India became 222 for nine, and Laxman was nine short of a ton. Sreesanth survived but it was Laxman who got out. After sweeping Harris for a four and crossing over for a single, Laxman failed in an attempt to cut Steyn for the boundary that would have got him to his century. Boucher took the edge. Earlier in this book we called Gundappa Viswanath's 97 not out against West Indies as the best 'non-hundred' by an Indian bat. This one ranks as high, for this too was achieved on a seamer-friendly track against high-quality fast bowling. Laxman has himself said Durban was among the toughest wickets he had ever played on. Dileep Premachandran, turning a pen thoughtfully between his fingers, told us that this knock would be among the greatest by an Indian in recent memory.
How did Laxman do this again and again? Sharda Ugra wrote, "When Laxman takes the stage in his moment, he can conjure up the illusion that the crisis is not being tackled, it is being ignored. That fretting over it is all quite trivial. Like a genteel sorcerer pulling streams of silk out of a hat, his hands create gaps in the field that captains and bowlers cannot conceptualise, let alone attempt to cover."
The stage was set: 303 to win, on a pitch where 30 wickets had fallen for just 564 runs. A tough task, but Kingsmead was the venue where South Africa had scored 340 to beat Australia in 2002. Smith and Petersen began with purpose, Smith as though wanting to put Zaheer out of the attack. After six overs the Proteas were 35 for none, Smith on 24 with five boundaries. Zaheer had gone for 24 off three overs. After 11 overs, the South Africans were 58 for no loss and Dhoni introduced Harbhajan. Off the first ball of Sreesanth's next over, also the last over before tea, Smith was dismissed. His mistimed pull spiralled high before settling into Dhoni's gloves.
After tea, Amla treated spectators to two lovely shots, a cover drive and a straight drive in an over from Sreesanth. However, Harbhajan struck in the following over, disposing of Petersen as the batsman failed to negotiate the bounce the off-spinner generated. In Sreesanth's next over, Amla gave it away, attempting a cut off a wide delivery, short and swinging away, and edging it behind. From 63 for no loss, South Africa had slid to 82 for three in five overs. When bad light ended play, South Africa were 111 for three, requiring 192 to win.
Day four began under blue skies and bright sunshine. Sreesanth and Harbhajan opened the attack against Kallis and de Villiers, and in the eighth over, the former produced a beast of a ball out of nowhere. From short of length, it leapt at Kallis's throat. Even as he arched his back to evade it, the ball was upon him and Kallis could do no more than glove it in a gentle arc to Sehwag at gully. There is a wicked YouTube clip that shows this in agonising detail in slow motion. Sreesanth, wacky, weird, exasperating, but also bowler of the unplayable ball, getting de Villiers in the first innings, and Kallis in the second. Anand Vasu called this "the ball of the series".
In the first over after drinks, Harbhajan bowling round the wicket hit the pads of de Villiers, and though replays showed the ball would have gone over middle, South Africa copped a rough one from umpire Asad Rauf. They slid to 136 for five. At the other end, Zaheer replaced Sreesanth. It was now the turn of umpire Steve Davis to hand out a poor lbw decision to send Boucher on his way. The wheels were coming off quickly. While Prince was intent on defence, Steyn was being worked over by Zaheer with a variation of length and movement both ways. After 25 minutes of this, Zaheer got his man with a full ball that was edged to Pujara at third slip. The ESPNCricinfo commentator, relishing this duel, typed, "The entire Steyn vs Zaheer contest has been riveting to watch. Zaheer gets the bragging rights here."
Ishant and Sreesanth were now bowling in tandem. There was short-pitched bowling and chatter at the wicket too. A yorker was slipped in and there were more stares and glares. In the commentary this gave scope for some droll humour: "These guys are good friends, I tell you!" Harris continued to be peppered with more bouncers, and not all were well-directed. At lunch, South Africa were 180 for seven. Zaheer was, after Wasim Akram, the best exponent of left-arm bowling from round the wicket and reverse swing. Straight after lunch, he scalped Harris with a perfect ball. Pitching on middle, it moved away to take the off stump's bail. Morkel and Prince resisted stoutly playing out the next 11 overs before Ishant claimed Morkel, caught behind off a ball that straightened after pitching. Two balls later it was all over as last man Tsotsobe was run out by the short-leg fielder Pujara.
India had pulled off a stunning victory in conditions that were tailor-made for the hosts. After the victory, Dhoni said, "We will party in the night but not get drunk." That statement conveyed a lot more. Four years ago in Johannesburg, the Indians celebrated in berserk fashion, pouring drinks over themselves and all the upholstery. This time their celebrations were calmer, for after all, they were the No 1 team in the world and had got used to winning regularly. Gary Kirsten and Paddy Upton's theory was that the Indian team's psyche was such that they produced their best performances in retaliation. There is evidence to support this only from 2001 onwards though, and not earlier. It began with Sourav Ganguly's team and was then demonstrated by the teams that were so ably led by Dravid, Anil Kumble and Dhoni.
As Kingsmead emptied out that evening, the year was coming to a close. India could look back at 2010 with satisfaction. They had not lost a series during the year and they had retained their No 1 Test ranking. As it turned out, it was the last overseas victory for Tendulkar, Sehwag and Zaheer. Though Laxman and Dravid were part of the win against West Indies in Jamaica in 2011, the winds of change had already started to take their effect, and India conceded their No 1 status to England after a 0-4 whitewash soon after winning the World Cup. It was the end of an era. There is still the unfinished business of winning a series in South Africa and Australia. Perhaps Virat Kohli and the next generation of Indian cricketers would achieve that. It would be a fitting tribute to the wonderful teams of 2001–10.
Test No 1987: Kingsmead, Durban, 26–29 December 2010:
India (Toss): 205 in 65.1 overs (VVS Laxman 38, MS Dhoni 35; Dale Steyn 6-50, Lonwabo Tsotsobe 2-40) and 228 in 70.5 overs (Laxman 96, Virender Sehwag 32; Tsotsobe 3-43, Morne Morkel 3-47) beat South Africa 131 in 37.2 overs (Hashim Amla 33, Alviro Petersen 24; Harbhajan Singh 4-10, Zaheer Khan 3-36) and 215 in 72.3 overs (Ashwell Prince 39*, Graeme Smith 37; S Sreesanth 3-45, Zaheer 3-57) by 87 runs.
MoM: VVS Laxman.
Captains: MS Dhoni (India) and Graeme Smith (South Africa)
Excerpted with permission from Mumbai to Durban: India's Greatest Tests. Author: S Giridhar and VJ Raghunath; Publisher: Juggernaut Books; Price: Rs 799.
Updated Date: Jan 03, 2018 21:08:32 IST