A Century is Not Enough book review: Sourav Ganguly's autobiography is patchy and feels very rushed
This rushed hodgepodge of an autobiography doesn't do justice to a man who transformed a team dubbed 'Sachin and Ten Dull Curs' by an Amul advertisement many years ago, turning it into one of the country's greatest ever sides.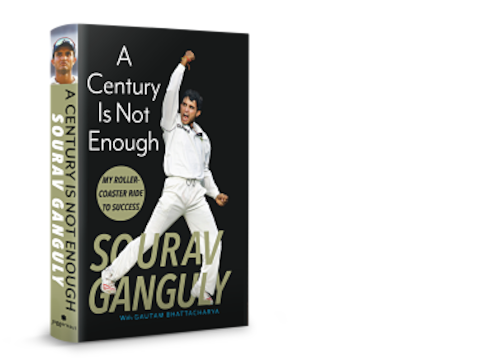 Over his seven-or-so years on the domestic circuit before making his international debut, Vikram Rathour was considered a formidable opening batsman. In fact, his reputation of being "plucky without being dour, and a fluent driver of the ball" — not to mention a prolific accumulator of runs — preceded him. So when he turned out for India in 1996, there was a lot expected of him and the levels of anticipation were high — not least because the recent batch of opening batsmen had been iffy, makeshift, ineffective or all of the above.
This seems like an appropriate point at which to segue into Sourav Ganguly's autobiography A Century is Not Enough. Just as described above, the former Indian skipper's book came with the reputation of its subject and a major burden of expectation. Ganguly is held — and rightly so — responsible for infusing Indian cricket with a sense of aggression, chutzpah, drive, and that will to look the opposition in the face and say, "No. We are not going to roll over." It came as something of a disappointment then that the book that arrived with all that baggage of anticipation — having been preceded by iffy, makeshift, ineffective or all of the above biographies/autobiographies of Indian cricketers in recent times — ended up being like the aforementioned Rathour's international career.
The Punjab opener played only a handful of innings for India and they featured some glimpses of elegance and a sprinkling of beautiful hits to the rope. But those generally tended to be false dawns because his innings were usually brief and ended with a whimper rather than a bang. It is for these reasons and more that I submit that reading A Century is Not Enough is a lot like watching Rathour bat for India: Patchy overall, with a couple of gems here and there, but ultimately, it's over all too quickly.
Before getting into the positives and negatives, a glaring omission/oversight must be addressed. But first, a little background:
The 2003 ICC Cricket World Cup in South Africa is widely considered to have been one of the best of all time, featuring teams that were either at the top of their respective games or competitive at the very least. Even the Associate Members made something of an impact with Kenya reaching the semi-finals of the tournament. For followers of Indian cricket born after the 1983 triumph, watching the Ganguly-led Men in Blue in a world cup was a revelation. Gone were the teams of yore that either imploded in the semis or were swatted aside before the knockout stage. Gone was that inability to chase big scores and knack of snatching defeat from the jaws of defeat that marked Indian cricket during the 1990s — a few exceptions (1996 Titan Cup, 1993 Hero Cup etc) notwithstanding. Gone too was the sight of dropping shoulders and the sense of resignation whenever the going was tough.
Instead, what we got was a team that apparently didn't know the meaning of the phrase "give up". Whether it was the savage batting dismantling opposition bowling attacks, the rapier-like bowling shredding much-vaunted batting lineups, the electric fielding that rivalled even that of the mighty South Africans or the raw aggression that had rarely been seen in a blue jersey, this was one of the greatest ODI tournament performances by an Indian team. The manner of the team's revival after a drab opening match against the Netherlands and a beating at the hands of Australia was quite unprecedented. In fact, if the Australian tour to India in 2000-01 represented the zenith of Ganguly's Test match captaincy, it was the 2003 World Cup that was Ganguly the ODI skipper's most remarkable achievement
All of this makes it seem quite bizarre that in the 254-page-long book, that epochal tournament finds just two mentions in total: The first is a line that reads, "As a leader I had a successful run in the World Cup, taking the team to the finals before losing to our nemesis, Australia." And the second, is in the form of a brief anecdote that relates to a scuffle between Harbhajan Singh and Mohammad Yousuf (then Yousuf Youhana) before the India-Pakistan fixture — which, for fans of random trivia, took place exactly 15 years ago — in that world cup. Ganguly goes on to reminisce — again, briefly — how Virender Sehwag disobeyed his skipper's instructions to bat patiently, but the result made it all worthwhile. He does mention that all of this culminated in him receiving a call from the Chief of Army Staff.
Unfortunately, this is a recurring theme in a book that seemingly rushes through Ganguly's playing days — pausing only sporadically to add detail to some parts of his career.
Positives
The conversational tone and style of the book suits the narrative perfectly. It doesn't read like a stodgy historical tome and that works well, particularly considering the tongue-in-cheek nature of some of the passages — you can almost imagine Ganguly sporting a half-smile narrating some of them himself; most notably, this little bit of insight:
"No discussion on Shoaib (Akhtar) can ever be complete without talking about his accent. I don't know how and where he developed this British-Pakistani English of his. I sometimes found it difficult to understand what he was saying. I have a sneaking suspicion that so did he."
The detailed exploration of Ganguly's relationship with Pakistan, its cricketers and people is for the most part enlightening. For the most part, because said exploration also includes such 'insights' as, "They (Pakistan) are also part of the third world like India. Poverty is as much an issue there as in our country." But, beyond that, lies some heartwarming confirmation of the warmth shared by the players and quite possibly people of the two countries whose leadership has rarely seen eye-to-eye.
The lavish section on the IPL is enlightening — not because it contains any sensational inside information — in its exploration of how a cricketer who arrived on the scene in the 1990s tackled the instant coffee (or two-minute noodles, if you prefer) crash-bang-wallop world of T20 cricket, where stars are born overnight and brought crashing down to earth even quicker. "I have always endorsed a leadership point of view that once you are convinced about someone's class you allow him to blossom despite a few failures. But you need patience. During my years as the Indian captain I have hand-held a few players as well. We were patient. As I said, this was a different world. Different ground rules," sums this up perfectly. In a world where criticism of the IPL is either shot down immediately or muted for all intents and purposes, it's refreshing to see someone so intimately involved with Indian cricket speaking his mind.
Leading on from here, the exploration, albeit brief, of a handful of instances when he backed a player to the hilt and some of his man-management fundas add layers to his formidable reputation as a nurturing and encouraging captain.
Finally, it's the rare gems of uncomfortably honest introspection that pop up out of nowhere, much like Rathour's elegant drives to the boundary — you thought we'd forgotten him, didn't you? — that make this book worth at least a skim read. A case in point is his dissection of that cringeworthy "Apne Dada ki baat maanoge na" Pepsi advertisment: "I refused. I didn't want to be party to such melodrama. Nor did I want any sympathy... Pepsi wasn't pleased with my refusal. One day I got a legal notice saying that Pepsi had the right to decide on the script as long as it didn't tarnish my image as a brand. So I had to do the ad." It's an intriguing look into what goes into endorsing a brand.
Negatives
While the narrative style, as noted above, is perfectly suited to the book, the narrator seems to be a very parsimonious storyteller. It feels like Ganguly was in such a tearing rush to tell his story that he skips past a few of his most important achievements, taking only a few paragraphs — if at all — to sum up events like the aforementioned 2003 World Cup. At 254 pages, it isn't the shortest of books, but the economy with description makes it feel a lot shorter. That the book contains nothing about Ganguly the person prior to his life as a cricketer spurns the chance to humanise the larger-than-life figure he is.
When incidents, trends, people are mentioned, these mentions are a lot like dangling a stray bat outside off-stump: Hints of a desire to play the ball, but a lack of conviction to go at it wholeheartedly. A few of these, like the sections on Rahul Dravid — more on this later — take the edge, but fall tantalisingly short of the slips cordon, ensuring that Ganguly is never caught out on record. Smart in a way, but insincere in another. Another example of this trend is his willingness to address the bare-chested arms-flailing and jersey-waving shenanigans on the Lord's balcony. The insincere "...oh no, I was just saying Mera Bharat Mahan" that follows is the edged ball that lands short of third slip and hits the fielder squarely in the oompa loompas.
In terms of areas the former Indian skipper actually decides to spend time, it's largely the issue of how he was wronged frequently over the course of his career that takes up a lot of real estate. A few chapters in, it seems as though the motive behind putting out this autobiography mind book (as he calls it) was to call out all those who wronged him — Kiran More and Greg Chappell sit proudly atop that list — and to prove evidence — shaky, at times — to vindicate himself. 'I couldn't understand why a player who had just scored a century in the last series was being dropped' is a motif of much of these vindications. At times, it's hard not to see this as Ganguly in shining armour and astride a white horse riding in to rescue a damsel Dada in distress.
It's inevitable that any Indian cricketer who played in the 1990s will be expected to have an opinion on the match-fixing scandal that rocked the very foundations of Indian cricket. That said, it is not required for everyone to have inside information or an opinion on something that took place nearly two decades ago. That's why it's fine that Ganguly opts not to dwell too long on the 2000 saga. What seems odd however, is the virtual absence of an opinion on the spate of match-fixing and spot-fixing that blighted the IPL — a tournament he spends a fair bit of time discussing.
Another conspicuous element that suggests the book may have been rushed out is grammatical and logical errors that pop up over the course of the book like uncomfortable bouncers aimed squarely at the ribs.
In closing...
Perhaps the most interesting aspect of the book is the overall view Ganguly presents of his relationship with his vice-captain Dravid. References to him are littered all over the book and are largely neutral or positive. But put together, the impression one gets is that while he sees Dravid as a fantastic batsman and consummate professional, he doesn't entirely trust him or approve of his choices. Autobiographies should not be soapboxes from which to hurl abuse at fellow cricketers, but a little more detail here would have been appreciated. Nevertheless, what's left unsaid goes a long way in providing some insight into the relationship between the skipper and his deputy.
While by no means a terribly book, A Century is Not Enough suffers from a lack of identity, in that it doesn't know what it wants to be. It's not a pot-stirring scandal like Kevin Pietersen's book (KP: The Autobiography), it's not a gritty warts-and-all tome like Steve Waugh's (Out of My Comfort Zone), it's not a rundown of scorecards like Sachin Tendulkar's (Playing It My Way) and it's not a critical examination of man-management like Mike Brearley's (The Art of Captaincy) and it's not a focussed look at one specific part of his career like Aakash Chopra's books Beyond The Blues: A Cricket Season Like No Other and Out Of The Blue : Rajasthan's Road To The Ranji Trophy.
This rushed hodgepodge of an autobiography doesn't do justice to a man who transformed a team dubbed "Sachin and Ten Dull Curs" by an Amul advertisement many years ago, turning it into one of the country's greatest ever sides. To learn more about Ganguly, it's probably best to go back and watch videos of him carving apart opposition bowling attacks, unfurling gloriously towering sixes and dissecting densely-populated off side fields, because you're not going to learn very much from this book. At best, it'll make for an entertaining enough airline read that soon fades from the memory. A bit like Rathour.
also read
First Cricket News
Looking back at the events of IPL 2023, we take a look at some of the trends from the 16th edition of the league and how the tournament changed this year.
First Cricket News
Marcus Stoinis and Nicholas Pooran, along with Ayush Badoni, made for a formidable middle-order trio that became a key part of Lucknow's batting performances in IPL 2023.
First Cricket News
With two games left in IPL 2023 league phase and three teams still in contention for one playoff spot, we take a look at each team's chances and what they need to make it to the playoffs.