From Baghpat to Kharkiv: Brijendra Rana, the Indian pharmacist awarded Ukraine's top civilian honour
Brijendra Rana, who originally hails from Uttar Pradesh's Baghpat and has been living in Kharkiv for decades, has been awarded the 'Badge of Honour' by Ukraine's armed forces for 'significant personal contribution and comprehensive assistance'
Brijendra Rana, a 50-year-old man originally from Uttar Pradesh's Baghpat city, has been honoured by Ukraine for his service during the ongoing war with Russia.
As India evacuated thousands of its nationals stuck in Ukraine after Russia began its invasion last February, Rana chose to stay behind with his family in Kharkiv – which is just 60km from the Russian border – and continue his work.
Now, the Armed Forces of Ukraine have conferred him with the 'Badge of Honour', as per the UK newspaper Independent report.
What is this award and why was it bestowed upon Rana? Let's take a closer look.
Ukraine's 'Badge of Honour'
The Badge of Honour is one of the most esteemed civilian awards conferred "only by the military commander on rare occasions" in Ukraine, reported The Times of India (TOI).
It consists of a shiny silver medal engraved with the image of the Motherland Monument statue in Kyiv.
Rana was presented the award by Commander-in-Chief of the Armed Forces of Ukraine, Valerii Zaluzhnyi, in the country's capital Kyiv on 2 February, as per ThePrint report.
The citation on the 'Badge of Honour' says it was awarded for Rana's "significant personal contribution and comprehensive assistance to the Armed Forces of Ukraine, under the conditions of Martial Law", the report added.
Brijendra Rana's contribution
Rana's pharmaceutical firm, Ananta Medicare, has supplied antibiotics and drugs for cold, fever, flu and heart conditions to civilians, hospitals and medical institutions over the last year in the war-torn country, reported The Independent.
"Among the primary medicines needed for injured soldiers and civilians include antibiotics, which are in heavy demand in Ukraine," Rana told the UK newspaper.
As per ThePrint, Rana imports medicines from Rajasthan's Sri Ganganagar and sells them in Ukraine through his company.
"Although Brijendra was born in India, he considers Ukraine his own country and has been making untiring efforts to keep the medicines supply intact. It's commendable," General Zaluzhnyi was quoted as saying by TOI.
Speaking to The Independent, Rana recalled that when he received an official call from Kyiv, he assumed it to be a regular order for medicines from the Ukrainian government.
"I didn't even know about the honour I have been conferred. I was just helping out as any good citizen should be, and will continue to do so. It always feels good to be recognised," he told ThePrint. 
Besides medicines, Rana and his team also provide essentials such as fruit, bread, and eggs to the civilians displaced by the war, according to The Independent.
Moreover, Ukraine's health ministry has also appreciated Rana's work amid the war and issued many letters of appreciation for his "benevolent" act, TOI reported.
ALSO READ: 'Fighting through Art': Group of refugee ballet dancers from Ukraine mark US debut
Why Rana did not leave Ukraine after the war?
Rana first left for Ukraine from his hometown in Uttar Pradesh in 1991 to study mechanical engineering.
He settled down in the European country after meeting his wife Oksana – a Ukrainian citizen – while studying at the university. The couple has a 16-year-old daughter.
Brijendra Rana, a former resident of Nirpura village in Baghpat had left for #Ukraine in early '90s to study. He married a local girl. Now amid war, his family refuses to leave his side despite given choice as he gives free medicines worth crores to help the country he adopted pic.twitter.com/iCy0sDGdbS

— Sandeep Rai (@RaiSandeepTOI) March 27, 2022
As per The Independent, he opened a small pharmacy business with friends in Kharkiv in the 1990s.
Ananta Medicare then turned into a multinational pharmaceutical firm.
When the war broke out in late February last year, Rana had the option and resources to leave the country with his wife and daughter, but he decided to stay.
He told The Independent that the decision to stay put during the war was not easy.
"There are times when I think of my child," he said, adding that they "have seen more than a hundred missiles on some days since the war struck".
As per Rana, his residential building, which had 24 floors earlier, has only five left now after Russian missiles hit it twice.
"When you are out on the field helping others, the most troubling feeling is to leave the children behind. During a war, when there is firing and bombing all around, you never know which building would come down because of the missile," he told ThePrint.
Despite such threats, Rana has no plans to leave Ukraine yet.
"India is my motherland but Ukraine is also my nation, to which I feel I belong", he said.
"I will not leave. I will not be at peace if I leave the country and desert so many people who are struggling to get through the war. The idea of exiting Ukraine does not come to mind, it does not strike me even once," Rana told The Independent.
He said that even though there is a "lot of uncertainty about the future", it is his kartavya or duty to keep "serving his adopted homeland".
"The day when Ukraine will win the war and I will visit India again, is perhaps when I'd be able to talk about what we went through," the businessman was quoted as saying by ThePrint.
With inputs from agencies
Read all the Latest News, Trending News, Cricket News, Bollywood News, India News and Entertainment News here. Follow us on Facebook, Twitter and Instagram.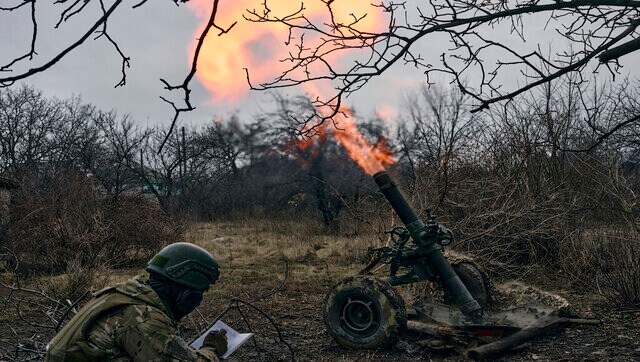 World
Meeting in Brussels, defence and foreign ministers backed an initiative that aims to provide Ukraine with one million shells in the next 12 months as well as replenish EU stocks
World
"There is no doctor. We are without a doctor. They left us alone," wept Mariia Hrebenko, 79, as a doctor took her blood pressure and tried to calm her, gently patting her hand. "No one is helping us."
World
Ukraine was attacked by 16 Russian drones on Friday night, the Ukrainian Air Force said in the early hours of Saturday