Zero: Red Chillies Entertainment alters controversial kirpan scene in Shah Rukh Khan-starrer
Red Chillies Entertainment stated that the scenes which showed Shah Rukh Khan's character holding a kirpan in Zero have been altered.
Red Chillies Entertainment, in an affidavit filed in Bombay High Court, stated that the scenes which showed Shah Rukh Khan's character holding an 'ornamental sword' in the film Zero have been removed, reports ANI.
The Aanand L Rai film had run into trouble with the Delhi Sikh Gurudwara Management Committee after it accused the makers of hurting religious sentiments of the Sikh community by showing the holy kirpan as an ordinary dagger in one of the posters of the film.
Red Chillies Entertainment files affidavit in Bombay HC on petition seeking removal of 'Kirpan' scenes in 'Zero'; states: The portion of the film shows the character dressed for his wedding, costume included an ornamental dagger of the sort frequently used by various communities. pic.twitter.com/x1PbfXNf5Z

— ANI (@ANI) December 19, 2018
Red Chillies: Despite the fact that the film and its poster depicted only an ornamental dagger and not a 'Kirpan', steps have been taken by the respondent to alter the relevant scenes. The portions in question have been altered through visual effects to depict an ornamental sword https://t.co/xgmHdw3vbP — ANI (@ANI) December 19, 2018
The makers told Bombay High Court that relevant steps had been taken to alter the scenes through visual effects. The sword, which according to the production house, was mistaken for a kirpan by the displeased committee, has now been altered to look like an ornamental dagger.
Amritpal Singh Khalsa, an advocate, had filed the petition early in November, seeking a direction to the director and producers to delete said scenes.
The decks are now clear for the release of the Anushka Sharma and Katrina Kaif-starrer on 21 December.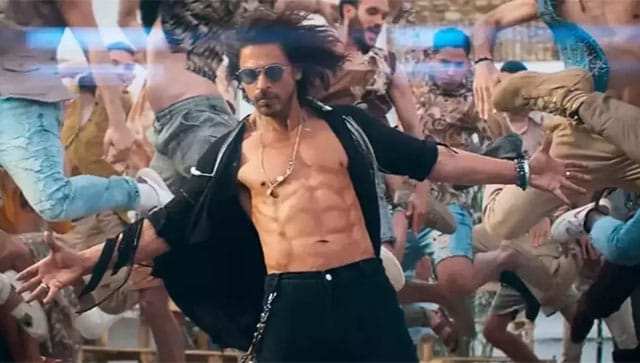 Entertainment
SRK's fan following is a different breed from the other stars. Even if he doesn't do a film for ten years, they will wait patiently for the return of their idol. It doesn't matter how long, it takes as long as he comfortable with his comeback. It can't get any more comfortable than Pathaan.
Entertainment
Katrina wrote on her social media page, "My friend Pathaan is on a dangerous mission. It is very important in the interest of national security that you don't reveal anything about this. You are all part of this classified mission now. Zoya."
Entertainment
The total screen count now is 8000 screens worldwide across Hindi, Tamil & Telugu formats. Domestic - 5,500 Screens, International - 2,500 Screens. It is the biggest ever release for a Hindi film ever in the history of Indian cinema.