World's Highest-Paid Actors 2016: Forbes list isn't about earnings alone, it's a reminder on gender gap too
It was clearly a good year for Dwayne "The Rock" Johnson who won the top spot globally in the Forbes' World's highest-paid actors list for 2016. The wrestler turned actor has the Fast and Furious franchise and the movie San Andreas to thank for becoming the biggest gainer in the industry so far, almost doubling his pay check compared to 2015.
Forbes released its list of the highest paid actors in the world and it had a lot to say about the entertainment industry. From sexism to diversity, many observation can be made from the results of the list. Here are the names of the top 10 in the list.
1. Dwayne Johnson, 64.5 million
2. Jackie Chan, $61 million
3. Matt Damon, $55 million
4. Tom Cruise, $53 million
5. Johnny Depp, $48 million
6. Jennifer Lawrence $46 million
7. Ben Affleck, $43 million
8. Vin Diesel, $35 million
9. Melissa McCarthy, Shah Rukh Khan and Robert Downey Jr, $33 million
10. Brad Pitt and Akshay Kumar, $31.5 million
Not much diversity was seen on the list, with a quarter of the stars hailing from the US. But that didn't stop Bollywood from featuring heavily on the list. The Bollywood celebrity that makes is biggest buck is none other than Shah Rukh Khan, raking in over $33 million. Aside from King Khan, Akshay Kumar, Salman Khan, Amitabh Bachchan made it to the list for the second time in a row. A debutante in this list and the highest paid Indian actress is Deepika Padukone, who made a cool $10 million to rank on the annual list.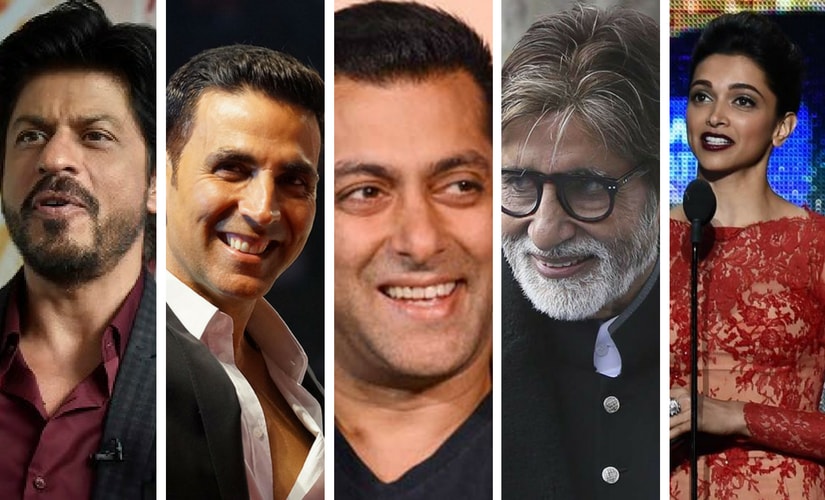 Another aspect that this list reveals is the rampant sexism in the industry. Some celebrities have pointed it out before, but this list further drives homes the point that gender pay gap really is an issue, even in Hollywood.
A pay gap exists universally between male and female actors, according to Forbes. "Combined, the world's 20 highest-paid actors earned a whopping $703.5 million between 1 June, 2015 and 1 June, 2016, before management fees and taxes. That's more than three times the $205 million tallied by the top 10 highest-paid actresses in the same time frame," it said.
To see the magnitude of this difference, here's a comparison of the top five actors and actresses.





Gender gap is a reality even in India's film industry, with the highest paid actor Shah Rukh Khan making over $23 million more than the highest paid actress Deepika Padukone. When the numbers stack up, some of the glamour do get washed away from the industry.
Updated Date: Aug 27, 2016 19:26:42 IST