Woofer: Snoop Dogg, Dr Zeus, Nargis Fakhri unite their creative energies for this stylised Punjabi number
Snoop Dogg returns to recording an Indian track almost 10 years after he crooned the title song of Akshay Kumar's Singh Is Kinng.
Almost a decade after crooning the title track of Anees Bazmee's 2008 comedy ensemble Singh Is Kinng, renowned rapper Snoop Dogg recorded yet another Indian track. In the recently released Punjabi dance number 'Woofer', he collaborates with popular Punjabi composer-singer Dr Zeus, vocalist Zora Randhawa and Bollywood actress Nargis Fakhri.
'Woofer' sounds like a typical modern Punjabi number but its setting defies its roots. Shot completely in Los Angeles, the song starts with Zeus and Randhawa driving a luxurious car on the streets of the city, before they are stopped by cops for over speeding. Dogg comes to their rescue and claims they are his 'nephews.'
The graffiti on the LA walls adds to the feel of the song as it is no ordinary Punjabi number. It merges the rap culture of the West (by Dogg) with the desi rap sequences of north India (by Randhawa and Zeus). While Zeus' voice seems to have worn out (no surprise there since it has been almost 15 years since his famous single 'Kangna' soared the charts), Dogg proves he has still got it.
Another interesting addition to the song is Fakhri. While it could be argued that her presence is limited to an eye candy, she has also lent her voice to the female part of the song, and she does a fair job at that.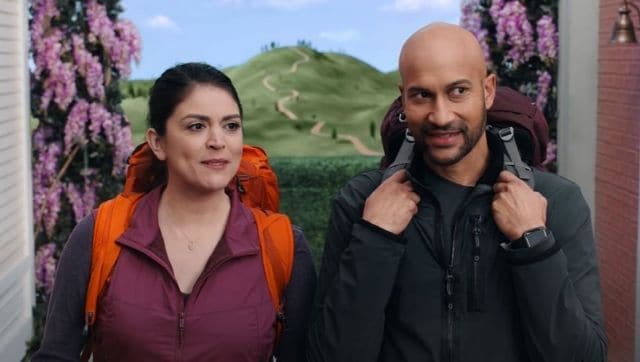 Entertainment
Though bumpy at times, Schmigadoon! is a feel-good comedy and a hat-tip to musicals, worth a slow-Sunday watch.
Entertainment
Radhika Madan charts her journey from television to playing a godwoman in Ray, and how she learnt never to seek external validation in this profession.
Entertainment
The present complaint is nothing but a "counterblast" to the complaint T-Series filed against her for extortion, says the statement