Wonder: Reflections on how we treat the disabled in India, and a handbook on doing better
In order to be more tactful and sensitive in the way we treat disabled persons, we need to first take a look at the language we use.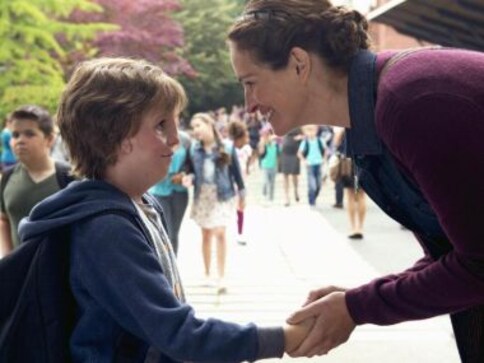 Wonder, starring Julia Roberts and Owen Wilson, is a beautifully made film about how a child born with a facial deformity finally finds acceptance of his peers and alike. It is a real life peep into how society treats those who are disabled. I doubt if I have ever seen another movie dealing with a medical condition which doesn't patronise or hero-worship the disabled person. Thus, the film offers an authentic portrayal of the character's experiences.
Considering we just celebrated the International Day for Persons with Disabilities on 3 December, the movie acted as the perfect reminder of our need for education about the rights of disabled persons. We need to pause and reflect on the way we treat them every day. Most of our cities are not even disabled-friendly. There are no ramps, no side holders, no disabled-friendly toilets. If we need to achieve or even go close to the 2017 goal of "sustainable and resilient society for all", we need to first start with our language itself.
No 'Lame' Jokes
We sometimes treat disability very casually in our everyday language. "Lame" is a word that should be thrown out of the dictionary. Whenever we use this word we should be aware of and sensitive to the fact that there are people who have no limbs. We need to avoid using expressions like "This is so lame, yaar!" when we find something unappealing or ordinary.
'Andha Hai Kyaa?'
When someone mistakenly stamps on our feet, we shout, "Andha hai kyaa?"; or when someone else finds what you were looking for, in a very visible spot. Instead of such insensitive phrases, we could say something to the effect of "It is right in front of you, you should be more careful," which is not only less aggressive but spares the visually impaired or blind person a condescending comment.
Also watch: Conquering disability — The story of Divyanshu Ganatra
'That's so dumb yaa!'
This is another expression we must refrain from using. Despite having a sister who is hearing impaired, even I'm guilty of using such language. But we must pay more heed to the words we use.
Don't call them differently abled, specially abled, or gifted! They are disabled persons. Call them that.
Prime Minister Narendra Modi calls disabled people "divyaang" which means (having) "divine ability". This is like "able-body-splaining". People who are disabled are not "gifted", they are neither "specially abled" or "differently abled". We do not need to feel guilty or awkward or used such words in order to hide our own awkwardness. It is obvious that if your right hand is injured, you will use your left hand for everything, but that's more about utility not some special ability. They are disabled people. They are neither Jaadu nor Godzilla. Please. Let's not make them inhuman with our pretenses. Disabled persons are okay being called just that – "a person with disabilities". They understand their truth. They have digested their truth. It is time we do away with our political correctness and awkwardness.
Not all disabilities are visible
Just like Ishaan in Taare Zameen Par had a learning disability (dyslexia), similarly, there are several psychiatric disabilities and mental illnesses – phobias and schizophrenia. Disabilities could also be physical and physiological like say – chronic dizziness or fatigue. The guidelines of Mental Illnesses 2002 very clearly mentions: "Mental illness has been recognised as one of the disabilities under Section 2 (i) of the Persons with Disabilities (Equal Opportunities, Protection of Rights and Full Participation) Act, 1995." Even neurological disorders are classified as a disability according to the The Rights Of Persons With Disability Bill 2014.
Even disabled persons have sexual urges
There are many who ignorantly believe that physically disabled persons are incapable of having sexual relationships. In fact, it is demeaning and ridiculous to think that, considering they are our fellow human beings with natural sexual desires. While one school of thought believes disabled persons don't feel these urges, the other thinks of them as hyper-sexed individuals who look at everything with childlike curiosity.
Regardless of the commendable film direction, cinematography and acting, films like Black have in reality done a great disservice to the disabled persons by reducing them to someone who needs to be chained, scolded and "tamed". But thank god for films like Margarita With A Straw, which offer a more nuanced portrayal. The film shows Laila (Kalki Koechlin), a woman battling cerebral palsy, as wicked as well as kind. It shows Laila and her friend, Khanum, as sexual and curious as human beings could be. If it were up to me, I would give Shonali Bose a Bharat Ratna for this maverick film.
Please realise that disabled persons are everywhere
We need to ensure we are more tactful when we talk about disabled persons. If they are socially or economically challenged, they will need additional help before we even speak about equality. Imagine being a Dalit, Muslim and transgender in India but also physically disabled – the battles that the person would have to fight for equality would not be easy ones. The Bengaluru Namma Pride March is the first pride march to make an extra effort to include persons with disability.
In the end, I want to leave you with this video by my host, dost and forever family at Satyamev Jayate.
Entertainment
As Friendship Day is a chance to celebrate one of the most precious bonds in life and to recall the good times you have spent with your pals, what better way to celebrate than by watching Bollywood films?
India
Like most communist organisations, the Indian People's Theatre Association was a subterfuge for naked propaganda, skilfully concealed in plain sight
India
The content creator shared a Reel on Instagram earlier this week where he lip-synced to veteran Bollywood actor Raj Kapoor's iconic song Kisi Ki Muskurahaton Pe Ho Nisar