With Salman Khan convicted in blackbuck case, a look at all the crazy reasons used in defense of 'bhai'
Salman Khan, according to his fans and other celebrities, is a great guy, a wonderful human being, has a golden heart, and can never do anything wrong.
An event of utmost national importance has unfolded in past five hours: Salman Khan has been sentenced to five years in jail for poaching blackbucks in Jodhpur back in 1998.
This is not the first time that journalists and cameramen from around the country gathered in Jodhpur as Bollywood stars Salman Khan, Saif Ali Khan, Tabu, Sonali Bendre and Neelam arrived in Rajasthan's blue city. Salman Khan has been making trips to the city of Jodhpur ever since he was first accused of killing blackbucks; an endangered animal considered to be holy by Rajasthan's Bishnoi community.
But every time Salman Khan is judged guilty, or is convicted of crimes in accordance with the laws of the land, there's a horde of celebrities and fans who come forward in defense of their beloved bhai. Salman Khan was given a five year jail sentence back in May, 2015 by the Mumbai Sessions Court for culpable homicide not amounting to murder, and rash and negligent driving. When the judgment was announced, Bollywood personalities came out strongly in support of Salman Khan.
There was victim blaming, poor shaming, and questions like, 'why are you sleeping on road if you don't want to die?' Celebrity jeweler Farah Khan Ali sent out a tweet saying that people sleeping on footpaths are responsible for their own deaths, just like someone crossing the railway track while a train's coming in full speed. Playback singer Abhijeet Bhattacharya dropped the garb of concern for the poor and tweeted, "Mumbai ke road Aur footpath pe sone ka shauk hai ?? Y not at your village no vehicles to kill u.. Support @BeingSalmanKhan"; and "Kutta rd pe soyega kutte ki maut marega, roads garib ke baap ki nahi hai I ws homles an year nvr slept on rd @BeingSalmanKhan". (sic)
No one should be sleeping on the road or footpath. It is dangerous to do that just like it is dangerous to cross tracks.

— Farah Khan (@FarahKhanAli) May 6, 2015
It's like penalising a train driver because someone decided to cross the tracks and got killed in the bargain. #salmankhancase

— Farah Khan (@FarahKhanAli) May 6, 2015
There are some bizarre reasons provided by Salman Khan loyalists to not pronounce the actor guilty or convict him. Here are some of the most ridiculous ones:
"He is a good human being"
Salman Khan is a great guy, has a golden heart, is a wonderful human being, and can never do anything wrong: This is what the actor's extended entourage say every time Salman is handed a guilty verdict. One of the things Farah Khan Ali tweeted back in 2015 was, "Salman is genuinely a very good human being and he made a mistake." For Bollywood personalities, this argument seems like a legit reason for the court to find someone not guilty for the crime they might have committed. As impossible as it may seem, judges don't (and shouldn't) let people walk free because friends and family of the accused say he/she is a great human being.
The law takes its course. Can't argue it. But at this point in time I just feel helpless and my heart goes out to @BeingSalmanKhan and his family. Reason, cause the last thing @BeingSalmanKhan is, is a criminal.I feel this is too harsh. I do hope he gets the relief he deserves.

— arjun rampal (@rampalarjun) April 5, 2018
Saddened by the #SalmanKhanConvicted verdict.its like sentencing him for 25 years. I hope he is out soon . #WeSupportSalmanKhan .hes a good man as far as I know.

— Arjun Bijlani (@Thearjunbijlani) April 5, 2018
In a world with no "NO" human rights, a great human being is being punished for killing an animal umpteen years ago under animal rights. Bash me all you want, but there's something completely wrong about it.. mind you such human beings are our saving grace! #SalmanKhanVerdict

— MAWRA HOCANE (@MawraHocane) April 5, 2018
"Crores are riding on him"
As important as money is for Bollywood, it is not a fitting reason for the courts to let someone go just because some reality show has crores of rupees invested in him. It's the responsibility of the makers of these shows/movies to be aware of the progress in the cases against Salman, and the dates of hearing. They should be well-versed with the risk they're willing to take. The entire system is not going to bend to accommodate a loss that someone might suffer because of Salman Khan's conviction. In case you didn't know, it's not the court's responsibility to make sure no money is damaged while giving out a guilty verdict.
"Because charity"
Salman Khan has been flying high on his Being Human initiative for years now. The actor's charitable organisation has a presence in almost all the first and second-tier cities in India and is often cited as a reason for how amazing a soul Salman Khan has. His coterie of influential individuals (not including former Bigg Boss contestants) always say that because Salman Khan is involved in charity, he should not face adverse consequences of the law. Even Jaya Bachchan, a Rajya Sabha MP, said Salman should be free because of his humanitarian (?) work. Whatever happened to charity begins at home but should not end there?
I feel bad. He should be given relief. He has done a lot of humanitarian work: Jaya Bachchan, Rajya Sabha MP on #SalmanKhan #BlackBuckPoachingCase pic.twitter.com/VUEM0RIweE

— ANI (@ANI) April 5, 2018
Extremely saddened by hearing about @BeingSalmanKhan , I have full faith in the law, and I hope they get lenient on behalf of the great humanitarian work that he is doing. #Salman Khan #WeSupportSalmanKhan #BlackBuckPoachingCase

— Naved Jafri (@NavedJafri_BOO) April 5, 2018
"He is paying the price of being a popular celebrity"
Hapless celebrities; the foremost victims of a ruthless system. This has to be the most ridiculous Salman Khan defense of them all. Other celebrities, who are not as big as bhai is, think that Salman Khan is trapped in these cases for so long only because he is popular. Salman, according to them, is the one who's suffering. Salman is the one who has to leave his important shoots, his Bandra West flat, and his Bigg Boss fun to visit Jodhpur. They also say that this case would've been squashed if anyone else was embroiled in it. This just might be true. If someone as rich as Salman, but not as popular, was accused of the same crimes he would have probably gotten away without attracting any media attention. But neither of the scenarios are right, and this reason, too, is rubbish.
5 years punishment in this case...?
... @BeingSalmanKhan surely paying the price for being celebrity...

— Annup Sonii (@Anupsonicp) April 5, 2018
— Pritam Singh (@iampritampyaare) April 5, 2018
.@BeingSalmanKhan is a victim of his stardom. Was Salman hunting alone? How can the co-accused be acquitted and Salman convicted? The Courts must grant him bail tomorrow. This too for a crime he has not committed. #BlackbuckPoachingCase

— Priya Gupta (@priyagupta999) April 5, 2018
The Bigg Boss Universe, and millions love him
After hosting eight seasons of Bigg Boss, Salman Khan has gathered the most impressive group of sycophants in recent Bollywood history. These former Bigg Boss contestants support Salman Khan no matter what. Some even ask what authority the courts have to convict someone who is loved by millions. That brings us to the second part; Salman Khan rules over the hearts of millions of people and hence should be free to walk away. The concept of sins and absolution is not what a court looks at. They rely on eyewitnesses and evidence, and if that's in place, the law will do its work despite of someone having millions of followers. Besides, Salman is not the only one in Jodhpur jail with millions of followers.
Who are you to punish @BeingSalmanKhan . The life he has right now,more than himself he is living for others for all the needy people spreading so much of LOVE.
Wo zindagi unhe KHUDA ne bakshi hai,unhe KHUDA ne maaf kiya hai.
Do hell with such laws and such system 🖕🏻

— Suyyash Rai (@suyyashrai) April 5, 2018
Get all your laws and systems together and try ur bestttt mind you YOUR BEST n lets see what you can do. Do you guys have any idea ? How many duas are with him that too of all the kids,those kids who all are living and breathing coz of @BeingSalmanKhan ❤️#WeSupportSalmankhan

— Suyyash Rai (@suyyashrai) April 5, 2018
What happened back in 1998 was wrong and I am sure Salman bhai regrets that and GOD up there must have given it back to him also by now in his own way.

The man whos heart is the reason behind thousands of hearts beating today ❤️@BeingSalmanKhan #WeSupportSalmankhan

— Suyyash Rai (@suyyashrai) April 5, 2018
Whataboutery
With the announcement of Salman Khan's guilty verdict, everyone's now an environmentalist, and an advocate of animal rights. 'What about illegal poaching and tigers being killed? Will Salman Khan going to jail solve that?' No, it won't, and that's not even the purpose of the verdict. The purpose is punishing someone for an act clearly against the defined laws of the land. Because a case involves a figure as important as Salman Khan doesn't mean that we forgo the basic rules laid out for the functioning of a country.
How many tigers have been poached and what's the status of Justice on that.
How many jungles have been cut down in the name of development, isn't it leading to wildlife killing.
Punishing a good human being is not acceptable https://t.co/dBtc3tuM34

— Shilpa Shinde (@ShindeShilpaS) April 5, 2018
Punishing a good human being is not acceptable.
Animal poaching is ever increasing, jungles are cut in the name of urban development, isn't it leading to wildlife killing, who will be punished for that?#SalmanKhan@BeingSalmanKhan#BlackBuckPoachingCase

— Shilpa Shinde (@ShindeShilpaS) April 5, 2018
What about rapists? What about murderers? What about those who eat chicken? What about elephant poaching around the world? What about China's Yulin Dog Meat Festival? These aren't valid arguments against the conviction of Salman Khan. These scenarios are completely independent of the other. A rapist or a murderer, if caught, will be tried in a court of law and handed a verdict they deserve. So will anyone else guilty of whatever it is they're guilty of. That is precisely why different laws exist for different crimes with appropriate sentences.
Subscribe to Moneycontrol Pro at ₹499 for the first year. Use code PRO499. Limited period offer. *T&C apply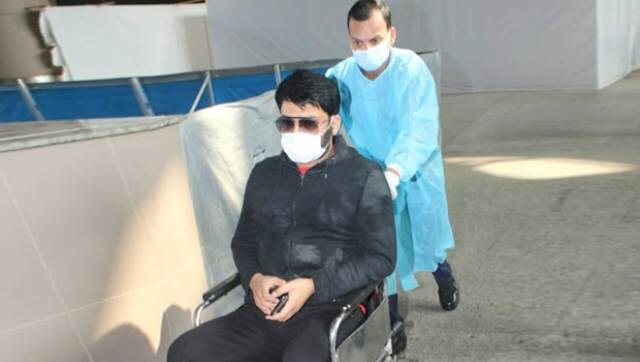 Entertainment
Comedian and TV host Kapil Sharma was recently spotted at Mumbai airport on a wheelchair.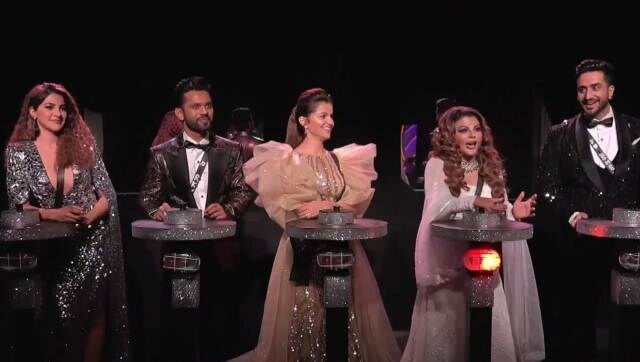 Entertainment
"I am not a popular television actor, so much love coming my way makes me humble," says Bigg Boss 14 runner-up Rahul Vaidya.
Entertainment
While there's no official word on who the contestants are as of now, reports say they have been quarantined for two weeks before their entry into the Bigg Boss house.