With Roma, Ballad of Buster Scruggs, Bird Box, Netflix could finally breach the Oscars and gain respectability
Netflix's decision to give limited theatrical releases to Roma, The Ballad of Buster Scruggs and Bird Box could help increase their Oscar chances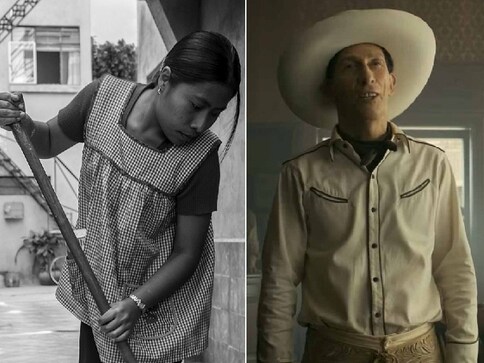 Netflix was supposed to change cinema and it very well might. But before that happens in all its glory, it appears that cinema has changed a bit of how Netflix looks at the world. In a break from the norm that has come to be attached with Netflix, the online streaming giant decided to have a limited theatrical release of three of its high-profile films to increase their Oscar chances. It's hardly surprising that Netflix chose to bend a little bit considering the names attached — the Coen Brothers, Alfonso Cuarón, and Sandra Bullock — all Oscar winners.
A new film from the Coens garners much excitement across critics and audiences and their charm extends beyond things such as box office, numbers et al. They have been known to push the envelope and keeping up the tradition, The Ballad of Buster Scruggs can be confusing, at first. A collaboration between Annapurna Television and the Coen Brothers, The Ballad of Buster Scruggs is a collection of six short vignettes and could be termed as the first of the true collaborations between Netflix and cinema in the traditional sense. As a concept, The Ballad of Buster Scruggs could attract the constant disdain from film purists — it's too much television — but before it could be brushed off in its entirety, it is said to function as a typical film.
(Also read: Netflix inspires subscribers to embrace foreign-language content, look beyond subtitles and dubbing)
For filmmakers such as the Coen Brothers or Alfonso Cuarón, whose Netflix production Roma has garnered some of the best reviews of his career, a place such as Netflix works more as a production house than a platform. Most of the A-list of actors or technicians would not let the opportunity to work with someone like them pass. The legendary cinematographer Roger Deakins had once famously commented that he would merrily shoot a telephone directory if the Coens ever asked. Yet, studios have developed a method where even such marquee projects take years to be green-lit. It's telling that even the presence of a Leonardo DiCaprio is no guarantee for Martin Scorsese to make anything he wants right away.
As of now, Netflix is different from the traditional film studio and therefore for them, a few million dollars to get Cuarón or Sandra Bullock, who stars in the Oscar-winning Danish filmmaker Susanne Bier's post-apocalyptic thriller Bird Box, on their roster is a sound investment. The fight between the online streaming giants and the rest of the film business also concerns the post-release respectability of a film. If a Cannes Film Festival could easily disregard a film as a serious contender for the highest honour any film could dream of just on the basis of a sentence such as 'A Netflix Original', then till the world order changes even the rebels would need to play by the so-called rules.
Up until last year, Netflix couldn't care less for even a perfunctory theatrical run of its first production Bright (2017), a $90 million big ticket extravaganza featuring Will Smith, but the 'cinematic spectacle' of Roma, which was shot in black-and-white on 65mm using Alexa65 digital camera, has compelled Netflix to overhaul its theatrical release strategy. A film needs to be released theatrically in the Los Angeles County to be eligible for the Oscars and while Netflix could have had a limited release for these films as well, it knows that not giving it the old-world 'respect' (read regular theatrical run) could undermine their Oscar chances. It would be intriguing to see just how the Academy 'bends' when it comes to considering nominations for the Coens' The Ballad of Buster Scruggs and Cuarón's Roma. Could this then be the year where Netflix breaches Oscars and gains respectability?
Entertainment
Emmy-nominated actor Anne Heche is in very critical condition since her car crashed into a residential building and caught fire in the Mar Vista area of Los Angeles.
Entertainment
This weekend is the perfect time to get yourself in the documentary groove and binge on these eye-opening docuseries only on Lionsgate Play.
Entertainment
Anne Heche is in a coma and has not regained consciousness since shortly after her car crash.