With Hichki, I'd like to tell the world about the kind of brave films India is churning out, says Rani Mukerji
Rani Mukerji talks about her upcoming film Hichki, which she says is a special film that connected with her soul, and why she can never work with her director-producer husband Aditya Chopra (among other things).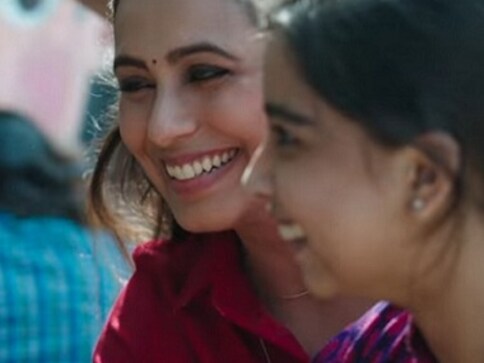 (This is part one of an extensive, candid and absorbing interview with Rani Mukerji. There's lots to catch up on with the talented actor, who returns to the big screen after a short sabbatical with YRF's Hichki on 23 March. Stay tuned for part two, out on 20 March)
After a hectic day, Rani Mukerji is scrambling for a quiet corner to sit in peace and have lunch, which has gotten delayed by couple of hours. Finally, she picks a make-up room at Yashraj studios and opens her tiny tiffin box. Rani seems to have found that perfect work-home balance and she seems to enjoy motherhood as well. Nothing gives her more happiness than spending time with her two-year-old daughter, Adira.
"I just want to finish work and rush home. Adira is waiting. I usually take advantage of the afternoon slot because she sleeps at that time but today I'm a bit late. I used to go for my shoot early morning and get back home around lunch so that she didn't miss me much. Now I have started telling her that I am going for shooting," says Rani, who's busy promoting her upcoming film, Hichki.
She continues, "Yesterday when I returned home, Adira asked me, 'Mama aap shooting par gaye the? Makeup nikaal diya? (Did you go for your shoot? Have you removed your makeup?) Both, Adira and her father are happy to see me without make-up. The first thing Aditya (Chopra) says when I reach home is, 'go remove your make up'. But it is wonderful to see Adira grow," she smiles warmly.
Rani has done 43 films in her 21-year-old illustrious career, and is undoubtedly one of those rare actors who has adapted well to the sensibilities of changing times; she's an inventive actor, and it shows. Known as one of the earliest in contemporary times to transform into a superstar, Rani returns to the big screen after a hiatus of three-years. She was last seen in Mardaani (2014).
"What's most important for an actor is to innovate. The day innovation dies, the actor dies. If you don't come up with new ideas for your audience, your fans, you will lose them. It is important for me at each stage to understand how I should be portraying this role, how can I make it look contemporary," she says, adding, "Also, my husband is a producer-director so even if I don't want to, I am in touch with current styles and my work as an actor keeps on evolving," she says.
So naturally, we have to ask her. Will one now see her on the silver screen more often? "I am actually hopeful that I won't be taking such a long break any time soon because I have no other reason to take a break," she says. But who among the younger lot could take her legacy forward? Rani, without batting an eye-lid, says with a laugh, "No one, because I would like to believe that there should be no one like me."
However, Rani admits that she was extremely nervous on the first day of her shoot for Hichki. "I was very scared because I was leaving Adira for the first time, she had not spent even one day without me. Also, I was wondering whether I would be able to act or not as I was facing the camera after two years. I wondered if I still have it in me. But on sets, it came naturally to me and I realised that I am meant to be here," she says.
After Raja Ki Aayegi Baraat (1997), a social drama which marked her Hindi film debut, Rani's career took a giant leap with Vikram Bhatt's Ghulam (1998) opposite Aamir Khan followed by Karan Johar's directorial debut, Kuch Kuch Hota Hai (1998) with Shah Rukh Khan and Kajol. KKHH cemented her stardom and the rest as they say, is history. Rani stood apart from the rest with box office hits and critical acclaim, with films like Kamal Haasan's Hey Ram, Shaad Ali's Saathiya and Bunty Aur Babli, Aziz Mirza's Chalte Chalte, Mani Ratnam's Yuva, Kunal Kohli's Hum Tum, Yash Chopra's Veer Zaara, and of course, Sanjay Leela Bhansali's much acclaimed, Black.
And even as these films brought her accolades and awards, Rani continued to woo her audience with her performance the in biographical thriller, No One Killed Jessica (2011), Talaash (2012) and crime thriller Mardaani (2014) in the recent past. Hichki is inspired by the real-life success story of Brad Cohen, an American motivational speaker, teacher and author who has severe Tourette syndrome. Hichki is an adaptation of Cohen's Front of the Class: How Tourette Syndrome Made Me the Teacher I Never Had. The film portrays Rani as Naina Mathur, an aspiring teacher suffering from Tourette.
Looking back at her career, she says, "I started when I was 16 and next month I will turn 40. I have grown in this industry. It has taught me a lot with many ups and downs. Also, my choice of films changed with each phase whether it was my early teen days, or early 20s, late 20s, early 30s and late 30s. Each time I chose a role, it has always connected me at that point in my life. Hichki is a very special film that connected with my soul, and [through it] I would like to tell the world [of] the kind of brave films India is churning. It's a very special film about overcoming one's weakness and turning them into strength. It also talks about the education system in our country and the discrimination that people face from society."
When asked which film was more challenging for her as an actor — Black (she played a visually and hearing-impaired woman) or Hichki, Rani says, "Both were challenging. When you play a sensitive character you have to keep in mind the sensitivity of people who have the syndrome. My whole concern with my character in Hichki is that it can become comical. Lot of people laugh and make fun of those suffering from Tourette. It has to be done in a sensitive and real way. When people see Naina, even if they begin by laughing wondering what noise is that, they will change and feel empathetic towards her. There is a lot of complexities that come with playing a role like that."
Motherhood has made her more sensitive to her surroundings, says Rani. "There is a different kind of passion, different kind of love you feel after being a mother, which you can translate into your work," she says.
Post Hichki, Rani will be seen in a cameo in Aanand L Rai's, Zero starring Shah Rukh Khan. When asked if Aditya Chopra will ever direct her, and she shoots back, "Tell Aditya to direct me. Actually I would love to ask this question to him personally. But I'm sure he is the kind of director who chooses his actors according to the script. Whenever he feels that a script or character would be suitable to me, I am sure he will ask me but probably that day might not happen because we are too close and connected to be able to work together."
While Rani will not be celebrating her 40th birthday (21 March) this year because of "too many loses" — referring to the demise of her father and veteran actress, Sridevi, she feels that it's an amazing age to step into. "When we were young we used to feel that life is over at 40 but today life starts at 40 especially for me because I have just given birth to my daughter. My life has just begun. Also, my new career has begun and I feel like a newcomer. I am raring to go," she says and gets back to enjoying her favourite macher jhol.
also read
Arts & Culture
Talking numbers with the founder of Purple Style Labs, India's biggest fashion conglomerate
Entertainment
The enthralling Succession finale made one thing clear: corporate violence is the only love-language that Kendall, Roman, and Siobhan Roy know and understand.