With Avengers: Infinity War, Black Panther, Marvel powers Disney to $7+ bn global earnings in 2018
MCU films have become instrumental with more than 50% of 2018's annual sales coming from boundary-busting blockbusters such as Avengers: Infinity War and Black Panther.
(It's been an eventful, almost rebellious 2018. Over the next 2 weeks, as the year comes to a close, Firstpost will be looking at the major films, talent, trends, web series and talking points that dominated entertainment, cinema and pop culture in 2018.)
The Walt Disney Studios has sailed over the whopping $7 billion mark in global earnings in a single calendar year (2018), thereby setting an industry record for the second time in the history of Hollywood. It was in 2016 Disney emerged as the first studio ever in Hollywood to touch the $7 billion mark in global ticket sales and made history with a massive $7.6 billion box-office haul, breaking Universal's $6.89 billion in 2015. Now, Disney is the only studio to hold two $7 billion annual totals in Hollywood.
Until 9 December, Disney earned a substantial $4.069 billion from overseas theatrical revenue and $2.948 billion from domestic receipts. In domestic grosses for the year 2018, Disney holds an unrivaled market share of 26.6% from 12 movies — including the brief theatrical run of November and December 2017 releases such as Coco, Thor: Ragnarok and Star Wars: The Last Jedi — followed by NBC/Universal at 16.8% ($1.874 billion). With the release of Disney's Mary Poppins Returns on 19 December and its projected weekend (Wednesday-Sunday) cumulative of $55 million in the West, the Mouse House is gearing up to surpass the $3 billion mark stateside and set an all-time record, besting its 2016 domestic total.
While Disney's 2016 industry record of $7.6 billion was majorly powered by non-Marvel films such as Pixar's Finding Dory ($1.028 billion), Walt Disney Animation Studios' Zootopia ($1.024 billion), and Disney's The Jungle Book ($966.6 million), MCU films have become instrumental with more than 50% of 2018's annual sales coming from boundary-busting blockbusters such as Avengers: Infinity War and Black Panther. Even Ant-Man and the Wasp has chipped in with a global total of $622.6 million with an 8.88% share. In 2016, MCU's Captain America: Civil War ($1.15 billion) and Doctor Strange ($670 million) contributed a 26% share in Disney's annual total.
Marvel's rapturously reviewed box-office smash Avengers: Infinity War earned a staggering total of $2 billion, and the culturally significant Black Panther garnered a global haul of $1.347 billion. These two films from the Marvel Cinematic Universe alone have handed out the lion's share (48%) of Disney's 2018 global takings. If you take Ant-Man and the Wasp's worldwide total of $622.6 million into account, MCU's box-office sales come close to a humongous $3.97 billion.
While Infinity War is the highest-grossing film globally and internationally in 2018, Black Panther is the top-grossing domestic film of the year. Infinity War also holds the second spot in the top domestic grossers of 2018 and Black Panther is currently the second film globally this year. The initial momentum for Disney in 2018 was rightly provided by MCU's Black Panther (16 February) and Infinity War (27 April). Disney's sci-fi adventure Wrinkle In Time, which released on 9 March, sandwiched between Black Panther and Infinity War, tanked at the ticket window with a highly disappointing total of $132.6 million.
When Disney-Lucasfilm's Solo: A Star Wars Story turned out to be a damp squib at the box-office, Pixar's Incredibles 2, Disney's third billion-dollar film this year, revived the momentum by amassing a global total of $1.241 billion and registered an excellent record as the highest-grossing animated film in the domestic market with $608.6 million. Incredibles 2 is also the second best-animated film in global box-office history, only behind Disney's Frozen. 
With a promising line-up of films such as Avengers: Endgame, Captain Marvel, Star Wars: Episode IX, Dumbo, Aladdin, The Lion King, Toy Story 4, Frozen 2 and Spider-Man: Far From Home for 2019, Disney's box-office dominance is likely to continue in the next year with a new industry record. Meanwhile, 2018's domestic ticket sales in the US have crossed the $11 billion mark already according to Comscore.
Entertainment
Excluding Baahubali 2 and KGF 2 (as they are not Bollywood films) Pathaan has become the ninth film to enter the Rs 300 crore club in India after Dangal, Sanju, Tiger Zinda Hai, Padmaavat, PK, Bajrangi Bhaijaan, War and Sultan.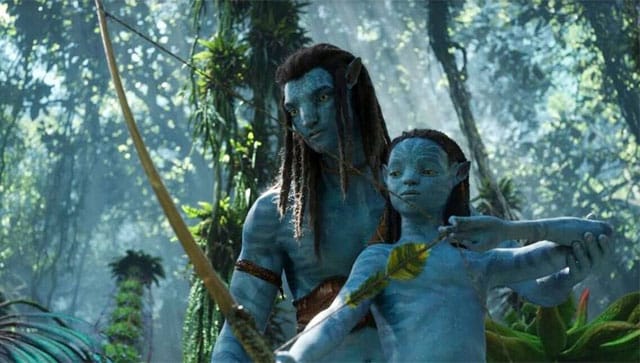 Entertainment
The Walt Disney Co.'s "The Way of Water" added $19.7 million in U.S. and Canadian theaters over the weekend
Entertainment
In just 5 days, Pathaan has crossed the Rs 550 crore mark at the global box office.